IDM (Internet Download Manager) is used by millions of users worldwide. This is considered to be the best download manager built for Windows OS. You're using IDM and you probably know the importance of IDM. Features like pause, resume, site grabber and so on make IDM a very good download manager. This can be integrated with browsers like Chrome, Firefox, Opera etc so that users can directly download the file from that browser. Whenever the user clicks on any download link, the link is automatically passed to IDM and users can download the file or schedule it. However, there are many IDM alternatives you can use. In fact, if you don't know to schedule the download in IDM, you can check it here. Sometimes IDM isn't properly integrated with Chrome. Hence, you need to add IDM extension for Chrome again.
Sometimes, the extension which is installed along with IDM in Chrome browser stopped working. It might happen if you've re-installed IDM improperly or there are other facts responsible for this. Users can't download files directly from IDM using Chrome browser. They'll have to copy the link first and then download the files using IDM. To solve the problem with Chrome, we've shown the step by step method given below to use IDM extension for Chrome. You can also check article on increasing IDM download speed.
There are some steps you need to follow to fix this problem. It's very easy. Make sure you've followed whole the article carefully. The procedure is written step by step.
Fix And Use IDM Extension For Chrome
There are several steps like Checking if extension is installed or not, then check if integration is enabled in IDM settings. Below are all the steps given with pictures. You can even re-install the extension in Chrome if it's not working.
Make Sure Integration Extension Is Added & Enabled In Chrome
The first thing to do is, check whether an extension is added to Chrome or not. Many times, while installing IDM, the extension isn't added to Chrome. Maybe in your case, it's the problem. In fact, the extension is disabled then enable it back again.
1. Open Google Chrome, and click on Chrome Menu>Tools>Extensions. Or paste this URL in URL bar chrome://extensions/
2. Find IDM Integration Module and if it's not there, you should follow our next method.
3. But, if it's there then make sure it's enabled and check the option for Allow Access To File URLs.

Install Chrome Integration Module Extension Again
If you don't see the IDM extension in extensions page in Chrome then you need to install it back again. The extension file is located where your IDM data is saved.
1.Browse to C:\Program Files\Internet Download Manager and find IDMGCExt.crx file.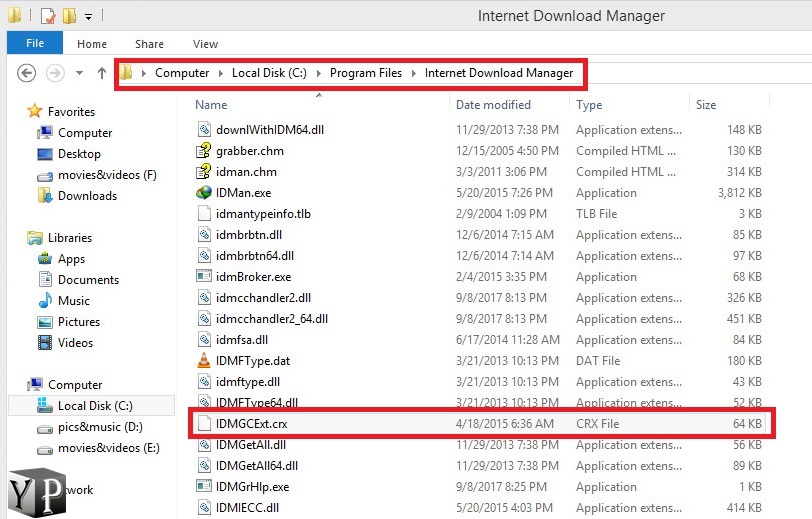 2. Open Chrome and go to chrome://extensions. Then drag and drop the IDMGCExt file there.
3. Click on Add To Chrome and wait till the extension is added to Chrome.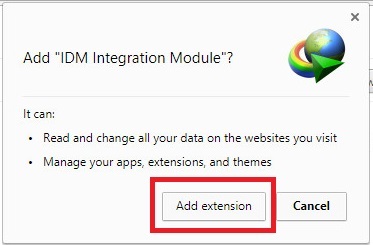 Now, check if you're able to use the IDM to download files directly from Chrome or not.
Check IDM Integration Settings
Check if IDM settings are set to be successfully integrated with Chrome browser or not. There are several settings you need to check.
Open IDM and click on Options button.
Now, under General settings, make sure Google Chrome is enabled to capture the downloads.
You can also select all the browsers from where you would like to capture the downloads automatically.
Tip: You can Re-Install IDM if problem isn't still solved. Perform an full un-install of IDM and then re-install it. It might solve your problem if you're not able to use IDM Integration in Chrome.
Tip: Form Firefox users, if the're not able to get Add-On, download it from link here. Simply drag and drop it into Add-Ons page. Click on Menu>Add-Ons and drag-drop the file there.
Tip: Update IDM to the latest version. Also, make sure your browsers are also updated.
If you're still having problems in using IDM integration in Chrome, then comment down below. We'll try to help you.