Many Windows 10 users are getting the error on startup saying BAD_POOL_ERROR. Screen turns blue and the user can't do anything about this error. Then the computer restarts and the problem  isn't solved on its own. In fact, it's solved by Windows 10 itself if the problem is caused by Windows itself. If your problem isn't solved automatically then don't worry about that. There are many fixes for this problem that we'll be discussing in this article. Mainly this problem is caused by RAM problems. BAD POOL HEADER ERROR is technically caused by bad memory allocation.
If you are not able to log into Windows, don't worry we'll help you step by step to fix your problem. But, make sure there are no RAM related issues with your PC. Memory issues are mainly caused by RAM problems. Make sure your RAM isn't faulty. But, if you haven't upgraded your RAM and there's no hardware change take place, then you should follow the guide given below.
You're getting this error while booting! This probably means that you're not able to boot into Windows. But, all the fixes you can perform without reinstalling Windows can be done while you're logged into Windows. The only way left to boot into Windows is using Safe Mode. Don't be confused, follow the step by step procedure.
Boot Windows 10 To Safe Mode To Bypass Bad Pool Header
To successfully log into Windows while you're getting BAD POOL ERROR is using safe mode. If you don't know how to boot into safe mode, follow the instructions given below.
1. Turn On your PC/Laptop, cut off the power supply once you get Windows logo screen. (In laptop you can pull out battery or long press power button)
2. Repeat step (1) 2-3 three times until you get Preparing Automatic Repair screen.
3. It'll take some time to finish the process as Windows 10 will diagnose your PC. Once the process is complete, click on Advanced Options.
4. Then click on Troubleshoot Options and select Advanced Options.
5. Click on Startup Settings>Restart.
Your PC will now restart, keep pressing 4 number on your keyboard. This will boot Windows into safe mode.
What If Windows Isn't Booted Into Safe Mode?
Sometimes Windows 10 isn't booted into safe mode. If this happens to you, you should Repair Windows 10. You'll need Windows 10 installation media for this purpose. You can create Windows 10 bootable USB and can repair Windows 10.
Once you're logged into Windows 10 using safe mode, you can move further. We'll now perform clean boot into Windows. This is done in order to configure whether your problem is caused by any 3rd party app/service or not.
1. Click on Start button and search for msconfig. Select the first option.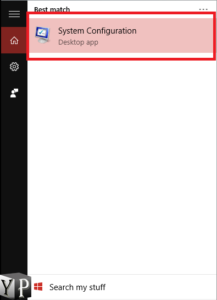 2.Under Services tab and you need to disable all the services from here. But make sure that you've hide all Microsoft Services from here. Click on the option available o the bottom of the Window. Then click on Disable all.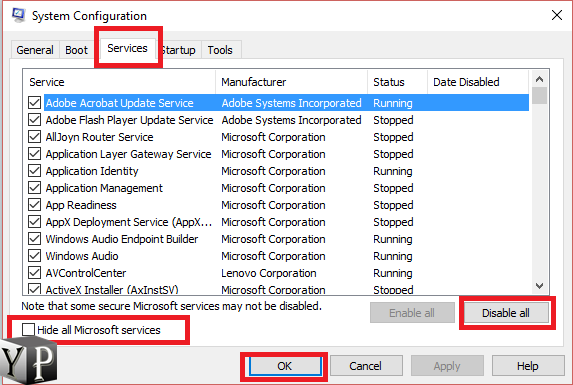 3. Now, Right Click on Task ar ad select Task manager.
4. Right Click>Disable all the startup apps and disable all the apps.
5. Restart your PC. It'll restart in normal mode. Check if Windows 10 is successfully booted.
If Your Problem Is Solved By Safe Boot
BAD POOL HEADER problem is solved by this method! Well, this means any service you've installed is the main reason of this error. Uninstall all the 3rd party services from non-trusted sources. Try to find out what service is causing this problem.
(If Problem Isn't Caused By Any Installed Service)
Once you've checked out all the services and comes to the conclusion that BAD POOL HEADER problem isn't caused by any Service than Figure out which Startup Program is responsible for this. Once you've found any suspicious startup program, Uninstall it and install updated version of the startup program.
If you still get BAD POOL HEADER ERROR, boot Windows 10 again into safe mode and perform the other fixes given below.
Remove Recent Changes (System Restore)
Once you've again booted into Windows 10 safe mode, you should perform System Restore. It'll remove all the recent changes made to Windows. Windows create automatic restore points once some important changes are made. These restore points can be then used to recover your Windows.
1. Open Control Panel in Windows 10.
2. Select Recovery, on next screen select System Restore.
3. Follo On-Screen instruction and select the custom or recommended Restore point.
4. Wait till the restore is complete. Your PC will automatically restart in the process.
What If Your PC Isn't Successfully Restarted During System Restore!
As we've mentioned above that Windows will restart during system restore. Hence, you encounter the BAD POOL error during the process, this means there's any other reason for your problem. You should again follow the process to boot Windows to safe mode to log into Windows without having any error.
Update All Drivers
You should update all your drivers. As we all know that drivers are responsible to manage all input and output devices. If any driver is out dated and isn't working, you should immediately update the driver.
1. Open Control Panel and select Device Manager.
2. Find the drivers related to hardware. Toggle the option to view all the drivers.
3. To update the driver, Right Click>Update.
4. Select Automatically if you want to update it online.
5. To update the driver offline, browse the installation files.
Even you can use any Driver Update utility. There are many of them available. Search for any driver update utility and update your drivers. The process will be automatic and you'll not have to spend more time in updating all your drivers.
Disable Fast Startup
Windows Fast Startup might be the reason for your problem. You should give a try to this fix by disabling fast startup. Doing this will make your booting slower than before. But, your problem might be solved. You can later repair Windows 10 using installation files.
1. Press Win+X and select Power Options. (You can also search in Control Panel)
2. Click on Choose What The Power Button Does.
3. Then select Change The Settings Which Are Currently Unavailable.
4. Uncheck the box for Turn On Fast Startup.
Tip 1: Install Any Antivirus Program
You should give try to this fix. Install any antivirus program on your system. Most of the antivirus programs run automatically for boot time scan. Maybe any antivirus will fix your problem. Many people have discussed that installing antivirus programs has fixed their problem.
Tip 2: Remove All External Devices
Plug out all the external devices connecting to your PC. Like Pendrive, LAN Cable, etc. Then restart your PC and check if it's restarted without having any problem. If PC boots successfully, it means any external device is faulty.
Tip 3: Use Windows Troubleshooter and Action Center
Boot into Windows using safe mode and run Windows Troubleshooter to get help. In action center, you might get some errors too. Fix them using appropriate actions.
We hope your bad pool header problem is now solved. After all these fixes your problem should be fixed. We've tried to give you all the possible fixes for your problem. If you're still having problem, comment down below and we'll reply you soon.