If you are an Android user and use your Android device most frequently to do tasks, then probably you have a lot of Android apps, contacts, media and other kinds of data in it. To keep your Android data safe and to make sure, you can restore the data while having any crisis on your android phone, you need to use some Backup apps on your Android device. These backup apps make a copy of your data as a backup, so later you can restore it if you got any bad cases on your android device.
Using Android Backup Apps is also a good practice to migrate your data. If you don't make any backup of your Android data then might get lose it if any such case comes as we just said. So to prevent this data loss condition in future you should frequently make the backup of your data.
Here are 5 Best Free Android Backup App you can use:
1. App Backup Restore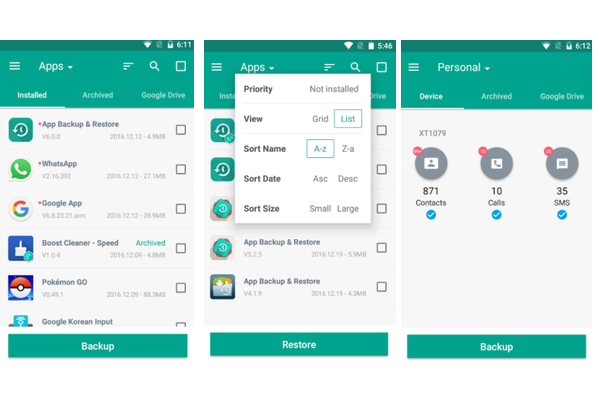 This an excellent Free Backup and Restore App. It provides you amazing features for backing-up your data such as Auto Backup, Restore, Transfer App and other personal data without spending any money. The transfer can Backup & Restore the apk files of apps that are not frequently used to save storage of the phone. It has iCloud Backup and Restores for data security. You can upload your backup file to google drive and download them later when needed. You can share(Send/Receive) Apk, Sms, Call logs, and Contacts. You can Download the Backup from Google Drive, Dropbox etc. It has easy Upload and download options.
2. Super Backup & Restore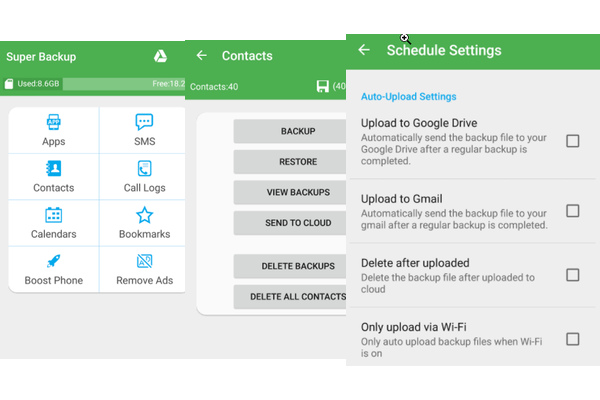 This is a best working and fastest Backup and Restore App for Android. Using this App you can Make a backup of all your Applications, Contacts, Text messages, Call history, Bookmarks etc. You can save your backup files to your SD card or upload them directly to Google Drive or Gmail, which can be a better option if not having space or if you want to access your backup files using other devices. You can also share the Apk files with your friends just in single click.
In Super Backup & Restore app you can run Batch Restore Apps from SD card, or restore apps data but it needs rooted Android device.
3. GCloud Backup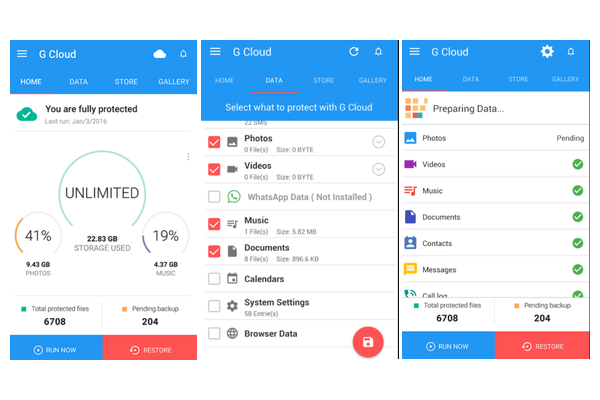 GCloud Backup is a Free Android Backup app which is simple and safe to use. It does such great job with providing you backup service and keeps your privacy safe. You can easily migrate between devices and extend your storage by saving everything in the cloud. Sharing everything from your device includes messages, contacts, Photos, videos, Documents. It also gives you the feature of auto backup all your data. Gcloud gives you security as well and provides you passcode for each of your apps. Unlike some restore and backup apps, Gcloud doesn't require any rooted android device. It gives you advanced scheduling options. You can Backup your entire SD card. Starting with Gcloud is super easy, all you need to do is, download Gcloud, Creating an account and starting creating a backup of your data.
Download Gcloud from play store
4. Titanium Backup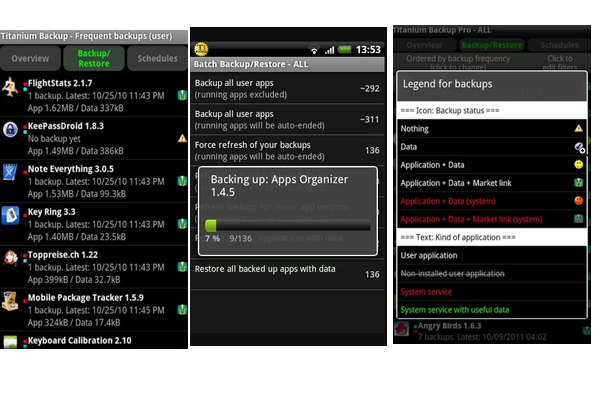 It is another Backup app which works amazingly and this app is only for rooted users. The reason behind giving this restore and backup service is that it gives you access to its premium and maximum features. Titanium Backup gives you dozens of advance and extraordinary features. Since this works for rooted phones so this is very powerful. It gives features like you 0-click batch restores and multi-user app data.
Another best part of this Android Backup app is that it gives you the ability to backup WPA/WPA2 protected Wi-Fi networks on Android Oreo.
Download Titanium From Play Store
5. Easy Backup & Restore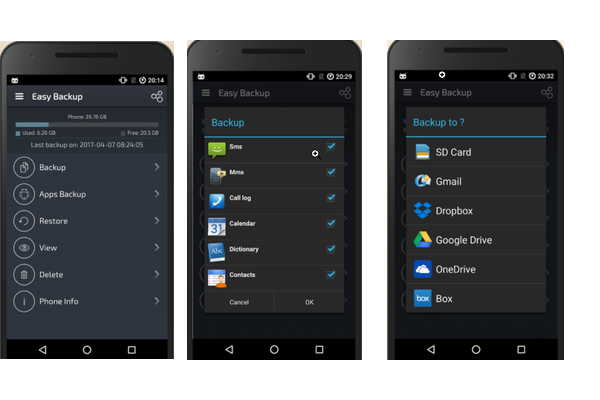 Another Backup app to Restore Apps, Sms, MMS, call log, calendar, bookmarks, dictionary and contacts found on your Android phone. You have the choice to store your backup, so use SD card or Cloud storage, the choice is yours. Similarly, with the Backup process, use a manual method or schedule the backup.
Managing your backup data with Easy Backup & Restore is very smooth. You can view your backup content or delete them, as well as you can Export and email backup contents as HTML file right away. Even this app is not very limited to SD card and you have the choice to save them in  Google Drive, Dropbox, OneDrive or Box.
Download Easy Backup & Restore 
Note: These given apps can also work as a paid android backup app. But for the general or low frequency of data backup, they are absolutely free to use.
Using these Android Backup apps you can create your data backup anytime or upload them to cloud or third-party server if given. Using these apps is very easy and most of the times they are available for free buy-in highest frequency of important data it is really recommended to use paid service of the given backup apps. Since you have the option to save the data in Cloud so there is no issue of storing data on your SD card. However, the given option of cloud storage such as google drive, dropbox is trusted and long lasting but it is also recommended to save them on an alternative third-party server as well. And this is how you can keep your important data safe in any such crises which can hapen suddenly with your android device.