Game Recording Software gives you a host of tool that permits recording the complete scenario of your gameplay. Whether you a Gamer or just a person who love playing games sometimes and want to share your game with your friends on social media. To share your played game you have to record the game. You must be needed a game recording software to record your gameplay.
If you still wondering, what are the best game recording software to help you out with game recording then we have listed a number of marvelous software to record your game. Most of us who do not want to spend money on these kinds of software products, maybe because of they are using it for a temporary reason or something else. We have your back now and we will be showing some of the best and Free Game Recording Software.
| Screen Recorder | Price (Starting) | Platform |
| --- | --- | --- |
| GoPlay Editor | $15.90 | Windows, Android, iOS |
| Filmora SCRN Recorder | $19.99 | Windows, MAC |
| Bandicam | $39 | Windows |
| ApowerSoft Free Screen Recorder | Free | Windows, MAC |
| Loilo Game Recorder | Free | Windows |
| OBS Studio | Free | Windows, MAC, Linux |
| CORTEX: GAMECASTER | Free (Upto 720p) | Windows |
| Plays.tv | Free | Windows |
| Windows 10 Game Bar | Inbuilt In Windows 10 | Windows |
1. GoPlay Editor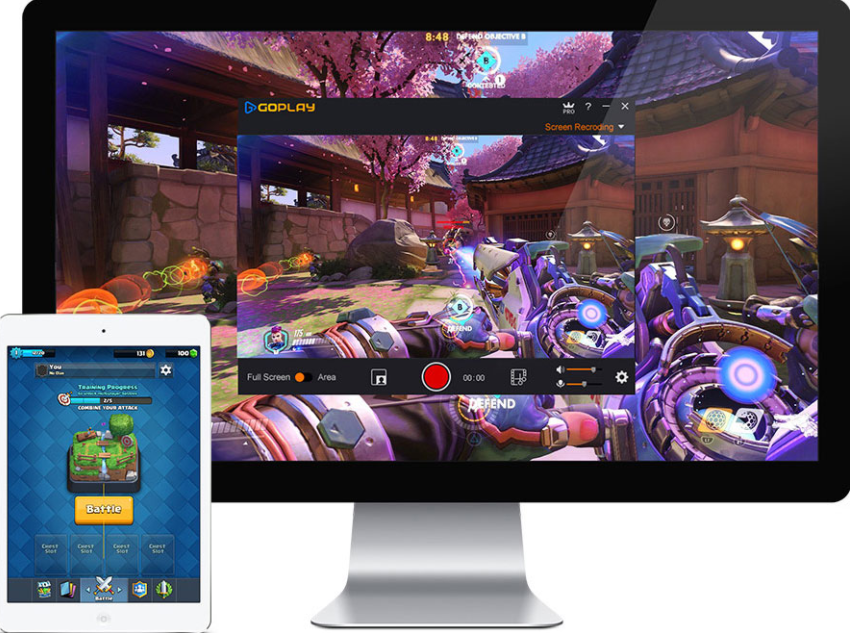 GoPlay is one of the best game recording software with fluent capturing of the screen with no buffer. Apart from game recording it also comes with editing the video. So you don't have to find another list of best video editing software because this software is something two in one. By using this you can edit your gameplay to make it more attractive to your friends or for your audience. It is very easy to operate features of SmartPixel. You can record the game in various video formats ex- MP4, Avi, Wmv, Flv, and 3gp. GoPlay came from Smartpixel which is recently renamed to GoPlay, All of the features and functionality that smartpixel had, still remains in Goplay.
It comes with the option of sharing or uploading on social medias like Facebook, Twitter or Youtube, so you can directly upload the video of your game. The best part about this software that this is a game recording software for Windows, Android, and iOS. You can download the Windows, Android or iOS version of this software according to your need. This software is free to use but if you want to explore more with this and willing to use more functionality then you can buy the Pro version as well. Pricing for this screen recorder starts from $15.9.
Supported OS: Windows, Android, iOS
2. Filmora SCRN Recorder
This is indeed another best software to record your gameplay. This software has special option to record the gameplay which enhances the performance and will justify all the things on its own which will make your gameplay recording very powerful. It also offers you the inbuilt video editing suite which is the powerful one.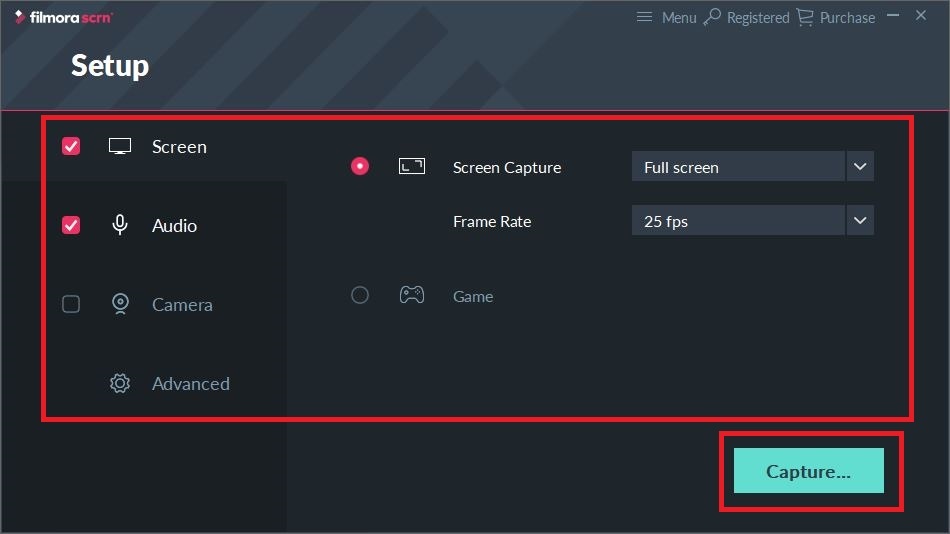 If you've every used Filmora Video editing software before then most of the features of that software is adapted to this screen recorder. 15-120 FPS guarantees the quality of your gameplay video. The best thing about this screen recorder is that it offers everything which is required for your fantastic gameplay video.
It only costs $19.99 for one year and 29.99 for the lifetime. We recommend you to give a try to its free version and then purchase a paid one if it's useful for you.
Platform: Win, MAC
3. Bandicam
Bandicam is an excellent software with a various type of features in it. One of the features of Bandicam is to provide the game recording. With this software, you can record everything on your PC. This software allows you to record High resolution, 2D, 3D games. It can capture up to 144 FPS(Frame Per Second) video.
You can set-up the desired resolution of your gameplay recording according to your need. It has auto-compressing which compresses the videos file while recording. So you will find your gameplay video file much smaller as compare to other software.
You can enjoy playing and recording your favorite games like Minecraft, Battlefield, Call of Duty, Grand Theft Auto and much more. It also allows you to record online games or flash based games. It's little pricey and you've to pay $39 for 1-PC license.
Supported OS:  Windows 10, 8, 7, Vista, XP
4. ApowerSoft Free Screen Recorder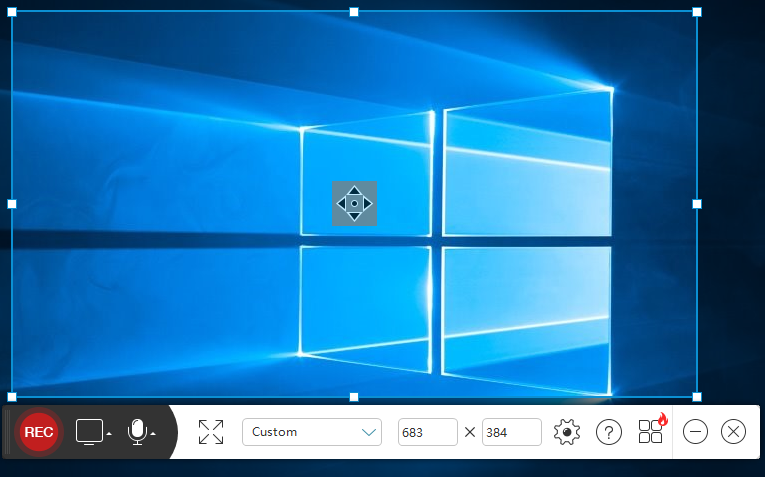 In the area of free game recording software, apowersoft free screen recorder is exquisitely amazing to use and very easy to operate. In spite of being free software, it has a lot of advance feature.
It allows you to set the audio quality and change the video settings, so you cam set the bitrate, frame rate upto 60 and change the codec to MPEG4 or H264.
You can also set the Video format to Mp4, Wmv, Avi, Mov, Flv, Mpeg, Vob, Asf. Customizing the screen size to record is very easy with ApowerSoft, it's upon you to record entire screen or just a specific part of it.
Supported OS: Windows, Android, iOS
Get ApowerSoft Free Screen Recorder
5. Loilo Game Recorder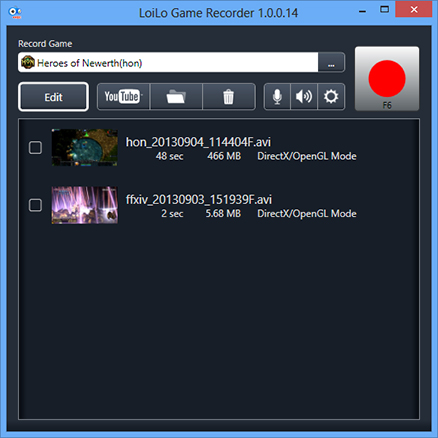 Loilo is a completely free game recording software with plenty of capture option. If you love to share you gaming moment in social media or Youtube then this is the right and easy software for you. You can add a comment in your gaming video and directly upload it to youtube using this software. Enables you to adjust frame rate, resolution, and quality to get the best output of your recording session.
Even this is not too good to compete for other pro game recording software but in the crowd of free game recording software, this works just great.
Supported OS: Windows 7, 8, 8.1
6. OBS Studio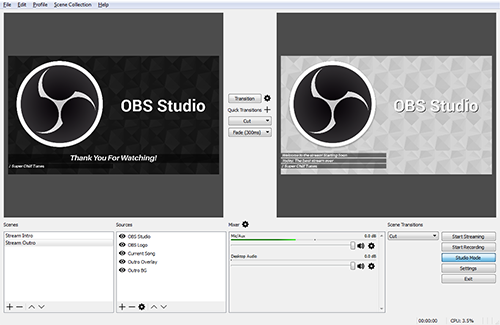 If you are looking for a free game recording software for broadcasting then this is just the perfect software for you. And Obviously it is free so you don't have to find other software for this purpose. You can easily stream your game video using this OBS Studio.
It allows you to apply various types of effects. It has much powerful and easy to use configuration options. With its streamlined settings, you can quickly configure broadcasts and recordings and switch between different profiles with ease. The best part about OBS Studio that it is available for Windows, Mac, and Linux which makes it more popular around different operating systems.
Supported OS: Windows(7, 8, 10), Mac, Linux.
7. CORTEX:

 GAMECASTER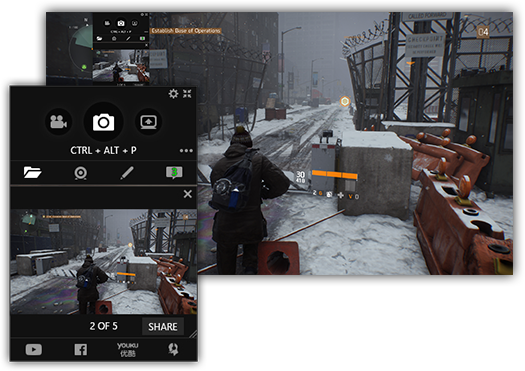 This Allows you to Stream and Record your worth watching and shareable gaming moment. Like much other free game recording software puts the limit on recording length or by putting the watermark on your recorded video, this software is completely free and limitless.This only allows the user to focus on his game and make it distraction free.
Even this is a free software but if you want to enhance your gameplay experience just by getting its pro features then you can buy its pro version. With its pro version, you will get features such as on-screen annotation, unlimited resolution while streaming 60 FPS and much more.
Supported OS: Windows 7, 8, 10
8. Plays.tv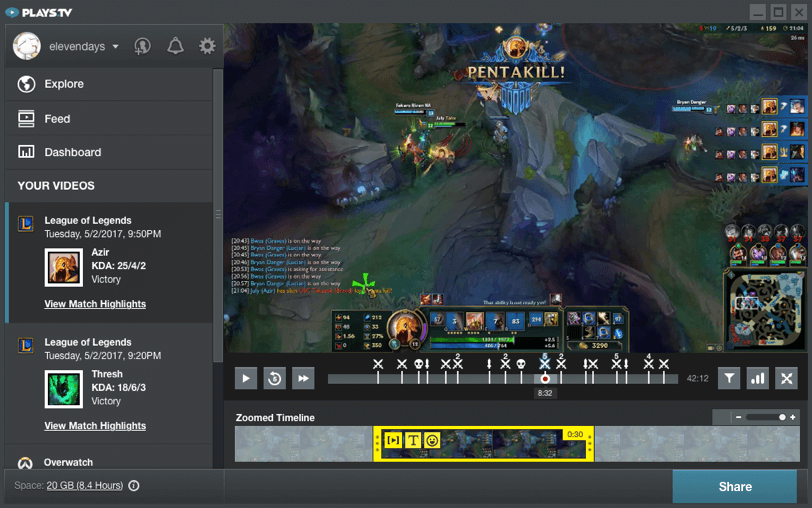 As plays.tv's website says this is a social video platform for gamers. And this is exactly saying what it is. It supports more than 3000+ games to record. Smooth and easy editing to make gameplay more watchable and attractive.
You can directly share your game session to your friends and family using its social media sharing option. It allows you to share on almost all popular social media platform like Facebook, google+, Reddit, Twitter etc.
Supported OS: Windows
9. Windows 10 Game Bar
This is an inbuilt feature that comes with Windows 10. This is one of the excellent features that you will find if you are really a gaming person. It has many good features that you can use.

You can open Windows10 Game Bar just by pressing Windows Key + G or you can directly start recording by pressing Windows+Alt+G. You can record your game in the background, your can record your voice while playing or you take a screenshot. This all came up with Windows 10 Game Bar feature.
Available with: Windows 10 only