Since Smartphones has come into the market Android completely changed the smartphone world. It is much cheaper and full of outstanding features. One of its features is text messaging. Android has completely transmuted the way of text messaging with much faster processing and very attractive interface to communicate as well. Almost everything on Android is possible through an application interface or by the help or an application. On Android, you have to install apps to get any kind of feature. In text messaging, there is the same situation. You must have some applications that can help you at the time of sending a message to your friends, family or colleague.
We have given some text messaging apps for your Android that you can use to send messages with lots of amazing features.
Textra SMS
Textra comes with highly appreciated and attractive interface for text messaging and communication. This is very customizable so you can customize this app as the way you want. You can send SMS and MMS, voice memos, GIFs, through this app. This app also allows you group messaging. This app is totally free to use.
This app comes with 180+ material designed themes, bubbles and app icon colors to make your text messaging experience much attractive than before. You can set your favorite theme easily. With its automatic video & picture compression, it can automatically compress them during send. Deletion of messages is quite easy, you just have to slide the message that's it. This app has good reviews and rated high in Google play store.
Key Features: 
Send SMS & MMS.
Dark, light & auto-night modes.
Scheduling of SMS & MMS.
Easy deletion of messages.
Slide to call from the app.
Quick access to the camera for a snap.
Multi-select picture gallery.
Quick reply popup.
Easy group messaging.
Quick reply through popup.
automatic video & picture compression.
Chomp SMS
With easy and attractive interface we have Chomp SMS. It comes with privacy feature to secure your data by passcode so you don't have to install additional third party app to secure your SMS. It has a unique scheduler that can remind you different events or birthday or your friends, family or colleague. You can create a backup of your messages easily through this app. With its SMS blocker, you can blacklist any contact if you don't want to receive SMS from any specific contact.
Chomp app also allows you to create a group and SMS for group chat. It comes with 100's of free themes to create an attractive look. You can set the ringtone of your own choice for SMS.
Key Features:
Inbuilt passcode app-lock for chomp SMS.
SMS scheduler.
stop a text while sending.
Easy backup of SMS.
SMS blocker.
Multi-select picture gallery.
Customization options for ringtones, LED colors, font type, font size, and wallpapers.
A lot of amazing emojis for messaging.
Facebook Messenger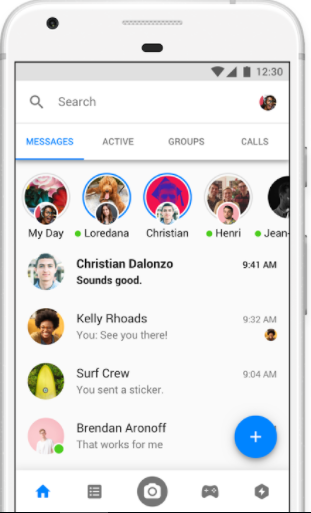 Facebook Messenger is one of the amazing online app used for facebook chatting. But since it came with the SMS option, it becomes the best app for text messaging as well. Facebook is one of the very popular social media platforms so maybe many of you already have this app. And if you have this app already than you definitely know all of its features and those all features are also available for messaging.
Due to its relationship with Facebook, this app is very popular and has over 45million downloads on Google play store. So you can determine how much people having this app installed on their smartphones.
Key Features:
Unlimited stickers and emojis.
Chat head for using this app while using other apps.
Share photos, videos, emojis, and GIFs.
Easy group messaging.
Easy to forward messages.
Change background color for every specific contact.
Notifications of messages.
Verizon Messages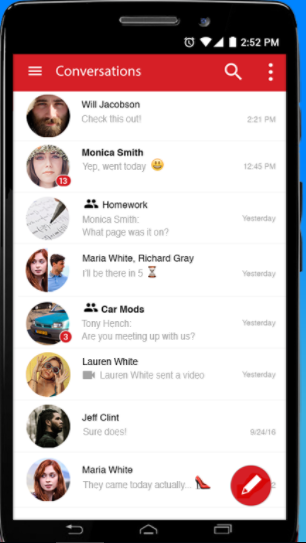 Verizon gives you tons of features with text messaging. You can add soo many things to your conversation just by simply clicking the given plus sign in the chat screen. With Verizon, you can make your Avatar, change the backgrounds colors and themes and set the desired bubbles you like.
Create a Postcard, text images or edit images very smoothly with this app. Get a notification on every event like birthday or party. You can send a gift card to your friends and family easily through this app. You share your location with everyone within your contact or groups. It has auto-reply feature to tell everyone you are busy when arriving any message and you will also not get disturbed by this.
Key Features:
Customize fonts, avatar, bubbles, and backgrounds.
Easy Postcard creation.
Birthday and other event notification.
Schedule messages to send.
Send e-gift.
Share location.
Send voice messages.
Auto Reply.
WhatsApp Messenger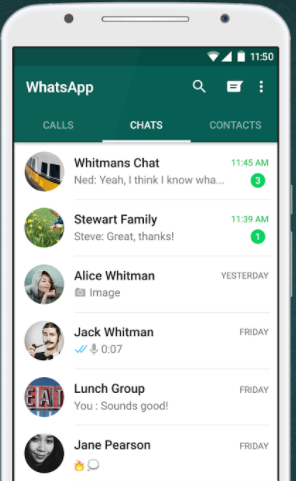 Whatsapp messenger is one of the free messaging apps. With huge file sharing options, it becomes soo much popular around the world on Android platform. Whatsapp has over 56million downloads on Google play store. You can send almost any kind of file with WhatsApp such as Photos, videos, Documents and Voice messages.
It has calling feature to call your contacts. The calling features allow you both voice and video call. You can directly share contacts from your phonebook.
Easy to set custom wallpaper or background for any specific chat. A lot of cool emojis to share emotions. You will find a lot of privacy options for your profile in this app to set share or what not to share.
Key features:
Easy sharing of documents, Videos, audios and image files.
Customization with wallpaper for every chat.
Share Location.
Exchange Contacts.
Group messaging.
Create a profile, set status.
A lot of Privacy and security options.
Better notification option.
Easily block unknown contacts.
The above given is the best messaging apps that you can use to send text and multimedia messages to your friends and family. Some of the Above apps require an internet connection to share messages. If you think we have missed something then you can let us know in comment section below.