Make your desktop look futuristic and cool using these best Rainmeter skins. Your friends will obviously feel jealous while looking at your cool desktop design.
Windows users are always one step above than Linux or MAC users. It's because Windows gets regular updates, hundreds of games, huge customizable things and much more. It's kind of heaven for Desktop users and that's why millions of users are using Windows OS on daily basis. If we talk about customization, we can enable dark theme in Windows, can invert colors and much more like that.
But, there's another thing we can try to make the Desktop looks more futuristic and cool. Rainmeter is the small tool used to apply Skins in Windows. Just like we change themes on Android or any other mobile devices to make it look better. The Rainmeter tool helps to customize the looks.
But, you should be using a best Rainmeter theme otherwise it's not worth to use a Rainmeter tool. A lot of themes are available for free but only a few of them are amazing and looks cool. As most of these themes are designed by the people in Rainmeter community. So, those these are absolutely free to use but might have some problems with them. Hence, it's important to use a proper theme. We've selected 20+ themes which might be useful for you. The collection you're going to see down below also contains Rainmeter skins for gamers.
So, stop wasting your time and start with these Rainmeter skins which will deliver you the performance and looks you need. All these skins are free to download and use. Make sure to drop down your suggestions in the comment section so that we can update the article with your suggestions.
20+ Best Rainmeter Skins Of 2018
Most of us have the common problem while choosing something from a number of choices. It's hard to choose one right! You can easily find a bunch of skins online but it's hard to choose one which meets your requirements.
Some of us need a skin which is helpful to monitor all the CPU resources, e.g for gamers, some needs hi-tech skins and some needs a desktop full of tools etc.
We've listed the skins which are rated highly, which looks amazing and can fulfill your requirements.
Figure out which theme you need the most and download it for free. All the download links are given for each skin respectively.
Quick Tip: You can download the RainMeter tool from "https://www.rainmeter.net/" website and all the important documentation is already listed there.
1. Gadgets Additions
It's all in one skin we can say when it comes to gadgets and monitoring system. This skin provides a number of useful gadgets on your desktop.
Tools like Ping, Power, Volume etc. are available on the desktop. People who spend most of their time in front of the screen should definitely use Gadgets Additions skin.
There's a beautify gallery box in which local photos can be randomly displayed. Media control tool will be useful to control the music.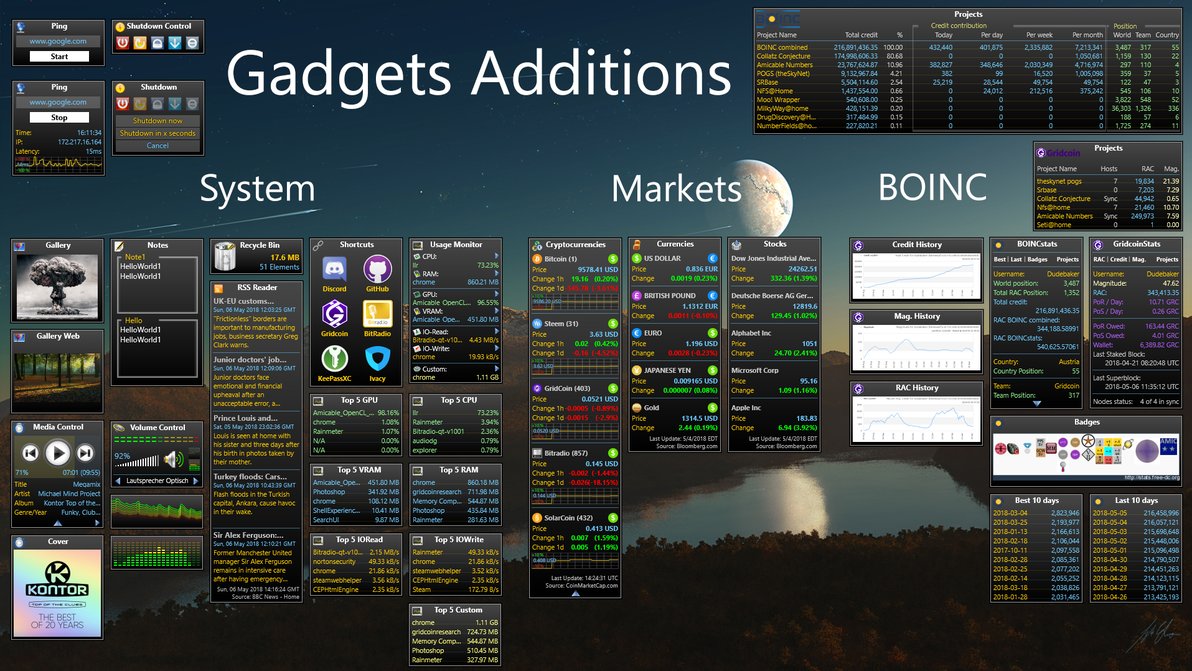 Some other tracking tools like CPU Monitoring, RAM Usage, and VC usages are continuously shown with real-time updated.
There's a bonus in for cryptocurrency miners. Real-time updates for Bitcoins and other cryptocurrency are shown.
2. Electronic Monitoring (Up to 31 Designs)
Here's another best Rainmeter skin you should definitely check out. One of the best thing which we've figured out is that it gives you the futuristic look and all the data charts on one screen.
If you're having the widescreen LED, then you should definitely try this Rainmeter skin. It works best on wide screens as all the gadgets and items fit well on the screen.
However, this theme is auto-scalable. So, if you've low-resolution screen, this theme will still be the perfect one for you.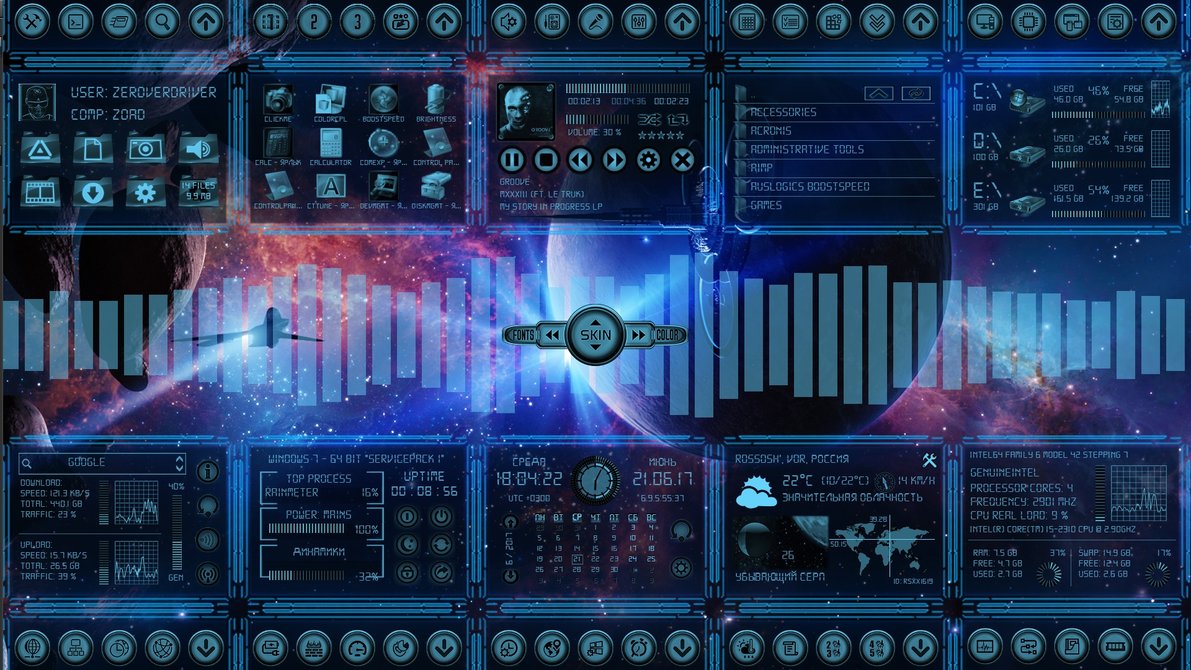 Up to 31-panel styles are available and this means you'll no longer get bored of the same style.
If we talk about the tools and gadgets available in this theme, there is almost every gadget which is useful for monitoring your system performance.
Clock, Internet Speed, Weather, CPU Speed like tools are available for your help.
3. Star Trek Theme
Here comes the bonus thing for Star Trek Fans. ALmost every one of us has watched the amazing series of Star Trek movies right!. So, why not try the Skin which is based on this movie.
Design of this theme is related to the Star Trek movie and there's a big wallpaper representing the Space Ship.
However, this theme isn't full of many gadgets but indeed all the important tools are available. Weather, CPU Details, Date and time like desktop gadgets are available.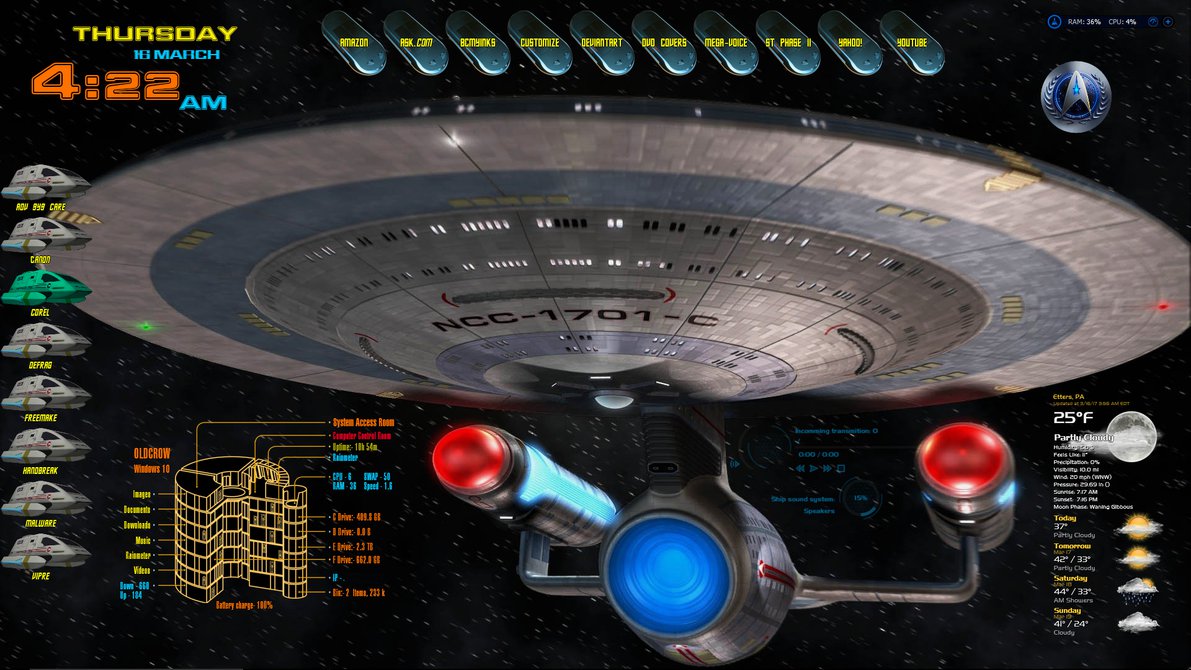 Users can customize the look according to their needs. There's much more you need to explore in this Skin which is dedicated to Star Trek fans only.
4. Walkers Join
Have you ever watched Walker's video on YouTube or somewhere else! If yes, then you're surely aware of the futuristic and cool animation used by them in the video.
This Rainmeter skin is dedicated to Walkers and gives the same exact look like we see in the video.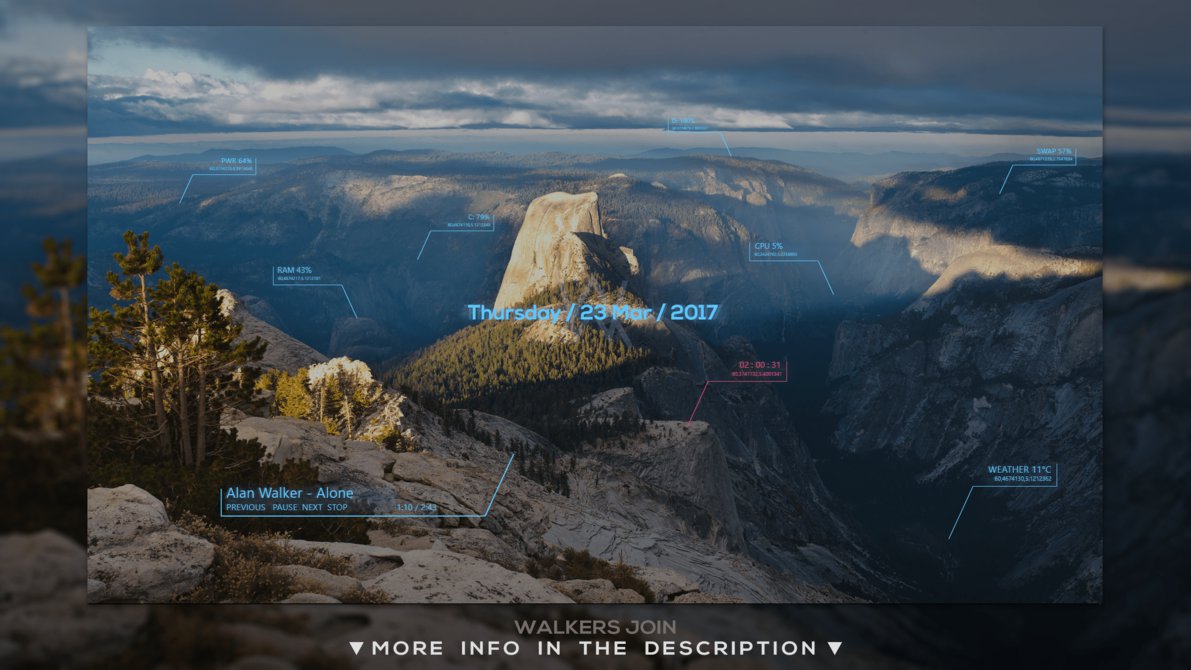 Users can also configure the skin as per needs and there's an option to add Spotify. Up to 6 languages are available and custom fonts can be added. Gadgets like Date, System Logs, Weather and Music players can be added to the desktop.
It's totally clean, looks cool and dedicated to Walkers lovers. You should definitely use this if looking for simple Rainmeter skins.
5. SimplePerfMeters
This Rainmeter Skin displays a lot of information on the desktop. We can say that this can be your perfect solution for tracking your CPU performance and bunch of other things as well.
Another cool thing is that it's very attractive and also displays the graphs which are colored and can be customized.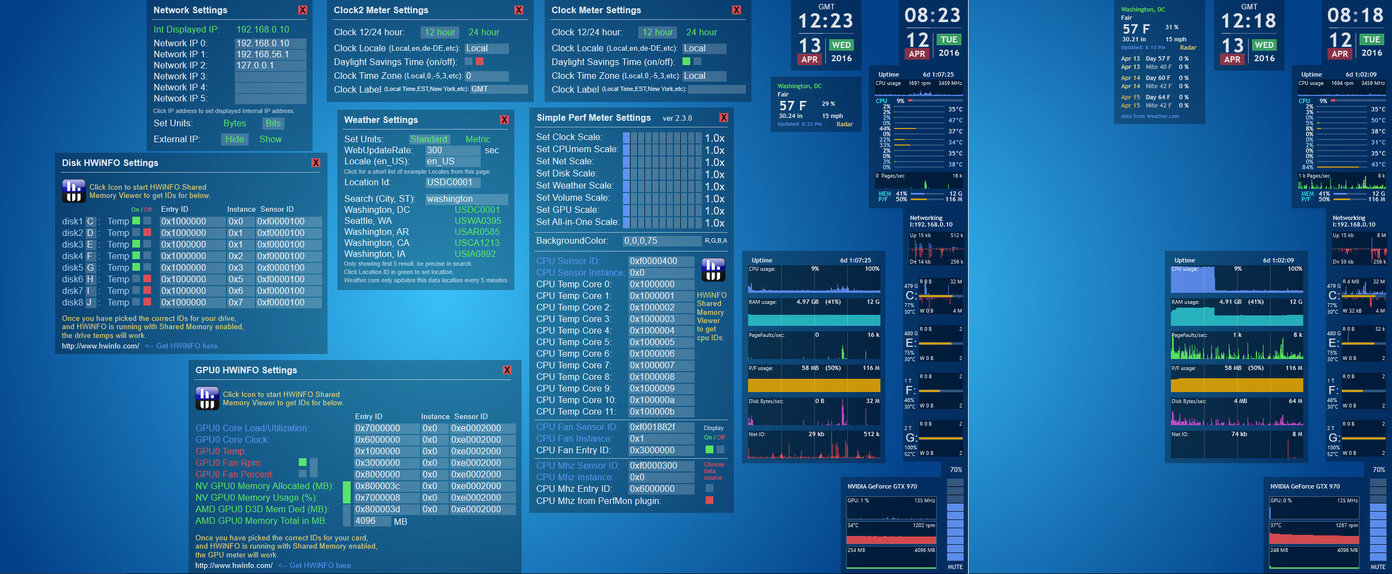 The desktop can be filled by the bunch of gadgets like Clock, Disk Meter, Network Meter, Weather Meter and much more like that.
All the gadgets have their sub-settings and we can tweak them as per needs. Even CPU FAN, CPU TEMP. logs like features are included. Weather gadget is quite powerful and can display weather statistics of multiple cities at one.
6. Information Overload
This is the best Rainmeter skin for gamers. Not very messy and not very simple. It's loaded with all the tools and features which are required by the gamers to check the CPU health.
Users can see information related to CPU FAN, MEMORY, POWER. When it comes to gaming, we indeed need the fast internet connection. So, a meter showing real-time statistics of internet speed can be added to the desktop.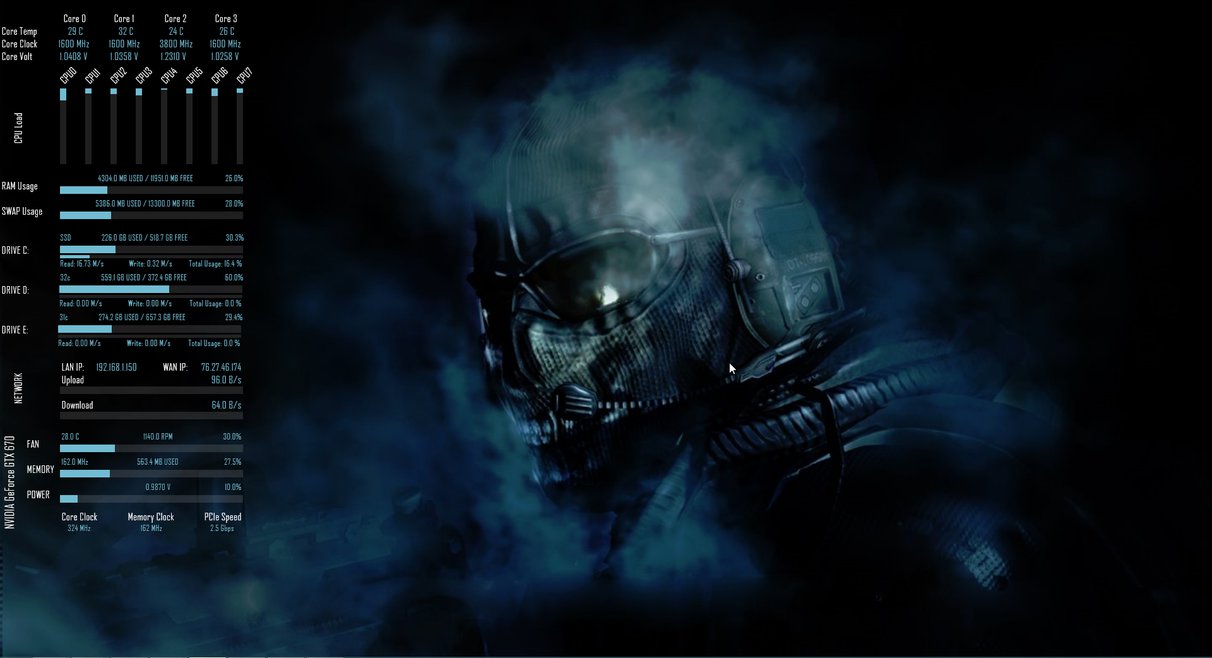 RAM and SWA usage monitor, plus all the DRIVES data write speed realtime statics are shown in a clear way. If you're a gamer then this Skin might be your perfect simple solution to monitor the entire system as well as giving fantastic look to the Desktop.
7. PCMonitor
Not all of the use relies on very well structured graphical things. Most of us want a simple designed Skin with nature wallpapers right! It delivers the simple and unique interface and performance to the users. There are 3-4 monitoring tools included in the skin.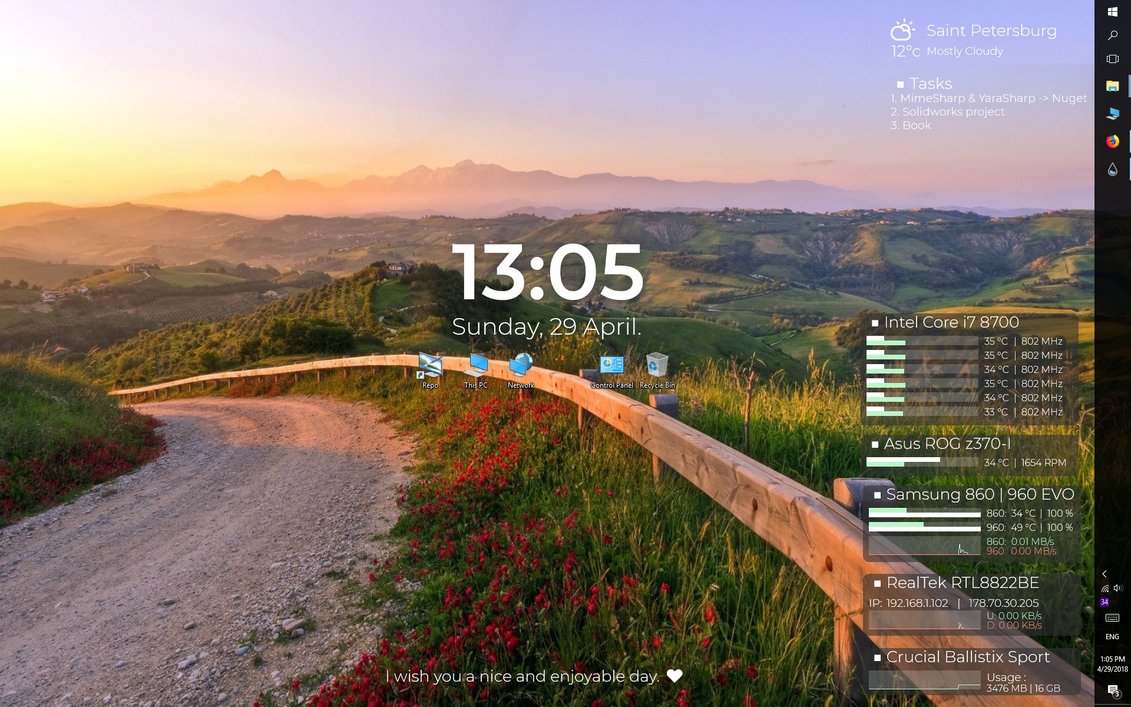 The best part of this theme is that it's simple and some wallpapers are inbuilt with the skin. As its name is PCMonitor, hence it delivers the best gadgets which help you to track the CPU performance.
Users can add wallpaper according to their needs and time, weather reports are also beautifully shaped. A beautiful font is used in this skin and there's also an area where currently running tasks are shown.
8. Talking Headlines
Waking up early in the morning and reading a newspaper with a cup of tea/coffee is everyone's dream. But, not everyone has that much time in the morning (till retirement right! 😉 ) So, here's a Rainmeter skin perfectly designed for you.
Talking Headlines gives fresh news from over 10+ popular news feeds like BBC, ABC, CNN, Lifehacker etc. All over the desktop, the news is listed with the proper thumbnail. The news feed is from the trusted sources. This means you're connected with the entire world indirectly.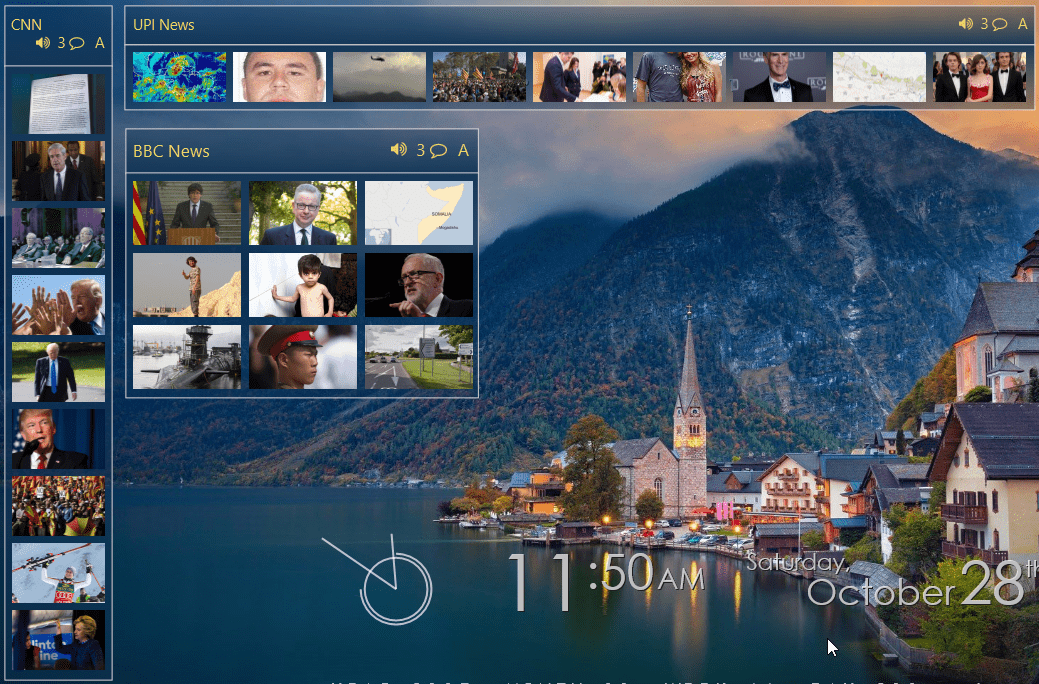 It's an amazing idea and useful for a lot of people out there who don't have much time to read a newspaper. We can almost stay updated with every single news using this skin.
9. Skyripper Rainmeter Skin
We loved this skin very much. The reason behind this is that everything is designed in the very well mannered way. Not very high-tech looking graphics which almost seems to be messy after some time, and not very normal kind of design.
It's just perfect masterpiece which provides vast information as well as the required gadgets. Just like all other themes, there're information tabs showing CPU usage and Disk usage.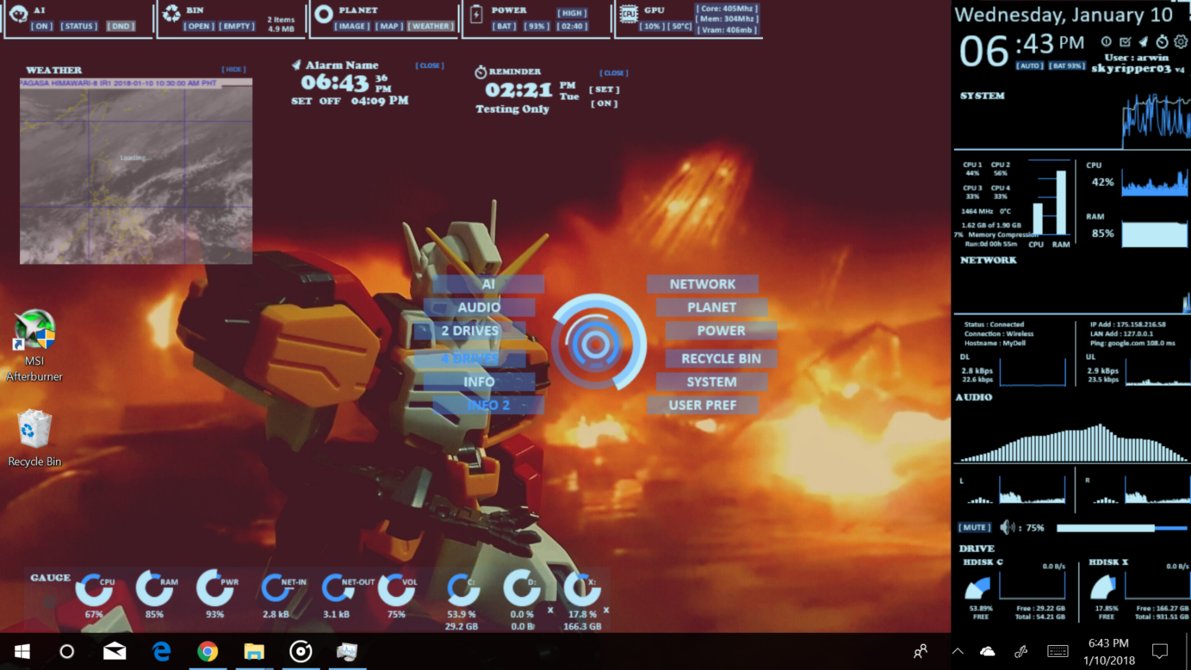 Using the Planet feature, one can see the weather on Earth Planet. It's named very well by this Skin's author right!
Another cool thing is the graphs shown on the desktop. These graphs give eyes catchy look to the desktop. Download this skin for free and check it out.
10. Kotoko Suite
Loaded skin with a bunch of tools and gadgets. Useful information is displayed on the screen and all the gadgets are beautifully designed. The look of the desktop is almost changed when you apply this skin to your Windows.
Important gadgets like Countdown clock, calendar, configs etc. are included. Most important this in the skin is its "EarthQuake" activity bar. It gives you every single information about the earthquake activities all around the world.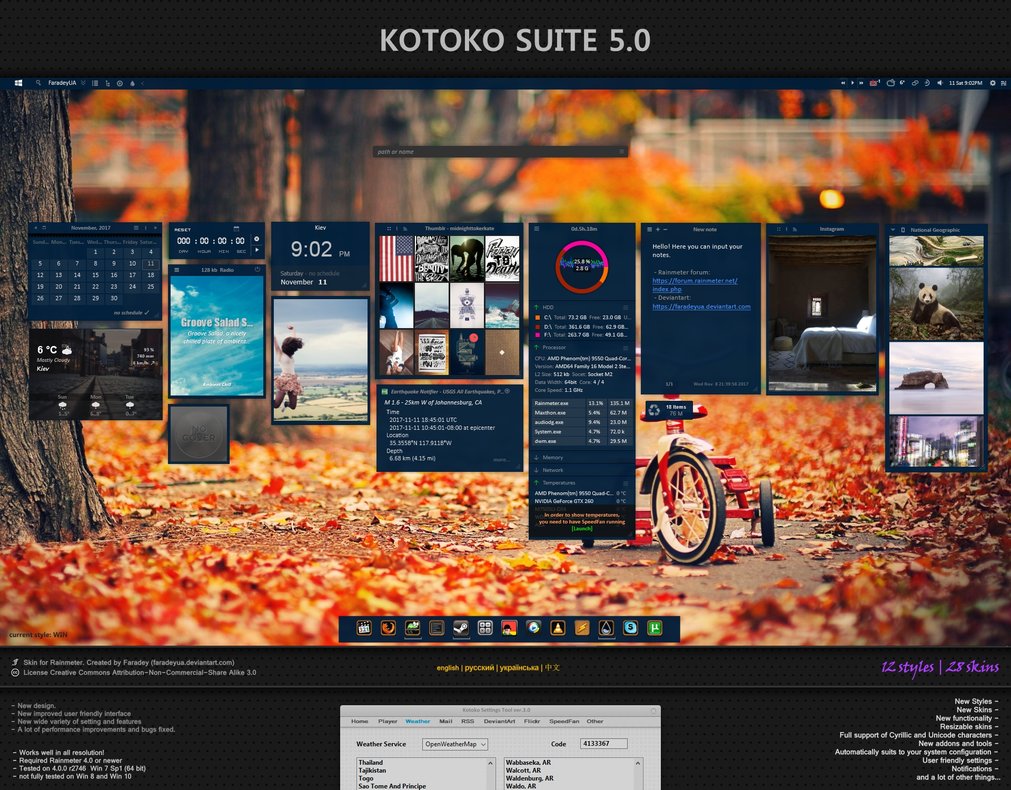 If we talk about design, multimedia skins are supported which pleasures you with multimedia software. As usual system logs are continuously shown just like all other skins. Download it today to figure out more.
11. Temple VR1.1
Another masterpiece made for simplicity. People who aren't very familiar with the overloaded Rainmeter skins should definitely check Temple VR1.1 theme. The most important feature is the two taskbar like labels on top and bottom of the screen. Hence, there's a lot of space to manage the icons on the desktop.
Both the taskbars are having useful tools and gadgets. Users have the ability to change color, fonts etc. and most of the things are configurable.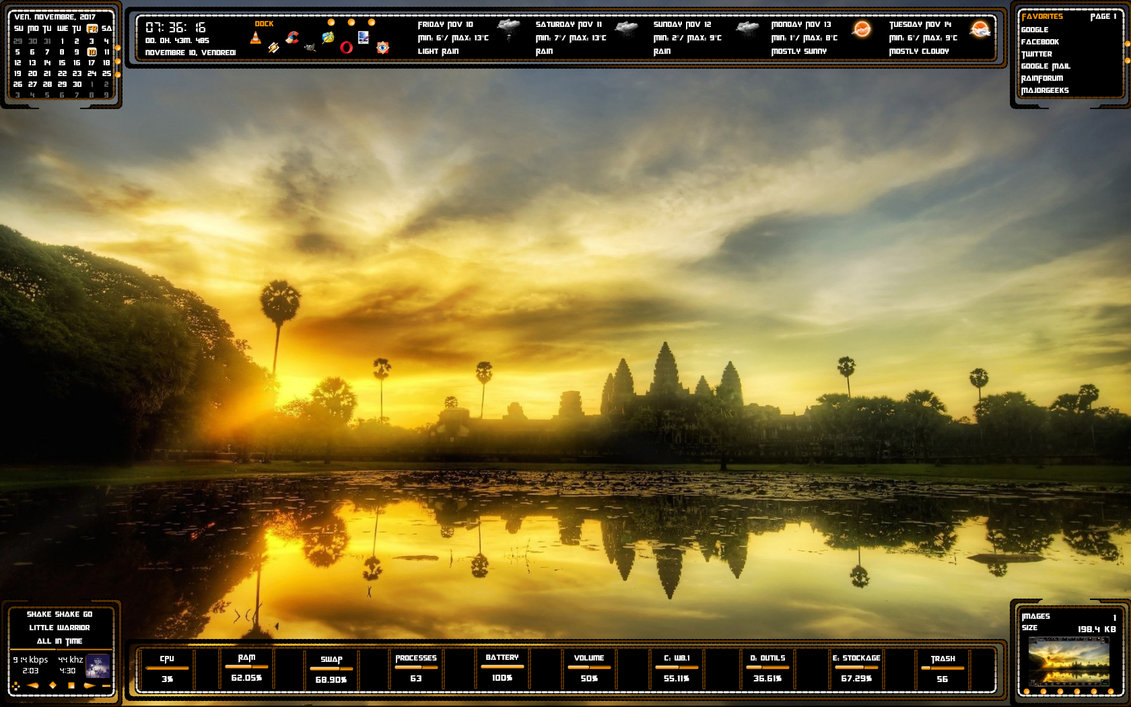 The overall look is like the window whose edges are loaded with useful information. It also has the bunch of other similar features supported by other skins e.g information logs, CPU monitoring etc.
12. Cycle 1.0
We still remember those good old days, trying a lot of Nokia themes to give a dramatic and good look to our devices. The fun part was that those themes only change the icon design and we still love that. But, the situation is very different these days.
But, if you're also gloomy icon lover just like our team, then Cycle theme is meant for you. It only adds the gloomy icons to the desktop which can be assigned to different locations.
There are 21 in total icons with different designs. You should definitely try this skin to get back to remember old days 😉 .
13. Injustice 2 VR1.1
It's the theme meant for gamers. There are the bunch of gamers out there looking for Rainmeter skins for gamers. So, here's the solution which might be perfect for you.
This skin is based on injustice game which is quite popular game ever built. So, there's the possibility that you've played any game of Injustice series.
This Rainmeter skin comes with the preloaded game wallpaper and the bunch of useful informative tools, helpful for monitoring the CPU health to ensure that you're ready for next mission.
Different docks are introduced in the theme which is further customizable. Design of the skin is pretty much attractive and a pleasure for gamers as well.
14. CastleKeep v1.0 (For Dragon Lovers)
It's totally different from all other submissions on the DeviantArt store. Many of us are dragon character lovers and loves to watch dragon movies. This theme is meant for such fans.
Not only the wallpaper which comes preloaded with this theme but the icons, widgets, tools, gadgets etc. are designed accordingly.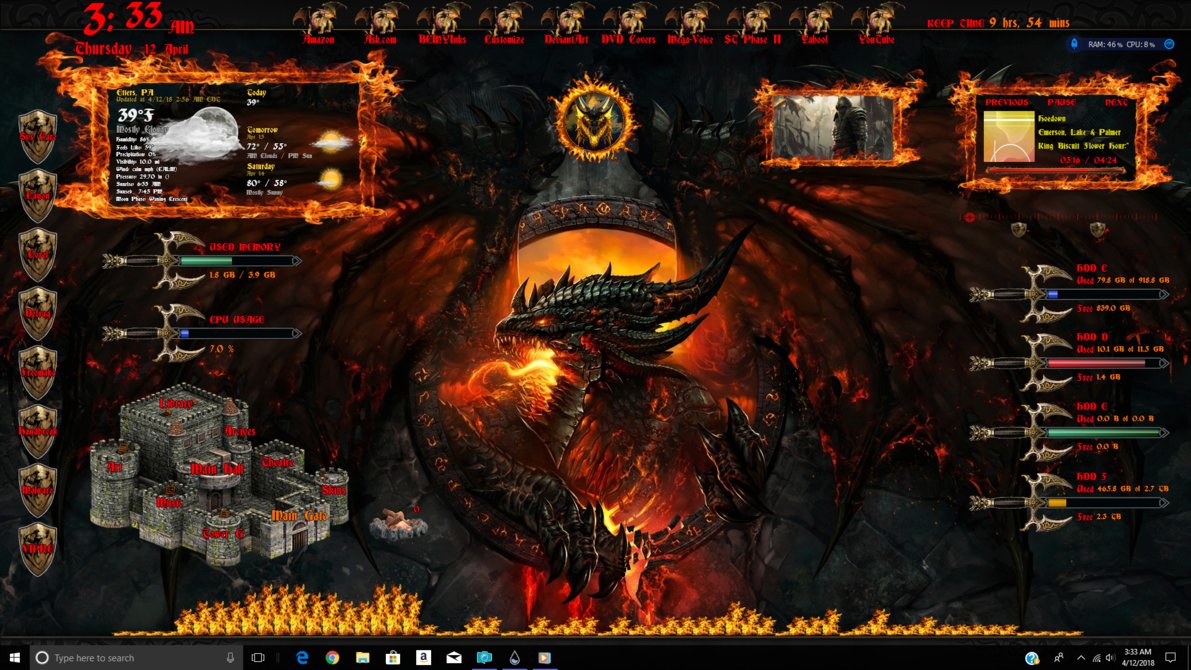 Even the section where weather statics are displayed is baked with the dragon fanciness filled in creator's mind.
We loved this theme very much and it's designed accordingly the way a dragon theme should.
15. Car and Vehicle Tuning
Any car lover out there! reading this article and looking for a Rainmeter skin based on cars!
Well, here's the perfect skin we've discovered for you. It's quite simple but delivers all the things that a skin should.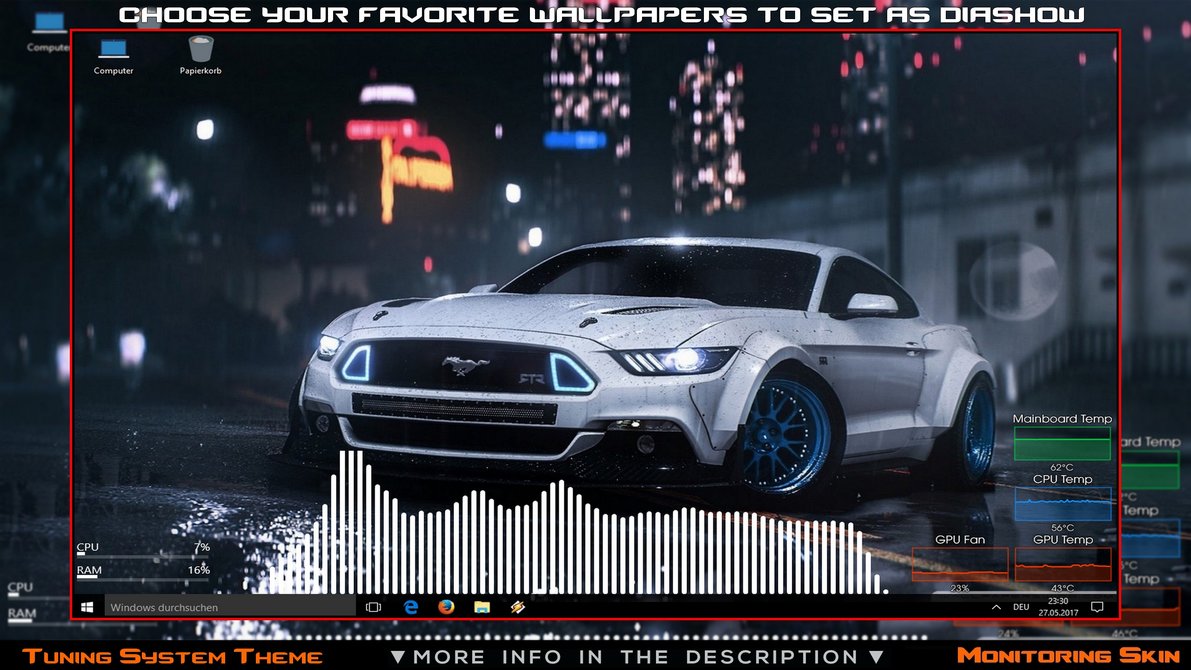 Unlike other themes, the section where CPU statistics are shown is designed in very simple and attractive way. Some HD CAR wallpapers are included in the skin itself but you can download more from the author suggested websites.
We hope that you enjoyed the collection. We surfed through hundreds of skins to find out the useful ones. Drop down your suggestions/feedback in the comment section down below.