The best way to share long URL by shortening them using some of the URL shortener services. Sometimes you need to share any long URL on social media or on any website then URL shortening services will help in such cases. There can be several reasons behind using these link shorteners. If the URL is too long or you don't want to show the actual landing page address then you can use them.
The another reason can be to use these best URL shortener to make money. They pay on the basis of per 1000 clicks or similar like that.
Some Benefits Of Using URL Shorteners
For Tracking the activity on URL including location tracking and other analytical data.
To make the long URL short and to make it more clicky, even a study these services proves that shorten links always get high CTR( Click Through Rate).
Gives you protection against domain ban, because often posting same links considers as spam which leads to domain ban on that particular site where link been posted.
To Earn some extra cash, most of these link shortener services gives you money for per link click, excluding google URL shortener.
Here is a list of some best URL shortener websites to shorten links. These are totally free services but may include paid PRO features:
1. Google URL Shortener [goo.gl]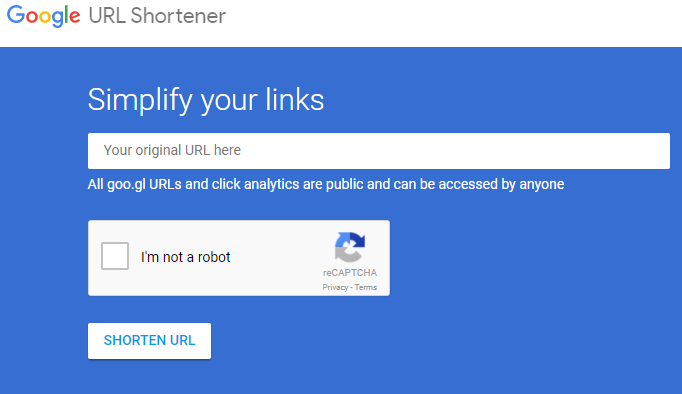 As Google is the trust of the internet and people don't hesitate using services or products provided by google. However, most of the google services and products are totally free, same as here you have google URL shortener. It provides you an analysis report for each of your shorten links such as geolocation from where users clicked URL, their OS, browser used and much more. The best part using google shortener service is they provide deep links for developers which is pretty amazing and works much better than other deep link services which is highly compatible and allows you to dynamically detect the user system to provide them desired page instead of not only pointing to a particular page, so if you are an App developer then this can work superbly for you.
However, on the basic link shortening needs it's quick and much faster, the only thing you'll be missing that you can't make money through this, and if you actually looking url shortener to make money then we'll suggest you go further on the list below.
2. Bitly [bit.ly]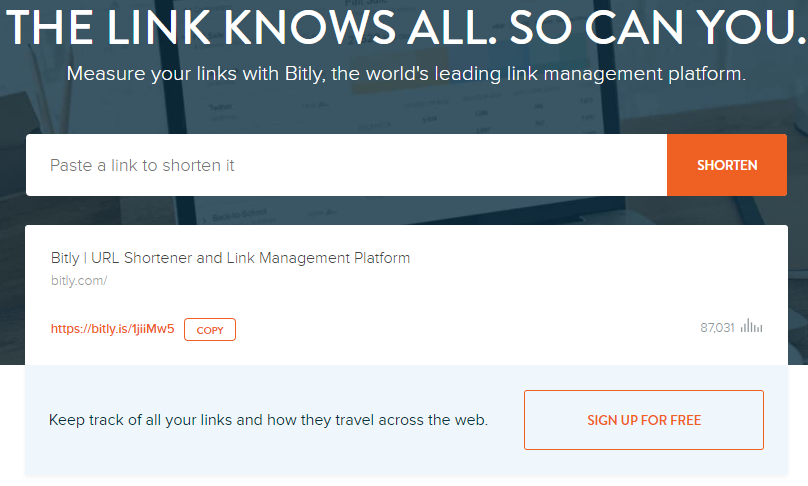 Bitly is another trusted online link shortener which lets you short long URLs, share them via bitly or through its API. You can get analytics of individual links you have shorten through bitly. It really helps you when you run a campaign so you'll get a report of your audience and their behavior on any particular link which is really helpful to engage audience.
Bitly has an Enterprise edition as well which tap into a deep level of understanding with audience Intel. Its expanded analytics functionality which gives you insight into the most active time of day, most engaged users and much more. There is no need to create or signup for an account while shorting links for a temporary purpose. However, if you want to get the analysis data then it will be better to create an account there.
3. Tinyurl

It is as simple as it named, the only goal to provide the tiniest url. You can short your affiliate links that you don't want to reveal in any forum or site or wherever you place the link. Also, if you are a site owner or going through the promotion of some site then you must be careful of posting lot of links so that you can't get banned. It keeps your own link stay away from banning and let the brand domain keep growing.
You can add TinyURL to your browser's toolbar for quick accessing to its shorten service and make it more handy to keep shorting more links.
4. Shorte.st
Looking for a URL Shortener to monetize your site traffic or to monetize general link traffic to earn extra cash! then you are at the right place because Shorte.st is here at your service. This is one of the best choices of users when they are about to monetize their link traffic. For each country, it gives you the different amount of money, however country like USA, UK always give you a high amount. You can also run a batch shorting to short more than one links at a time. Also, to short all links of your own website without making the list of all links you can use its plugin as well.
The only strange thing about this url shortener is that instead of redirecting you to the target page it first send the user to the advertisement page where after watching to 5 sec ads he can click to skip ad button and then go to the landing page.
5. AdFly [adf.ly]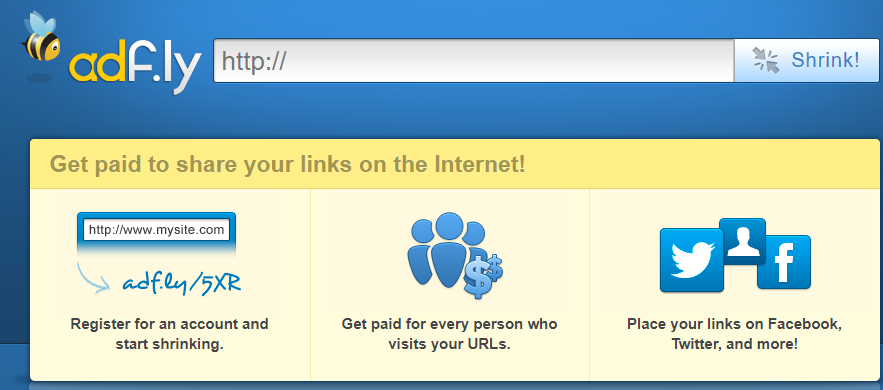 AdFly is one of the oldest url shortener site which is most popular for earning money by sharing short links, so each visitor you get from those shorted links will let you earn some money. The concept of providing the money to your account for every shorten link traffic is pretty much same as shorte.st. The only change you will notice is the time session after which the skip ad button appears. It could be 5 or 10 seconds. The Ads page will be fully advertisement friendly so that your visitor will never see such popup or pop-under ads. Also, it has a minimum payout of $5 which you can redeem anytime through PayPal or Payoneer.
6. Bit.do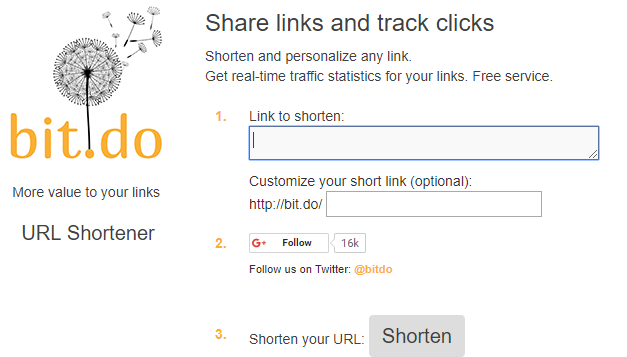 Bit.do is very basic looking shortening site/service in terms of layout but really it has professional features inside it. It's quick and simple. You just need to put the target URL that you want to be shortened and leave other work to Bit.do. From that time it will track your link and give you such info like, from which site the shorten link has been clicked, even the particular page link from where the click comes from.
The another good feature about this shortener that you can customize you short URL to change the shorten link. Also, you will get real-time statistics. Each and every link you shorten from bit.do will never expire and all shorted links will remain permanent.
7. Ally [al.ly]

Ally is another great link shortener site to shrink long urls, along with shrinking those URLs it pays you to drive traffic on those shorten links. But you need to be registered in order to avail that. Ally has high payout rates for each 1000 visitors and it has the minimum payout of $1 which you can redeem through PayPal, Payza, Skrill or Payoneer as well.
All these link shortener sites/services we have listed here are totally free and provides no spam. So feel free to use them, as shortening sites are really helpful these days. Also, shortening URL is a good practice of sharing links online.url