Windows folders color is light yellow by default. But many users want to change the color of their folder to look it more attractive and eye-catching. Windows folder icon can be changed very easily by changing some properties of the folder but to change the color of folders you need a tool.
What is a Folder:
A folder is a virtual location in any virtual memory storage device. You can manage your files on any storage device by creating some folders and saving your specific files to specific folders. Folders were introduced when GUI interface comes to OS and people start using OS by following graphical interface on the screen.
Need For Changing Color Of Folders:
The major reason behind changing the folder color can be to look your computer more attractive. Or you are sick seeing the same folder color these past years. Also, manage data of different customers categorized under different colored folders like Red, Green, and Yellow.
These are some of the benefits you can take from this tool but in your case advantage of this tool may be different.
How to Change Folder Color In Windows 10, 8, 7
As we already told you that in order to change folder colors you need to use a tool. However, this tool is considered for only Windows XP and 7 but we have tested it on other builds as well and it's working just as fine. So, you can change folder color in windows 10 and 8 as well. Follow below steps to know how to do it:
Step 1
Download software called "Rainbow Folders Tool". This tool is totally free and there is no need to purchase this tool. We don't know much about its developers and we also found that this software is distributed over many websites so we recommend you to download this software from any reputed website to prevent spam or illegal thing. Below is the link from where you can download this tool.
Step 2
After downloading this tool you need to extract the archive. There are few things in this archive, there are few Readme files in some different languages and one Setup of the tool. Open the tool and install this tool. The installation process is very easy to perform.
Also read: How to show hidden files windows 10
Step 3:
After successfully downloading and installing this tool you need to browse to the folder or create a new folder for testing purpose. Then Right Click > Rainbow Folders.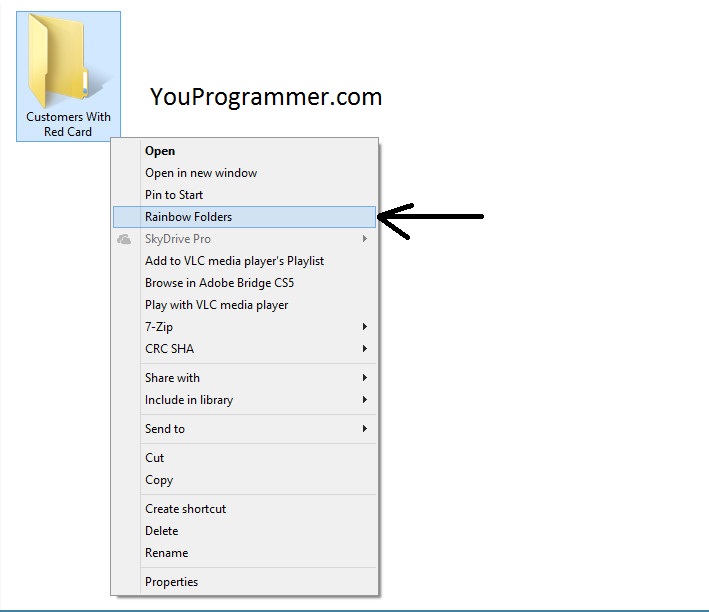 Step 4:
After this Rainbow folder tool will open and you can browse all the options on this Window. You can select the folder style, custom color for the colder and can also select the multiple folders at once to apply color to those folders.
After selecting all the required properties for the folder click on "Colorize" option and this will color your folder. Wait for some time or re-open the folder to look for the changes made by the tool.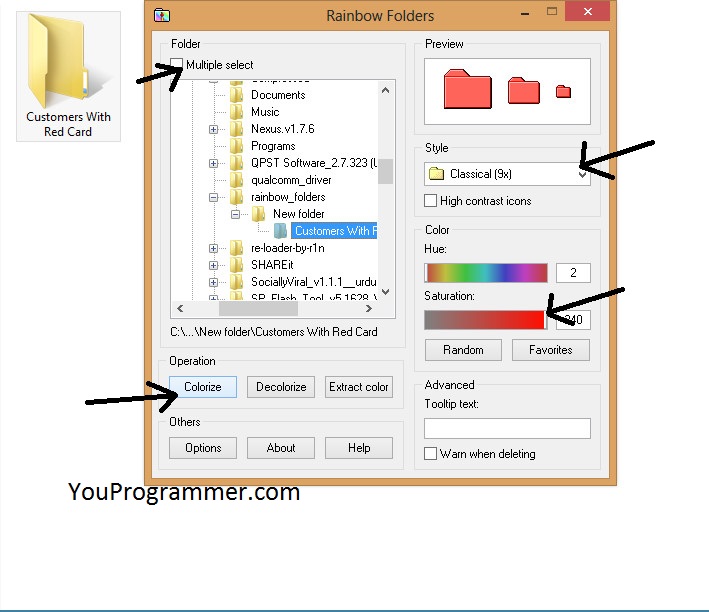 In our case, we have set Red color for a specific folder and then applying all the needed settings.
Now the color of the folder is changed and you can change the color of many folders easily using this tool.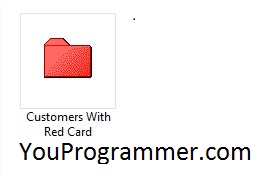 Sometimes when you colorize any folder, its color is not changed for some time and you have to wait for some time in order to get the results. So be patience.
Note:  We don't officially provide this tool for you. We recommend you to download this tool from the link given above and we aren't responsible for any harm caused by the software. But Overall this tool is totally capable of changing folder color in windows 10, 8, 7 and xp.