Chrome Menu can be accessed by clicking on the three dots on top right corner of the screen. However, this menu isn't like other browsers where the user will have to choose the different options for view, tools, edit, file etc. Everything is in the same menu which is Chrome Menu. If you're confused about the facts that how you can access the edit, view etc. tools. Then remember that these tools are available in Chrome Menu. Users can access these things from that menu. Many users who were using Internet Explorer or any other browser and then switched to Chrome are confused about this thing. If we talk about Internet Explorer, users can click on the Settings icon. From there they can access all the tools. In some browsers, these tools are listed on top of the screen.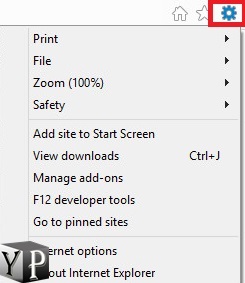 Don't be confused with Google Chrome, these tools are available on the Chrome Menu. Just click on the options menu in the top right corner of the screen. Alternatively, press Alt+F and Menu will appear. From there, users can access all other options which are available in other browsers. However, we'll show you some tweaks to enable Chrome Menu which isn't a settings menu but you can access most of the things from there.
Most important thing about this menu is that you can add many settings to this menu. After adding those settings, just select it from the menu and you can access those settings easily. This improves your speed of accessing settings as all the settings can be changed within few clicks.
You can create a separate Chrome Menu by following the tweak given below. The menu will look like the image given below. So, if you want the menu like this, follow the steps given below.

Also: Change Home page and Startup Page In Chrome
How To Access Chrome Menu
Many users are confused about accessing the Chrome menu. If you're one of them, please don't be confused. Each tool is available in Chrome's Menu which you were using previously in other browsers. Only the way to access the menu has changed. Also, the view has changed from Three horizontal lines to three vertical dots. There's no other change in Chrome. To access the Menu in Chrome:
Click on Three Dots on top right edge of the screen. The menu will appear.
Now, you can access all the tools available in the menu.
or
1. Press Alt+F and menu will appear.
2. Select whatever you want to access from the menu.
Chrome Menu (Create A Chrome Menu)
In order to do this, you'll have to change the bookmarks settings. By default, all the bookmarks are hidden in Chrome. In order to create a separate menu, we'll have to show the bookmarks in Chrome. Only then this tweak will work.
Click on the Three Dots to open Chrome Menu and select Settings.
Now, toggle the options menu and select Appearance.
Enable Show Bookmarks Bar and then a new bar will appear below the URL bar.
After your bookmark bar is visible, we can add many settings to this menu. Like Browsing History, Clear Browsing Data, Extensions etc can be added to this bar which will be then your new menu in Chrome. Use this menu bar to access most of the settings in Chrome quickly.
Now, we need to add some new bookmarks which will redirect you to settings. To do this, follow the steps given below.
Also: How To Make Chrome Default Browser
Adding Items To Chrome Menu
We'll be adding the Setting option to Bookmark menu. You can add whatever you want. Just Press Alt+F and select any option from the menu. We've selected Setting, select whatever you want in your case. Under More Tools, you can find more settings and tools.
Now, press Ctrl+D and you'll get an option saying Add To Bookmark.
Put the name which will appear in Chrome Menu and click Done.
You'll get the bookmarks in the Bookmark Bar, clicking on the bookmarks will open Setting page quickly.
You can add multiple options to newly created Chrome Menu. This is actually bookmark bar but this hack will help you in accessing things quickly. We've added Extensions, Downloads, Clear Browsing Data and much more to this menu. You should add all the things that you regularly open in Chrome.
Also: How To Change Language In Chrome
We hope you got your desired answer about Chrome Menu. If you still have questions, comment down below and we'll try to help you.