Chrome task manager is really a very useful in Google Chrome. It's just like Windows task manager where the user can get the list of all tasks, monitor their performance and disk, memory usage etc. Most of the users don't know about that feature of Google Chrome. It's amazing feature as Chrome really sucks sometimes in terms of performance. If you're running Chrome in low specs machine, then it might lag a lot. Sometimes, Chrome even crashes but in the latest updates, many improvements are made to Chrome. Now, it's more stable and performs very well. Task manager in Chrome enables users to monitor the Memory Usage, CPU Usage, Disk Usage, Network Usage etc. In the Chrome's task manager, every process has its own process ID.
If you're doing work on Chrome on the daily routine with a number of plugins then task manager is really the very helpful thing for you. It improves your control on the Chrome. Users can monitor that which page/plugin is using more CPU and Disk. Even if you're not able to close the tab in Chrome, you can do it using the task manager in Chrome. Just like Windows task manager, you can end any process in Chrome.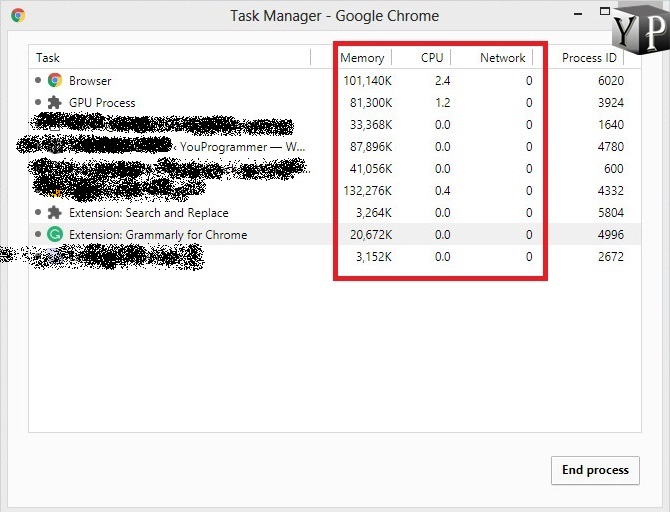 With Chrome's interface and usability, everyone love using it. It's Web Store is full of amazing apps and plugins which increases your productivity. Users loved to use extensions in Chrome because they are very useful and helps in doing many works easily.
But, working on multiple web pages, loading multiple web pages and using too many extensions creates serious problems sometimes. If you're using any extensions, we knew it's very useful to you. But, have you ever thought that enabling those extensions which are not used by you regularly can also be the reason behind Chrome's low performance?
Yes, it's true many extensions kept running if they're ale and the worst part is that they too are eating up the CPU and Disk usage of your system.
If we talk about extensions we're using in Chrome then we would like to mention the name like Grammarly, Google Translate. These extensions are really helpful to us. But, Grammarly needs more CPU usage to work properly as it needs to find all the spelling mistakes a web page. So, we can use Chrome Task Manager to monitor how much CPU and Disk is used by Grammarly plugin.
Then we can monitor the CPU usage of other plugins which aren't used by us in the regular work. We can even monitor which web page is eating up all the CPU and Disk usage.
These things clearly show how important is Task Manager in Google Chrome. Now, know that how to open Chrome task manager and how to use it.
Read: Fix: Flash Not Working In Chrome
How To Use Google Chrome Task Manager
It's very easy to use Task Manager in Chrome. The process of opening it is different in Windows Chrome Browser and in MAC, Chrome OS. Below are the steps you need to follow to open it.
Windows Users: Right Click the Chrome's window and select Task Manager.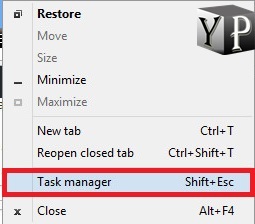 or
Press Shift+Esc key on the keyboard and task manager will appear.
or
Using Chrome Menu: Click on Chrome Menu and select Tools>Task Manager.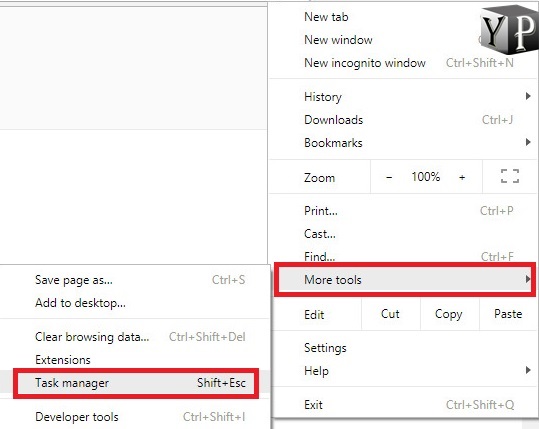 MAC Users: Right click on the top of Chrome's Window and select Task manager.
or
Click on Chrome Menu and select Tools>Task Manager.
Chrome OS: Select Menu and under tools, select Task Manager.
Now, once you've opened the Chrome Task manager you can monitor and many tasks which are performing inside Chrome Browser. Below are the other tasks you can perform using it.
Monitoring The Resource Uses By Tabs and Extensions
Open the Task Manager and you'll get the screen like Image is given below.
Detailed data about the resources used by tabs and extensions.
To know watch more analytics about resources used, Right Click inside the task manager and select what stats you would like to monitor and what to hide.
Read: Open Recently Closed Tab Quickly In Chrome
Ending The Plugin Processing or Force Close Tab
Sometimes, we're browsing websites which are full of ads and even some ads aren't skippable. They want you to click on any link and even you're not able to close that tab. In this case, Chrome Task Manager is really useful for you.
Even if any Extension in Chrome is using too many resources, you can force close it.
In task manager, click on any process like Web Page you want to force close.
Click on End Process. The page will be instantly closed.
Now, if you want to force stop any extension, select the extension and Click End Process.
Note: To use extension back, visit chrome://extensions and reload the extension.
We hope you now understand the purpose of Chrome Task Manager and how you can use it to make your Chrome experience even better. If you still have questions about this, comment down below and we'll answer your every question.