Word is very popular among word processing software. This is developed by Microsoft and currently, it's amazing and best word processor ever built. Many features in MS Word continuously kept attracting more and more users. The best thing about MS Word is that it's very simple and easy to use. There's no complexity in using this software. In fact, lengthy and time taking tasks becomes easier in MS Word. You're using this word processor for simplicity, fast work, easy access to advanced features and much more. Millions of users create documents using MS word. In offices, homes, schools etc, this software is run everywhere for work. Sometimes users are creating a lengthy document containing several pages. The worst situation appears when accidentally new pages were created. Now, there are some steps you need to follow to delete a page in word.
Deleting a page in the word might be confusing for some users. With new users, this happens a lot. They create several pages first a and then start writing. If some pages are left, they want to delete them. In fact, new pages are created accidentally or users want to delete some pages from prewritten word documents.
Several ways are used to delete a Word page. It's very easy and once you've learned how to delete a word page, you'll never forget the steps. Even there's a feature developed by MS Word team which allows users to delete word pages more easily. Users can find where is blank space left, which page is totally deleted. Everything gets visible on screen and users can select what to delete and what not to. So, read the whole article and delete pages in a Word document.
Methods To Delete A Page In Word
Use Shortcut Key To Delete The Page
First method is very simple and we'll show you the key combination to delete the lank pages in Word document. If your new page is filled with page breaks and unwanted paragraphs, you can delete them all including your page. Below is the key combination you can use:
Press: Ctrl+End+Backspace
Press this key combination rapidly until your page is deleted successfully.
Read: Recover Unsaved Word Document
Using Backspace Key To Delete a Page in Word
This is the easiest way you can do to delete pages in Word document. Hopefully, it worked on most of the cases if the user has totally blank page. If you also have a blank page and want to get rid of it, then you should follow this method. Skip to method 2 if you don't have blank pages.
Scroll to the blank page in MS Word.
Click on the last point of the page, means the endpoint.
Now, the cursor will start blinking on that page.
Press backspace key rapidly and once all the blank spaces/text etc. are removed.
You'll be taken to the previous page and your current page will be deleted.
We hope this method worked for you. Bu, if this doesn't worked then there's another method given below. We're trying to give you the simplest solution first. Hence, method above is the simplest that you can try. Below is another simple step to delete a page in Word.
Select All Text Delete Them (Page Will Be Deleted Automatically)
This way is also useful and you can delete your page quickly. But, you need to select whole the texts on any page.
Click on the end point of the page.
Scroll your cursor selecting all the text on the page and move that cursor to the end point of the previous page.
Press delete or backspace key on your keyboard.
This will work for all users. If it didn't worked then try other two methods given below.
Using Navigation Pane
MS Word has navigation pane from where users can quickly navigate between pages. It's really useful as if users are creating a document with multiple pages, they probably want to navigate between multiple pages to edit them as quickly as possible. Scrolling to different pages doesn't consider to be really useful and effective way to edit multiple pages. So, navigation pane solves the problem here. This navigation pane can also be used to delete the unwanted pages in Word. Follow the instructions given below to delete a page in Word easily.
Open your word document from which you need to delete a page.
Click on View tab which is located on tool menu.
Now, there's a navigation pane option. Enable it by clicking on it.
Navigation Pane will now appear on your screen. Select the page you want to delete.
Press the delete key on your keyboard and your page will be deleted instantly.
This method is really useful to delete an entire page from your document. Keep in mind that your entire page will be deleted. So, e careful using this method. Your precious work might be lost. Copy all the contents you want from your page before deleting it.
Read: How To Type Indian Rupee Symbol In Word
Using Show/Hide Tool
There's a tool in MS Word which is very useful to show all the blank spaces, page breaks etc. If your half of the page is blank of any page is totally blank, there are several reasons behind this. One of the topmost reason for the blank page is that user kept pressing enter key, whole the page becomes blank and next page is automatically inserted by MS Word. The another reason is, user kept adding new pages and forgot to put content on some pages. Use this to delete a page in word, plus find all the reasons behind blank pages and spaces in Word.
Also, if there's a page break in Page, you can't add texts etc on that section because there's page break on that section. You need to remove that page break and Show/Hide tool is really helpful for this task. This solved all your problems.
Under Home tab, select the Show/Hide tool from the menu.
You'll get little icons spread all over the pages. Those icons show the blank spaces, page breaks etc.
To delete a totally blank page, scroll and select all the icons and press delete button on your keyboard. Your page will be deleted instantaneously.
If there's a page break, you should see the Page Break starting point.
To delete that page breakpoint, click on the icon and select the whole line.
Press delete key on your keyboard and page break will disappear. You can now put content on that section.
To hide the last paragraph/page you're still seeing, then hide that easily.
Select the Font option and from the font tab, select hidden.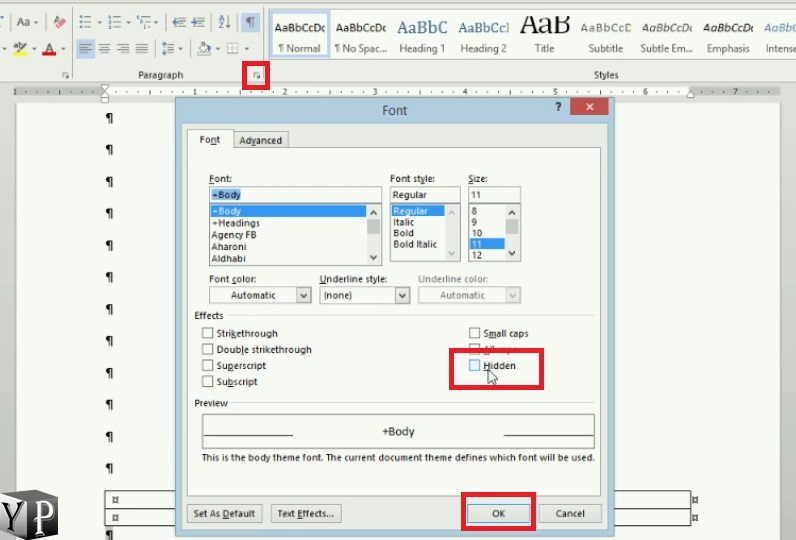 Read: Convert Pages To Word
These are the all possible way to delete your page in Word. If you're still not able to use any of these methods to delete a page in Word, we recommend you to create a new Word Document. Then copy all the needed content and paste it into new word document. This is the only was left to get rid of blank pages in Word. Commend down below if you've questions or suggestions.