Fast user switching is one of the best features in Windows 10. Thi feature allows users to switch between multiple user accounts without closing the applications. This means when a User1 switch to User2 account, applications are still running in the background of User 1. This is great as there's no need to close the application and work that a user is doing with the User1 account. If you don't want to use this feature, you can disable fast user switching. It's very easy to enable/disable fast user switching in Windows 10. As we mentioned above that it's one of the best features in Windows 10, but it has drawbacks. If you're working with multiple user accounts at once, there might be possibilities that apps you're using in both the accounts will now work properly.
Many times when we were using fast user switching feature in Windows 10 and our PC becomes very slow. When we switch from User 1 to User 2, applications in User 1 account becomes very laggy and there's no option left rather than force closing them.Every feature has its drawbacks and fast user switching also has its own drawbacks. So, it's wise to disable this feature. It can't be done from the settings menu and you've to do some tweaks. We'll be showing you how to disable fast user switching in Windows 10. It's very easy and you should have administrator account access for this purpose.
Fast user switching can't be permanently disabled technically. You can just hide it from the User Interface. It will be hidden from the places from where you were using it. Then it becomes impossible to use this feature using Windows UI. So, it's similar to disable fast user switching.
Disable Fast User Switching In Windows 10
There are two methods to disable it. One is using Group Policy Editor and another method is by using Registry Editor.  In order to use the registry editor, you should have administrator account access. So, make sure you're on an administrator account or have Administrator account password.
Use Group Policy Editor To Disable Fast User Switching
Group policy editor allows users to edit Administrator templates. These templates are some of the User Interface templates which are visible to users. Windows OS allows users to edit these templates. This means users can edit the templates which are used to show the option to access fast user switching feature. So, follow the steps given below to use GP Editor to disable.
Step 1. First, press Win+R and type gpedit.msc and hit enter.
Step 2. Now navigate to Local Computer Policy>Computer Configuration>Administrative Templates>System>Logon.
Step 3. Then double click on Hide Entry Points For Fast User Switching.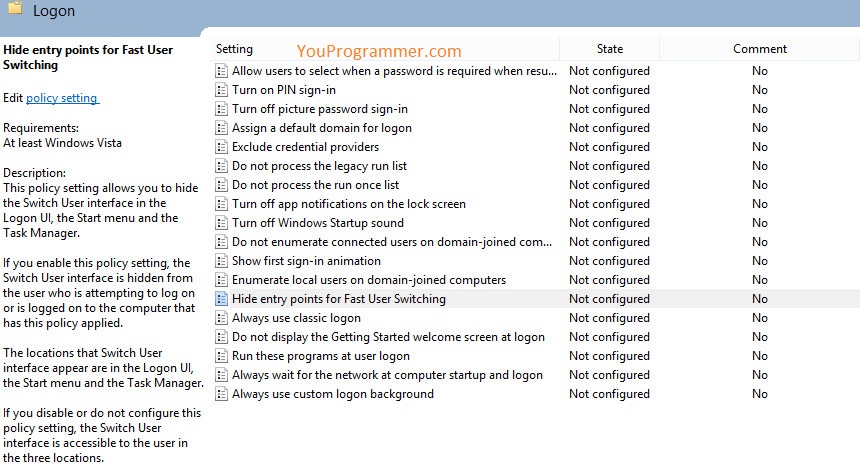 Step 4. Windows pop up will appear, select Disable to turn off fast user switching.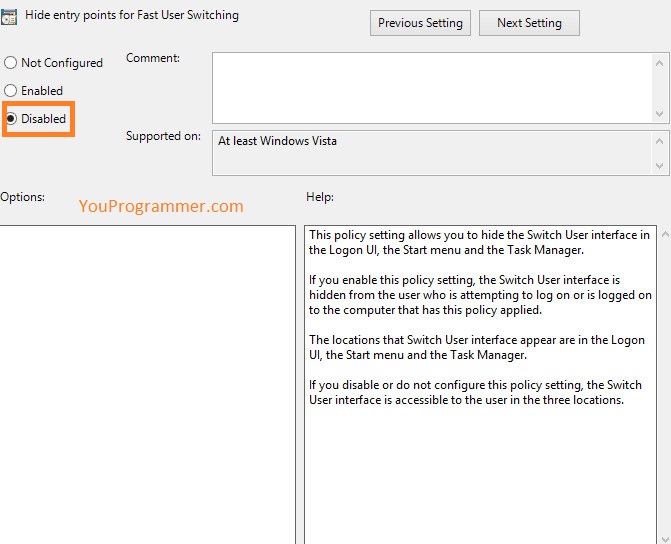 You've successfully disabled fast user switching. If you want to turn it back again, you can follow the same process and click on Enable to enable it back again. it's very simple using Group Policy Editor.
However, if it's not disabled then it can be done using the registry editor. Windows is operated by Registry values and to disabled this fast user switching feature, registry editor might be helpful for you.
Use Registry Editor To Disable
Registry editor is the powerful tool that Microsoft allows its users to access. In short Registry editor can be used to edit the functionality and other features. Registry editor is all about How Your Computer Will Work. So, it can be used to do many changes in Windows OS. So, follow the steps given below.
Step 1. Press Win+R, type regedit and hit enter.
Step 2. Give it administrator privileges and navigate to HKEY_LOCAL_MACHINE>SOFTWARE>Microsoft>Windows>CurrentVersion>Policies>System.
Tip: Make sure you're browsing to the same location as we mentioned above. Otherwise, you won't be able to find the correct registry name.
Step 3. Then find HideFastUserSwitching. If it's existed there then skip to Step 5. otherwise read Step 4.
Tip: Make sure you're not playing with other values. Don't mess with registry keys and values otherwise, you'll damage your system in many ways. Just follow the steps and leave the registry as it was before.
Step 4. Now,  Right Click on System then select New DWORD 32-bit Value and put HideFastUserSwitching as the name.
Step 5. Now, Right click on HideFastUserSwitching and select Modify, change its value to 1 (Disable). (To enable it back change value to 0)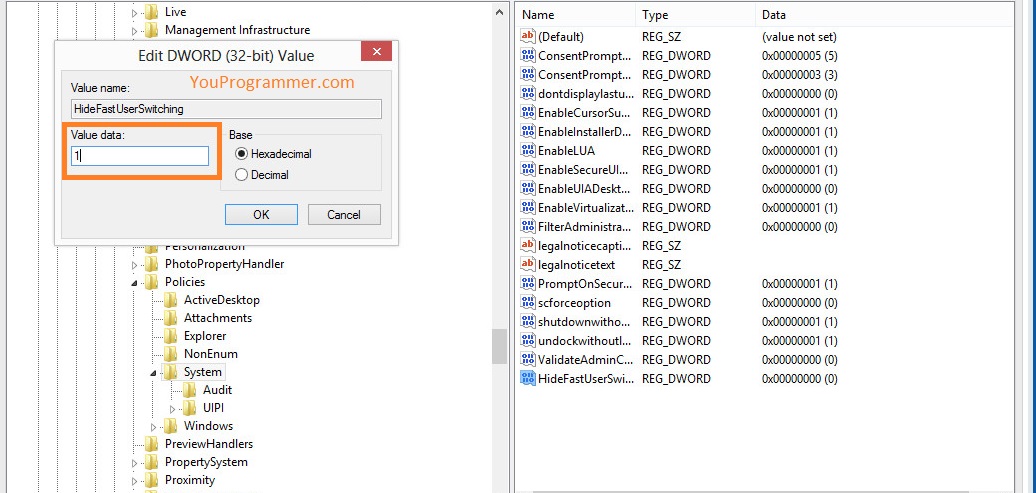 After changing the values, restart your PC. Registry edited values only make an effect when Windows is restarted. Once you've logged back into Windows 10, check if fast user switching is disabled or not. The methods given above works with Windows 10, Windows 8.1, 8.