Sometimes we can't browse the internet because of dns_probe_finished_bad_config error. This error encounter in Windows operating system and mostly the reason behind this is that your OS can't solve the DNS (Domain name System). (DNS) is name resolution protocol for TCP/IP networks, like the Internet. So, if there's if there's an error in DNS your PC won't be able to connect to the outside world. This is a serious problem as the user can't browse any website and there's no internet connection at all. This error is the system related problem. If you received this error using Chrome or any other browser, don't think it's the browser's error. You need to fix manually by following the steps given below. It's very easy to fix the dns_probe_finished_bad_config error.
If we talk about the reason behind this problem, there are a lot of them. But, most of the times, users install malicious software in their system. These Softwares causes serious problem to the system. Even some of the software is able to edit the Windows hosts file which is considered to be the biggest threat to the user. If you encountered this problem after installing any software/tool then consider uninstalling that first. In fact, your router might be the reason for this problem. Sometimes routers stopped responding and dns_probe_finished_bad_config error is displayed to the user. If the internet isn't working on all the devices then you should restart the router first before proceeding further.
If you've changed the DNS using software/tool or using Network related settings then set those settings to default. This clearly means that the DNS you're using isn't working. But, if you don't know what had happened then follow the steps given below.
Fix: DNS_PROBE_FINISHED_BAD_CONFIG Error
Follow the instructions given below step by step. We've ordered the steps in such a way that every user will successfully solve this error easily on its own.
Restart The Modem/Router
The first thing we recommend you to do is, restart your modem/router. As we've mentioned above that restarting router might fix this problem. Sometimes router stops responding to all the requests. This happens to various reasons. So, better restarting your modem/router. If you think that your modem/router has encountered any other problem before too, you should consider resetting the router then. Maybe you've made some changes in router settings which results in the dns_probe_finished_bad_config error.
So, don't ignore this step. It can fix your problem without messing up with other system related settings in Windows.
Also: System and Compressed Memory
Renew Your IP Using DNS Flush
The computer holds the record of DNS and if you can simply flush them using CMD then your problem might be solved. Maybe your DNS cache contains some DNS entries which are not valid and due to them, your computer isn't able to connect to the internet.
It's very simple to clear the cached DNS. Ths is known as DNS flush. Command Prompt can be used to do this.
Press Win+R, type CMD and hit enter.
Type ipconfig /release command and hit enter.
We need to flush DNS now. So, type ipconfig /flushdns and hit enter.
At last, type ipconfig /renew and press enter.
After successfully executing these commands in CMD, you can check whether you're able to connect to the internet or not. Open CMD and type ping google.com and hit enter. CMD should be sending the ping request and data should be received.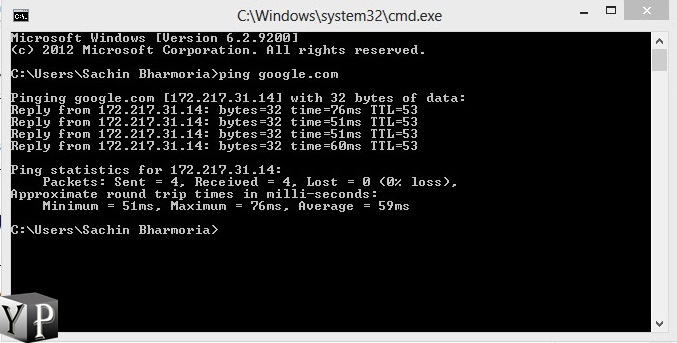 Change The DNS Address and Settings
In this method, we'll be changing the DNS address settings. We'll enter a new DNS address. By default, DNS address is retrieved manually from the ISP. But, if it's not happening in your case or there's any problem you should put the DNS address manually and check if you're able to use the internet or not.
Also: Service Host: Local System (Network Restricted)
Search for NCPA.CPL and select the first option.
Now, Control Panel will open with Network Connection page. Find the connection you're connected with.
Then Right Click>Properties.
Now, the properties of the connection will appear, scroll down and find Internet Protocol Version 4.
Click on it and select properties. Now, look at the DNS address settings.
If it's not set to automatic, you should set it to automatic and check if you're able to connect to internet or not.
But, if DNS address is being retrieved automatically but still no connectivity, you should choose the option for Use The Following DNS.
Put Preffered DNS Server: 208.67.222.222 and Alternative DNS to: 208.67.220.220.
or
Preferred DNS server: 8.8.8.8
Alternate DNS server: 8.8.4.4
Now, open the browser and check if your connection is working or not. We're sure your problem is solved. If you're still struggling with the dns_probe_finished_bad_config problem then comment down below and we'll try to help your out.