The Internet is the best way to get information. We can learn many things using the internet. But, when our internet connection stops working, we get confused about what happened to the internet connection. Most of the times, our internet connection is interrupted due to our own mistakes. If we use our devices properly and we know about all the changes we are doing with the devices, we'll never get errors with internet connectivity or anything related to our gadgets. Sometimes, virus attacks are the reason behind our problems related to internet connectivity. Many users are getting a DNS_PROBE_FINISHED_NO_INTERNET error in Google Chrome. This means your device isn't connected to the internet. may e possible that Chrome isn't able to connect to the internet. But, in most of the cases, due to the change in internet settings or DNS servers etc. this problem is generated.
Google Chrome always display the error code if there's any problem with the internet connectivity. Users can further use that error code to solve their problem. DNS_PROBE_FINISHED_NO_INTERNET error in Chrome doesn't actually tell us whether Chrome isn't able to connect to the internet or whole device is offline. There might be the problem with the DNS servers you're using or the Proxy/VPN if active. hence, you need to check all things which might be the reason behind your problem. Most of the times, users are using such DNS and Proxy server addresses which are down or invalid. Hence, this error code is shown to then in Google Chrome.
In this article, we've shown all the fixes to this problem. In most of the cases, this problem is generated due to the internet configuration problem in Windows OS. But, there's the possibility that your router isn't working. So, read all the solutions and try each of them to fix your problem.
Methods To Solve DNS_PROBE_FINISHED_NO_INTERNET
Now, let's talk about the methods to solve this problem. As we suggested above that this problem may be related to the device, Chrome, or the router. So, you need to go through the sequence of methods so that you can solve your problem easily. Follow the methods given below like the way they are arranged.
Check If Internet Is Working On Your Device Or Not
The first thing you need to do is check whether your device is online or not. In most of the cases, device online and the problem is caused by Chrome itself. To check your internet connectivity:
Press Win+R and type cmd, hit enter.
The command prompt will appear and then type: ping google.com.
Now, below are the conditions:
If Ping Request Is Successful:If you receive data and all the ping requests are successful, this means your Chrome is in trouble and you need to reset it. But, before proceeding, try opening any website in another web browser like IE.
If Ping Request Is Unsuccessful:
If all the requests aren't successful then you need to change the settings of your device which are possibly misconfigured or your router isn't working.
Tip: You should also check whether your router is online or not. if your router isn't online then this means that your internet connection isn't working. To check this connect another device to your router/modem and check if the internet is working or not. This is hardly reccomend you so that DNS_PROBE_FINISHED_NO_INTERNET problem reason can be figured out.
Reset Your Device's Internet Settings
Condition: Users whose router is online but the device is offline should follow this method.
Now, we'll go through all the steps which will reset your internet connection to default. once your internet connection is reset to default, there should be no problem with the internet connectivity. We'll reset the DNS settings and will go through few steps to fix everything. Sometimes, due to any virus attack, some settings are changed without user knowledge.
Open the command prompt as administrator.
Now, type the following commands one by one:
ipconfig /release
ipconfig /all
ipconfig /flushdns
ipconfig /renew
netsh int ip set dns
netsh winsock reset
After executing all these commands one by one and then again perform checksum given below.
Right-Click on the network icon in the taskbar and then select Open Network and Sharing Center.
You'll get the name of the network to which you're connected. Select it and then click on Properties option.
Scroll down and choose (IPV4) and (IPV6) respectively.
Make sure you've set the settings to "Get Automatically". Don't use any custom DNS address.
Reset your device and check if your problem is solved or not. We hope your problem is solved. if the problem is related to your device, it should be fixed. But, we recommend you to follow the tips given below.
Tip 1: First, we recommend you to check if your antivirus is disabled or not. Maybe your antivirus is making a firewall between your internet connection and the device for some purpose. So, disable antivirus, turn off the if firewall is active.
Tip 2: Also, make sure that your windows host file is not changed. In most of the virus attacks, your host file is effected to make the user offline or for advertisement purpose. So, you should prefer to check the Windows host file located at the drive where your Windows OS is installed. navigate to: Windows\System 32\Drivers\etc and then click on hosts file. open it with the notepad and make sure it looks like the image given below. If it's not like the image given below then remove all the domains etc from it and make it look like the image below.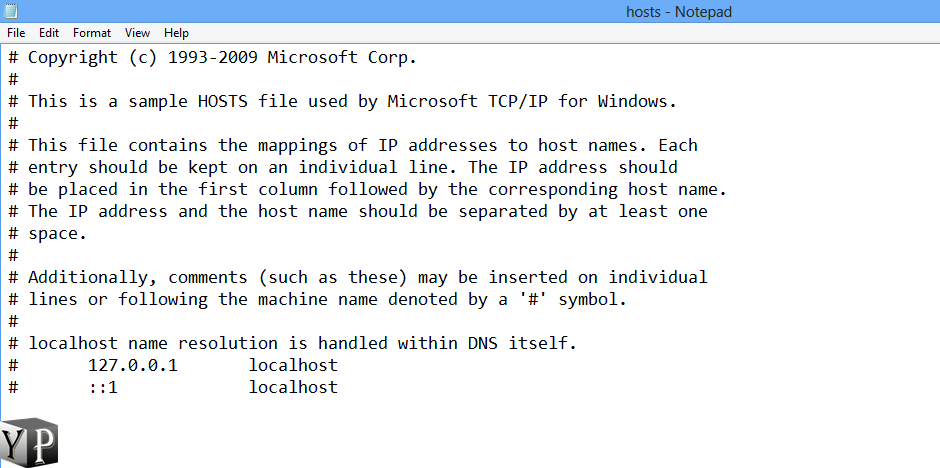 Tip 3: Turn off the VPN connection if you're using. Maybe your VPN isn't able to connect to the servers and this might be the reason behind DNS_PROBE_FINISHED_NO_INTERNET error.
Now, once you've followed all the tips and method given above, there should be no error related to the internet connectivity caused by the device. We hope your DNS_PROBE_FINISHED_NO_INTERNET problem no longer exists.  But, if your problem is generated due to the Chrome browser or the router/modem you're using then you need to follow the other methods given below.
Reset Google Chrome
In this method, we'll be resetting the Chrome Browser. If your router is working well and the device is online but Chrome isn't able to connect to the internet then you should follow this method.
Caution: All your Chrome related data will be removed. You should only follow this method if you're sure that Router/Modem and Device is online but you have the problem with your Chrome Browser.
Open Chrome Menu and select Settings option.
Now, click on Advanced button and select Reset. (Tip: enter: chrome://settings/reset in the URL bar and hit enter.)
Click OK if the warning is shown and wait till Chrome reset itself.
Reset Your Router/Modem
If you're still getting a DNS_PROBE_FINISHED_NO_INTERNET error then try resetting your router and check if your problem is solved or not. It might happen that your router is misconfigured and can't connect to the internet. This generally happens when you've changed the Subnet mask and other internet connection related settings.
Every router has a reset button which is used to reset the router. Look at your router, there should be a reset button. You can read the detailed guide about resetting the router.
Tip: If you're still having the error, you should update your network adapter driver. open Control Panel and select Device Manager. Then choose your network adapter and Right-Click>Update Driver Software and update your driver.
We now hope that your problem is now solved. But, if you're still having the error then you should comment down below. We'll try to help you out, explain your problem in details below and we'll reply you soon.