Having a lot of Duplicate photos makes your device inefficient to use. The reason behind, when you are having limited space and duplicate photos are a lot, it will be frustrating for you. The Duplicate images take most of your device space. Definitely, you don't need anything that can make your device slow by taking a lot of space or something that is useless to you. If you are having Duplicate photos on your device then we have listed some Best Duplicate Photo Finders to Remove Duplicate Photos.
Sometimes you downloaded the same images and then you find them and started searching for the methods to get rid of duplicate images/Photos and here you are. So we have given some of the best software below to solve this problem.
Best Duplicate Photo Finders To Remove Duplicate Photos:
Duplicate Photo Finder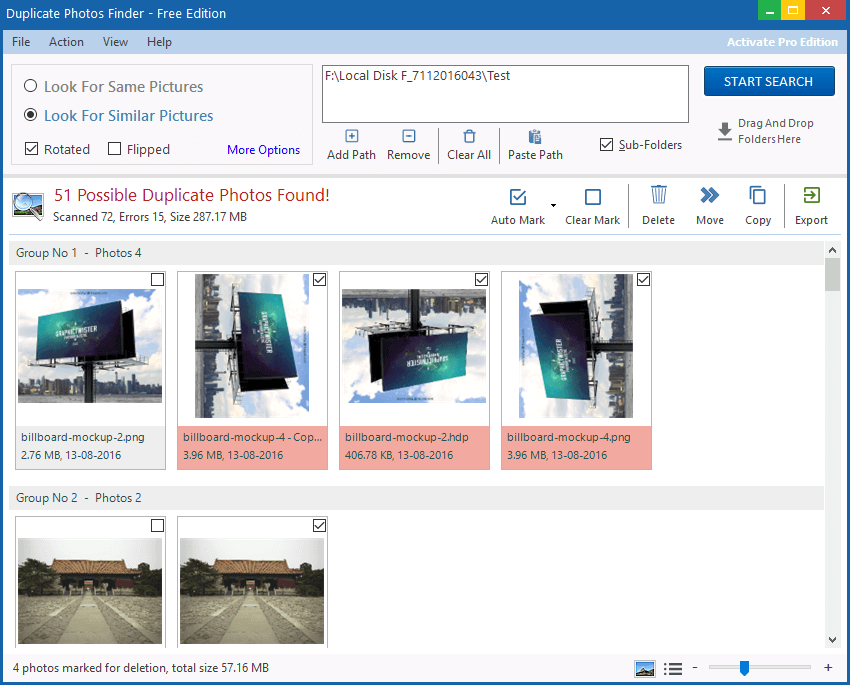 This is a software that can do some this amazing task for you if you are about to find duplicate images on your device. It searches and look for similar images/Photos and find all the duplicate images. It supports almost all images formats including, RAW, JPG, PNG, TIFF, GIF and many other formats.
It can even identify rotated, cropped or edited photos. Duplicate Photo Finder can identify resize pictures and rotated photos and flipped photos taken using different camera settings. With its very easy navigation, you can select files from different drives, using different dates and folders. It has built-in images viewer that allows you to view the images to compare and perform the required action.
You can find this Software in two version, either Free version or Pro version that is paid.
Supports: Windows 10, 8.1, 8, 7, Vista, XP 
VisiPics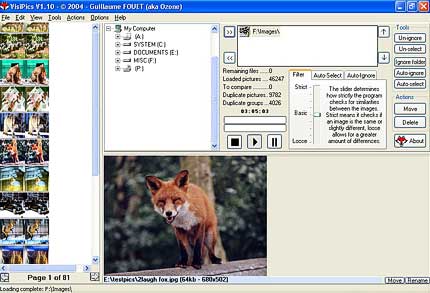 VisiPics is another software for finding duplicate photos, it is very lightweight and faster than other software. It looks for similarity on images and shows them so you can preview those images before delete. You can choose which on you needed on those similar images.
VisiPics Supports many image formats including, JPEG, GIF, PNG, BMP, PCX, TIFF, TGA, RAW etc.  It is totally free software to use.
Supports: Windows 2000, 2003, xp, vista, 7
Duplicate Photo Cleaner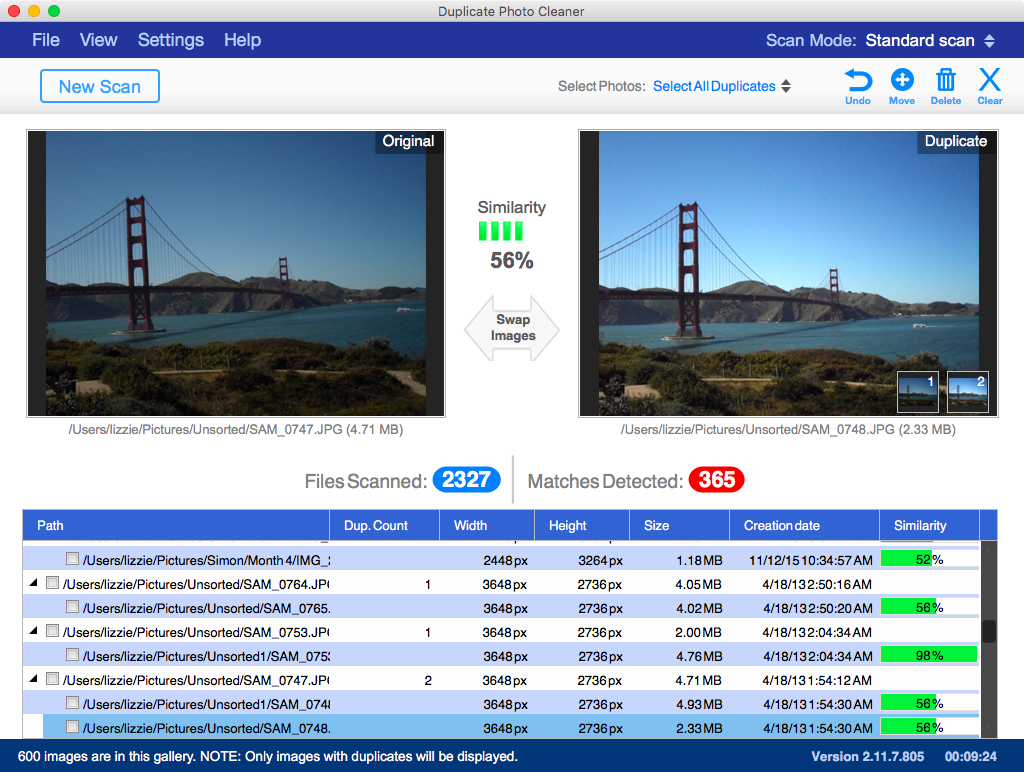 Duplicate Photo Cleaner searches for similar images very deeply to recognize by searching the subject of the image, its pixels and other edited or cropped images. It can even identify images from different angles. You can set Duplicate Photo Cleaner to find either exact duplicates or duplicates and similar photos. You can find black and white similar photos by using its grayscale comparison. This software is available for both Windows and Mac platforms.
Supports: Windows 10, 8, 7, Vista, XP and Mac
Easy Duplicate Finder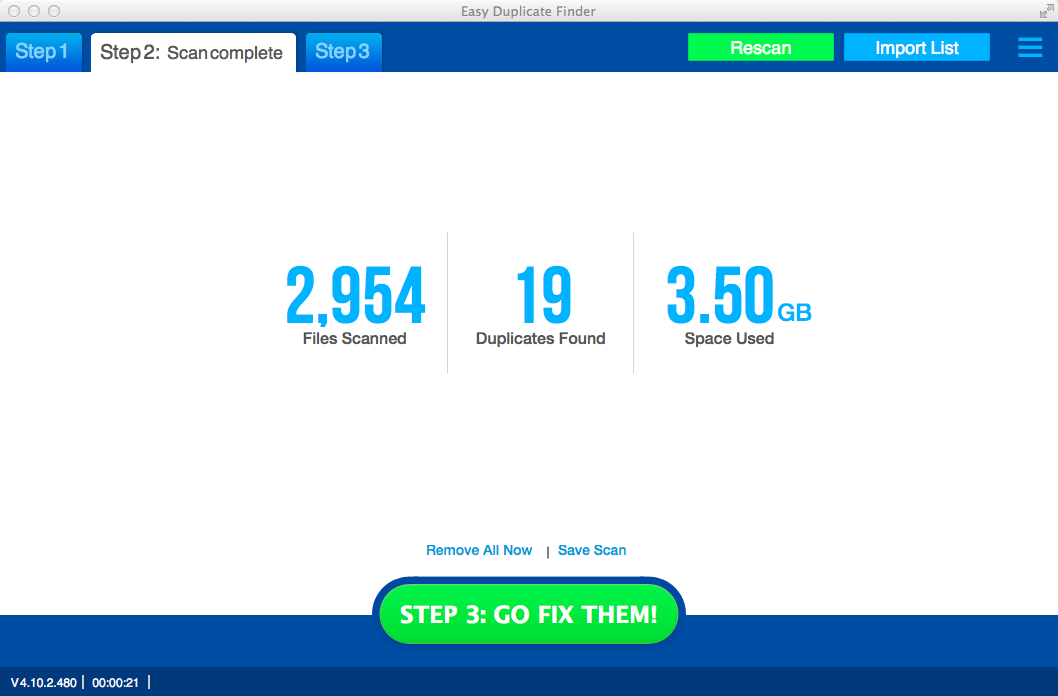 This is another best software to find your duplicate photos to free up lots of gigabytes of your device space.  You can start a scan using easy Duplicate Photo Finder to find all the similar and duplicate images very accurately and efficiently. You can preview those photos before deletion of them. It supports all the popular image file formats. With its three-step process, you can easily get rid of duplicate images/photos. It also supports Windows and MAC both platforms.
Supports: Windows 10, 8, 7, XP, Vista and Mac
Awesome Duplicate Photo Finder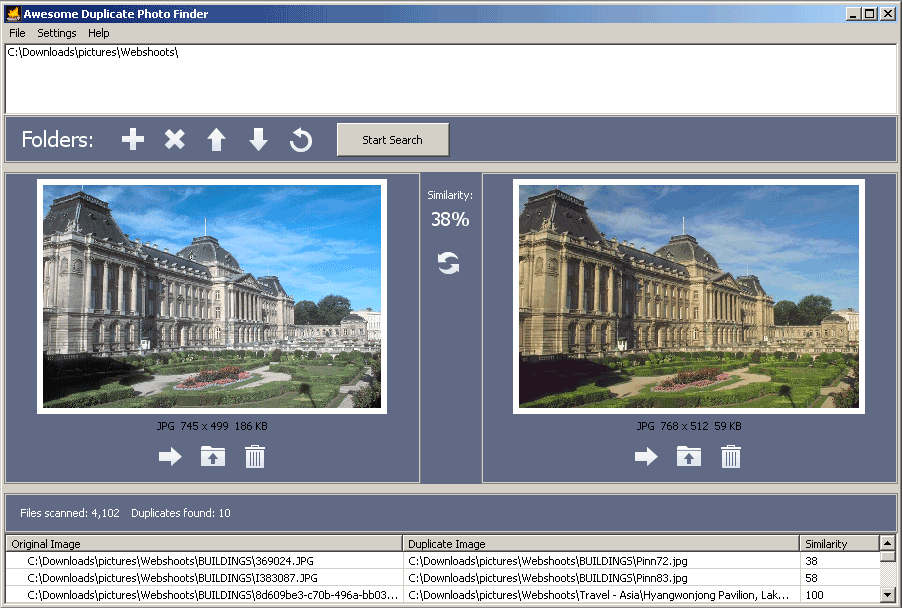 This is an amazing tool specialized for finding Duplicate and similar photos and removes them. It is very lightweight software that doesn't require any registration and it's completely free to use. It is very genuine software with no adware or spyware in it. You can start deleting duplicate photos just by drag and dropping some of the suspected folders into the software. After selecting or dropping folders to scan you can simply press start scan button to start the scan.
Supports: Windows 2000, XP, Vista, 7
Duplicate Photo Fixer Pro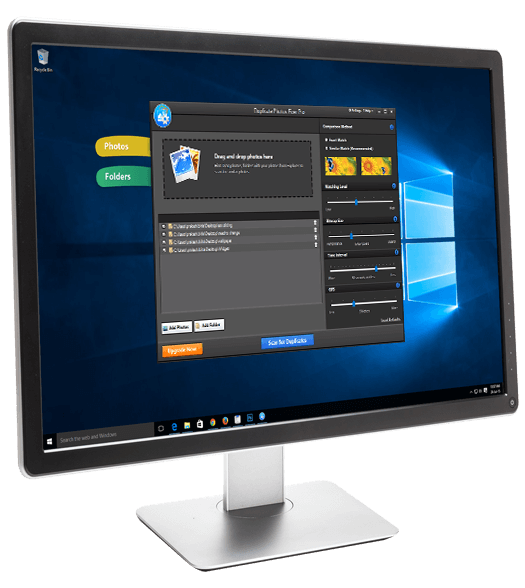 Duplicate Photo Fixer Pro is a unique Duplicate Photo Finder software that supports Windows, Mac, iOS, and Android as well. You can start scanning for Duplicate photos just by creating the scanning list. Using this software you can set the Matching level for the desired result. It auto-marks duplicate images to easily delete them. You can use this software to scan other external devices. It comes with Trial and Pro version.
Supports: Windows 10/8.1/8/7/Vista/XP
Duplicate Cleaner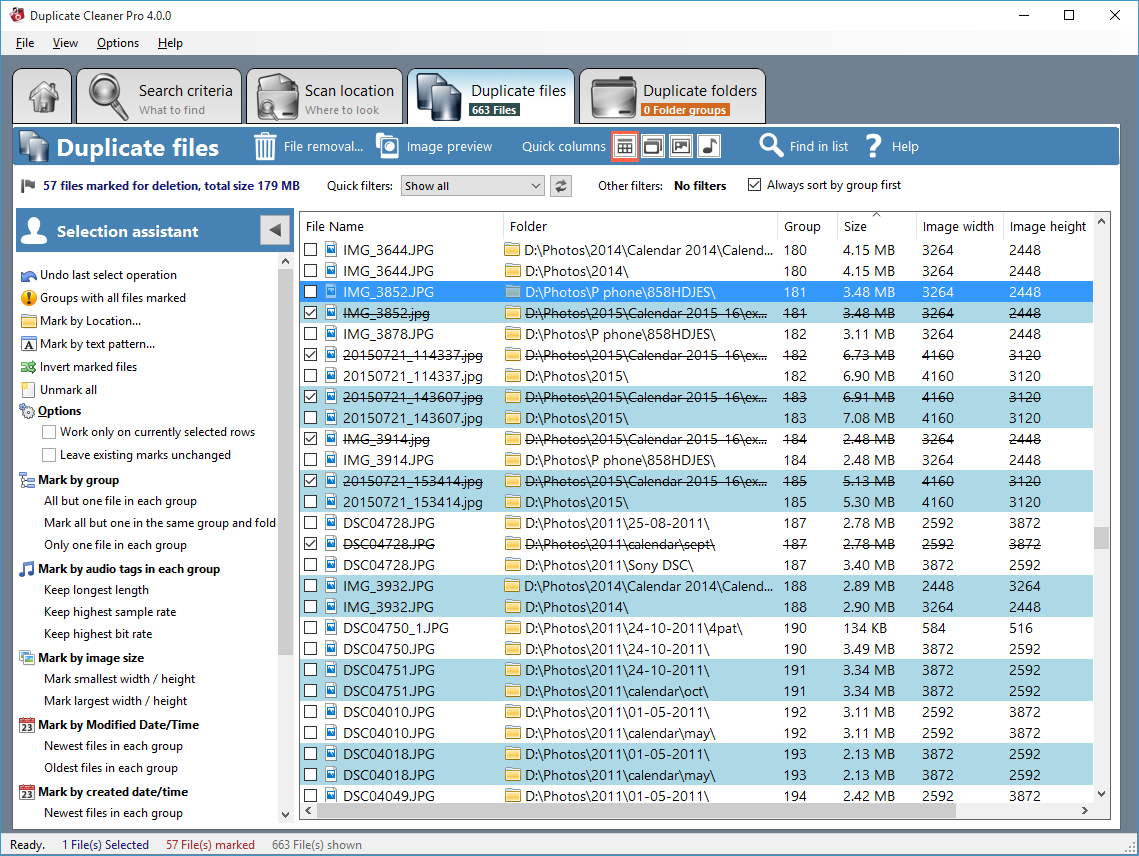 Duplicate Cleaner is very effortless to use. With its great features, you can easily clean-up duplicate images. It is also very reliable to find and delete another kind of duplicate files or folders. You can easily set the level of image comparison to find and delete images.
Supports: Windows 10, 8, 7, vista