Sometimes in Chrome takes too much time to respond. This might happen due to many possible reasons. When any website takes too much time to respond, the user will get the ERR_CONNECTION_TIMED_OUT problem in Chrome. This problem is mainly shown when your Chrome is trying to connect to the IP/URL you've put in the URL address bar. After the certain limit of time, if Chrome isn't able to reach the website, the error will be shown. If the similar thing is happening with you then there are three possible reasons behind this problem. Either you've changed the internet settings in the device, or you're facing packet loss problem or your router or VPN if using isn't working. These all are the possible reasons behind your problem. But, there's also the possibility that there's any problem in Chrome Browser.
If you're facing the packet loss, then you'll surely get the ERR_CONNECTION_TIMED_OUT error. This happens when the packet loss is in huge amount and all your connectivity stopped to respond for some time. You can read the article on how to fix packet loss to learn more about it and to fix this problem. Also, we've always listed on all our articles related to solutions that may be due to any virus attack, you're facing the problem. Virus attacks sometimes change your internet settings like HOSTS file, DNS server address etc. This results in err connection timed out problem in Chrome.
Now, let's talk about the possible ways to fix this problem. There are a lot of ways using which you can fix this problem but there are few things you need to check before proceeding to the steps. You should be aware that this problem not related to any fix reason. There are a lot of reasons behind this problem that we'll be discussing below.
Before Proceeding Follow The Tips:
Tip 1: Make sure the website you're trying to reach is active.
Tip 2: Check your WIndows host file located at Windows\System 32\Drivers\etc\HOSTS. Open it using notepad and make sure it looks like the image given below.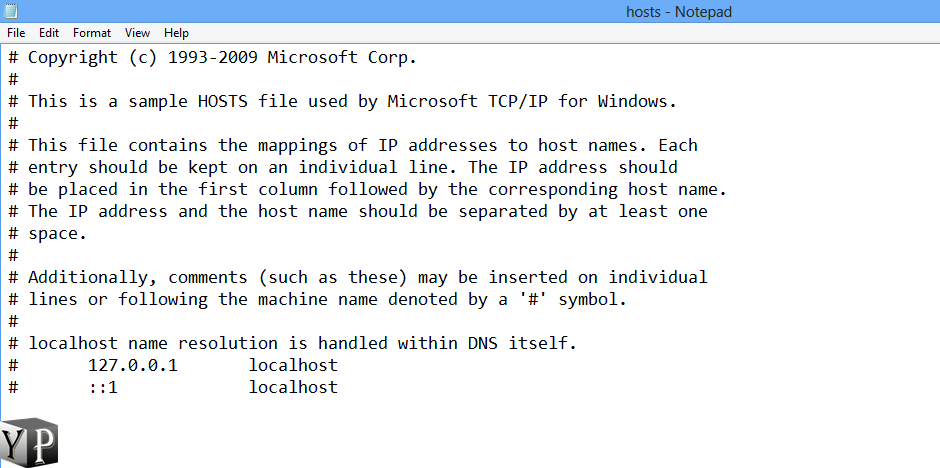 Tip 3: Exit VPN if using any VPN service. VPN servers might be down or there might be the problem with VPN client.
Fix: ERR_CONNECTION_TIMED_OUT In Chrome
Check If Your Internet Device Is Online Or Not
This first thing you need to check is that your device is properly connected to the internet or not. It's possible that you're suffering from data packets loss problem. Follow the steps given below to check this:
Press Win+R and type CMD.
Then type ping google.com, hit enter.
If ping request was 100% success, this means your Chrome is infected and you should follow the steps related to Chrome browser which is at the end of this article. But, if ping request is 50-75% success, you might be suffering from data packet loss. Or, if your ping request is 0%, this means your device is completely offline and there's a problem with your router or the internet configuration settings.
If your device is online but ping request is only 50-75% success or 0% success, follow the methods given below which will fix your problem. Also, you can read the article to fix packet loss. Maybe that article will help you in fixing your problem.
Flush DNS Settings and IP Configuration
In this method, we'll be flushing the DNS settings and will renew the IP address.
Press Win+X and open command prompt as administrator.
Then, type the commands given below one by one:

ipconfig /flushdns

ipconfig /registerdns 

ipconfig /release

ipconfig /renew

netsh winsock reset

Execute each command one by one respectively. Just type the command and hit enter.
Once you've executed all the commands, restart your device.
Try visiting the website again and see if you're able to access the internet or not. We hope your ERR_CONNECTION_TIMED_OUT problem is now solved.
Change LAN Settings and Use Following DNS Server Address
Now, we'll be checking whether you've entered any proxy address in the internet settings or not. Sometimes, users have entered a proxy address in internet options. Now, if that proxy address is down, the user won't be able to access the internet. So, this might be the problem in your case as if your entered IP address is down, you won't be able to visit any website and continuously get an ERR_CONNECTION_TIMED_OUT error.
Also, you can try using the DNS server address we've shown in this article. That DNS server might be able to connect to the internet and solve your problem.
Open Control Panel.
Search for Internet Options and select the first option.
Click on Connections tab and click on LAN Settings.
Now, make sure you've not entered any proxy address and settings have set to Automatically Detect.
After this, change your DNS server address:
Right-Click on the connections icon on the taskbar and select Network and Sharing Center.
Now, click on the connection to which you're connected. It should be displayed there.
On the dialogue box, scroll down and select IPv4 and click Properties.
Now, click on use following DNS and set values to following respectively:
8.8.8.8

8.8.4.4
Now, save the settings and try connecting to the internet again.
Still no success! Then you should clear the browsing data of chrome browser. This might help you in solving the ERR_CONNECTION_TIMED_OUT problem.
Open Chrome browser and press Ctrl+H.
Now, click on Clear browsing data.
Select all the data you want to clear like Cached data, Cookies etc and click on Clear.
Wait till the data is cleared.
Try accessing the website again. If you're still not able to visit the website and again get err connection timed out the problem, then reset your Chrome Browser by: Chrome Menu>Settings>Advanced>Reset>Click On Reset.
We now hope that your problem is solved. You can alternatively reset router. This might solve your problem. Comment down below to ask question-related to this problem. We'll reply you soon with a solution.