Windows is one of the highest priority successful product by Microsoft. The reason being successful because of the interface it provides to its users. Unlike Operating system as Linux or Mac, Windows works exquisitely amazing for its users. Neither you need to use a terminal Nor you need to use run command to do usual tasks. All tasks you can do by using its Graphical User Interface(GUI) which is way more than easy as compared to other GUI based OS. Also, it is customizable to some limits. Microsofts windows recent version is Windows 10 which is superbly attractive in the interface and exclusively amazing to perform jobs. Windows is very commonly used OS and people usually use this for their daily tasks on the internet and other official works too.
Such daily workload makes your system slower and stuck sometimes between tasks too. In 90% cases, this is the cause of your system RAM being used by a lot of unusual software application you have installed or the overload of data on your HDD. Overall this issue can be fixed in an indirect way by free some Disk space of your system.
Here are the necessary steps you can take to free up Space on Windows 10, 8, 7:
#1 Deleting Unwanted files
We often have this habit of keeping the old and useless files just by thinking that it can be used in future. Although this case never comes when you actually need those files. Such case makes them useless or unwanted in your system. These files can be than half of your used space or even more than that. In order to make your system runs smoothly from booting time to shut down time, you need to make sure that your system is not containing such useless files. You need to remove such files instantly.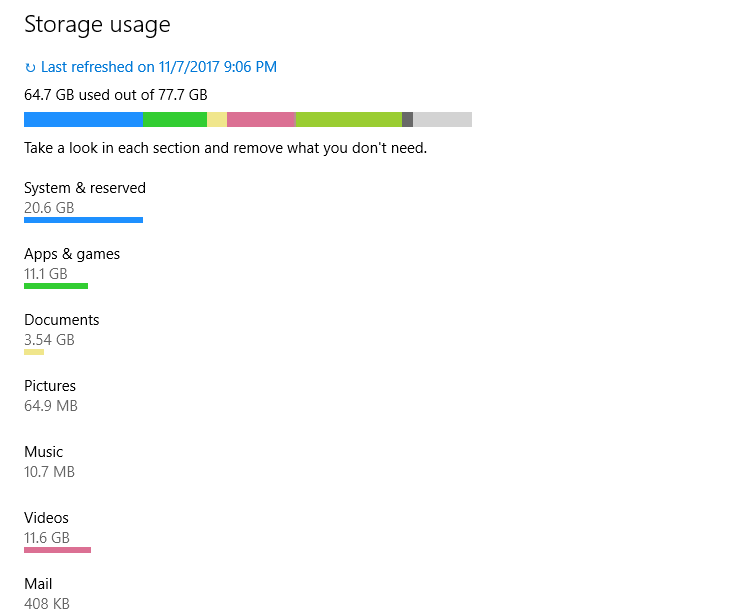 If you are a user of Windows 10 then you have this pretty good option available there by which you can have an overview of which drive containing how much space on for the particular type of files. Such as it gives you overview of the amount of storage space used by Images, Videos, System files, Music, Mail files and much more on a particular Disk drive. To access that area on windows 10 Press Windows key+I simultaneously. It will open windows settings area, Click on System>>Storage from there and have a look which took the most part of your disk space.
#2 Deleting Cache in Browser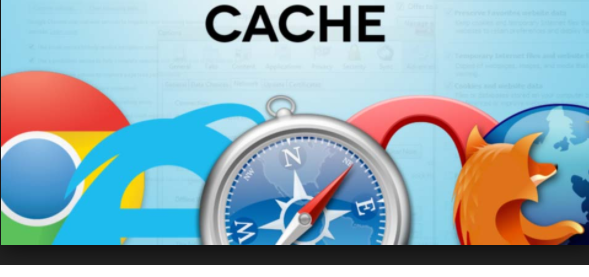 If browse or surf
the internet on the daily basis through any of your browsers like Chrome, Firefox, Opera or others then you have to check your Cache. Usually, cache makes your users experience better by saving the usual part of the website to load faster on the next visit. And visiting more than 10 sites and doing the same for months can heavily fill-up your disk space by the cache memory. So make sure to Clear Cache of your browser.
#Uninstall Unwanted App/Softwares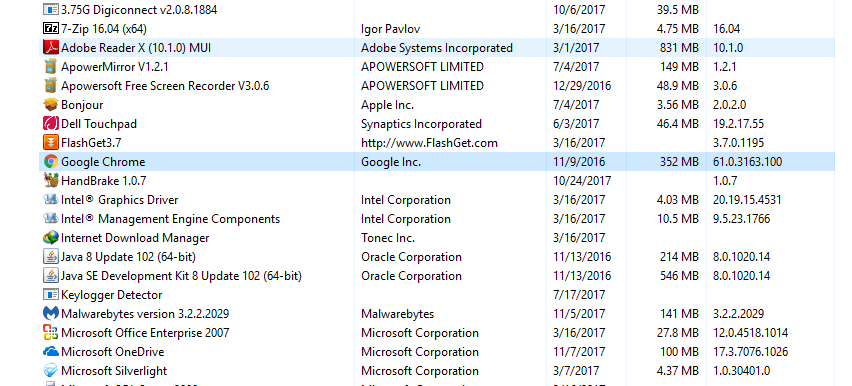 The Unwanted application software on your windows system can take a lot of space through its application files on your drive. Which includes the task data and other data as well. To Uninstall and these useless applications from your system and make some extra space. To do that you need to enter Control panel by pressing Windows Key+I. Click on the System>>App & Features,  from there. Then you will get the list of installed application on your system. Choose unwanted and useless apps from there, click on them and choose to uninstall.
# Remove Duplicate Photos
Duplicate photos which takes lots of storage space in the system is one of the issue users facing. Whenever we like a photo on the internet we instantly saved it. In while if somehow we see that images again but this time we do got confused whether we already downloaded that images or not. So we do download the image again. Doing the similar again and again and forgetting about previous downloads can full our systems with duplicate images. The system might not get full but definitely, it will be a close enough to lot of wastage space.
Once you can remove the cache of all your browsers, delete the movies and document files, and even uninstall apps. But when it comes to deleting photos, people think more than twice. The Do afraid that they can do such mistake which can lead to losing some of their captured moments. In such cases, you need to use duplicate photo finders which can automatically find similar images and delete the extra copies of them. This is the another best tactics to free up a lot of storage space.
If you follow above given four steps then you will be easily able to Free Space in Windows 10, 8, 7. All of the above-given methods can be used in Windows 10, 8/8.1 and 7 also. Exclude the first steps shortkeys to get the storage option for windows 10. In replacing to that you can use the manual method to check which folder or files containing unusual or unwanted space. and remove them from file explorer anytime.