You might be searching for "How To Make Single Name On Facebook"  for a long time but didn't succeed in making your name single and separate on Facebook. But today we will show you how to get Single name on Facebook easily without any hassle and long process.
Facebook is number one social platform used worldwide and we all know Facebook delivers most of features which enables us to share our ideas among world and helps us to increase our business by getting social signals. Facebook was discovered by Mark Zuckerberg and due to his efforts today we are able to use Facebook for free.
Many user wants to have one name on Facebook but Facebook doesn't allow this for many reasons or you can say its not allowed in general way. But in Indonesian country, Facebook users can use single name on Facebook but for other countries Facebook doesn't allow their users to put single name on Facebook. So in order to get single name on Facebook you have to change your IP address to any Indonesian country. So you have understood the logic that how to have one name on facebook or How to hide last name on facebook.
Now you have to do few steps so that you can change your Facebook name to single Facebook name. First of all you have to change your language to Indonesian country language and then you have to change your ID address to Indonesian country.
Below are all steps to get single name on Facebook:-
Step1:

 
First of all you need to open your Facebook General Settings.
Step2:
Then change your Language Setting to "Bhasa Indonesia".
Step3:
Now you need to change your IP address to Indonesian country. You can find all Indonesian proxy server list here.
Here you can see the list of all proxy servers provided for free use to anyone. You can pick any proxy IP address and port number. You should try all proxy addresses and one of them will surely work for you. Some proxy address speed is very slow and some of them might be fast.
Also Check: How to Get auto likes on Facebook
Step 4:
After this you need to enter one of the proxy address in your Mobile/PC. You can use VPN tool for mobile. But in case of PC we are showing how you can change IP address in PC. You need to open your Google Chrome settings and then scroll down then click on "Show advanced settings" after this find an option called "Change Proxy Settings".
You will get a window like this. From here you can select your connection and then click on "Settings".
Step 5: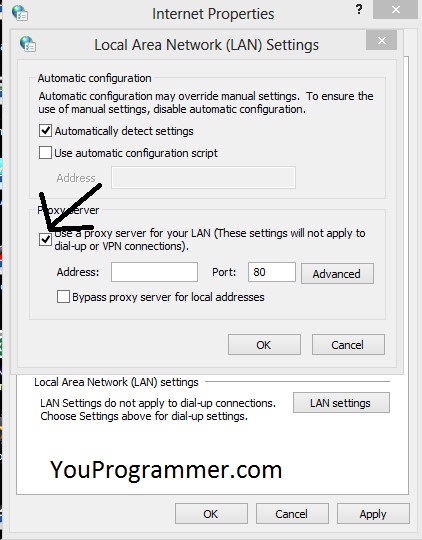 After this you need to tick on "Use proxy server for this connection" and then enter your proxy address IP and port number and click "OK".
Step 6:
Now open your Facebook General Setings click on "Edit" in name section and enter your First name and leave last name empty. Click on "Review Change" and its done.
Step 7:
After this you need to change your language back to default as needed. Remove the proxy address entered in Network Properties window.
Using Above Seven steps you will be able to Get Single Name On Facebook
Note:- If you have exceed name change limits in your Facebook account then you can't change your Facebook account name again. Also this method works only when your IP address seems to be Indonesian to Facebook.If proxy address entered isn't working you can try using various Proxy IP addresses and I hope this will help you to change your Facebook name. You can comment below if you have any question.