LinkedIn is very popular social media website for job seekers and companies who want to hire professionals. Just like the Facebook account is created to connect with friends and family members, the LinkedIn account is created to get and give Jobs Or a professionals media. Students and professionals put their all work-related information in their LinkedIn account. Now, companies also stay connected with LinkedIn to find professionals and freshers to whom they can hire for their work. Members in LinkedIn can invite anyone to become a connection (Link). Further, this connection is taken as the trust factor of the person using LinkedIn. This is how LinkedIn work. You can read more information about LinkedIn on Wikipedia. However, some users don't want to continuously use LinkedIn due to some reasons. maybe they got their job or don't want to use linkedIn. So, in this article, we'll be showing you how to delete LinkedIn account permanently.
Around 500 million from 200 countries are registered with LinkedIn and only 106 users are active. This clearly means that there are more than half registered users on LinkedIn who've left using LinkedIn or registered on this website only for fun/checking the website purpose. If you also want to left LinkedIn, we recommend you to delete LinkedIn account permanently. Deleting LinkedIn account will vanish all your personal data from LinkedIn servers.
When you delete your LinkedIn account all your information and data is not deleted instantly. It's kept under backup drives of LinkedIn servers and according to LinkedIn Privacy Policies they still need to keep your some of the data for few months and then your account will be deleted permanently and all the data will be wiped out of their servers.
But if you want to delete all your data from LinkedIn then you can contact their Customers Care Service to let it done for you. They will contact you within 30 days.
How To Delete LinkedIn Account
First, log in to your LinkedIn account using a Browser/App and click on Account & Settings option. Now, Manage option under select Privacy & Settings.

A new page will appear and then click on Account tab to view account information. Choose Closing Your LinkedIn Account option on that page.

You'll be asked some general questions like the reason to delete LinkedIn account etc. Select your reason behind deleting LinkedIn account and click Continue.
Now, verify that account listed on the page is one you would like to close or not. Click on Verify button.
LinkedIn will again ask to confirm the deletion of the account. All the account closing related information will be written on that page. You can read all the information provided by linkedIn. Now, click on Close Account option.
Now doing all these steps will close your account within 24 hours. You will no longer have access to your account now. You will be logged out from your account. Within 24 hours you will receive a confirmation E-Mail from LinkedIn that your account is successfully deleted. However, you can now use your E-Mail to create a new LinkedIn account.
According To LinkedIn Privacy Policy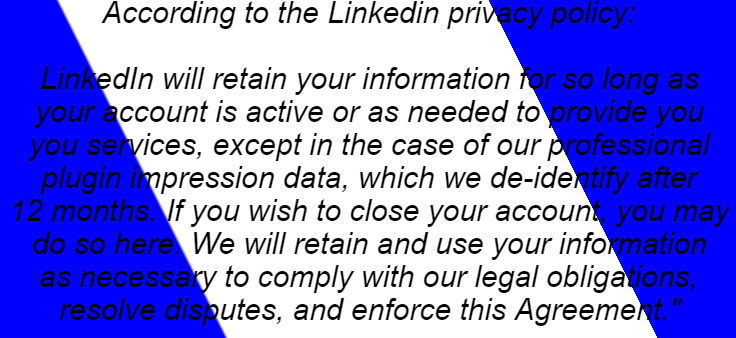 When you delete LinkedIn account, all the data related to your profile on LinkedIn isn't deleted instantly. It'll be on their servers for few months and after few months it'll be automatically deleted from their servers. So, you needed to be patient here. Also, if your profile is indexed by the search engines then links to your Profile will be automatically removed within 24-48 hours. If you want to create another Linkedin account using the same email address, you can definitely do that after 24 hours.
We hope that you now know the process and all the information about deleting a Linked account. We've tried to show you how to delete LinkedIn account using their web app. The process is similar if you're using Linkedin in a mobile app. Just follow the settings just like the way we've shown above and delete your LinkedIn account. Deleting LinkedIn account also remove your profile from search engines. So, make sure you know why you're deleting your LinkedIn profile. First, make sure that have a strong reason behind this and only then proceeded to the steps to delete LinkedIn account. If you think you should again join LinkedIn, then use the same E-Mail address to sign-up to LinkedIn after 24 hours. Comment down below if you're having any problem in deleting a LinkedIn account or have some questions.