Windows creates temporary files and saves it in your drive where Windows OS is located. These files are the temporary work done by applications that are installed on your OS. Windows kept creating these files and it might take your most of the drive space. To prevent your storage space from being filled by temporary files you need to clean your temporary folder or delete temporary files manually or by using some tools. Also, deleting temporary files is a good practice for making your computer faster, because less storage on your computer can make it slower, during the boot time or general runtime.
Deleting temporary files isn't a very tough work and there is no need to use tools for cleaning your junk folder. In fact, you can clean your Temp files folder manually or by creating a script which will clean your Junk folder by itself every time you boot into your system.
Why Temporary Files Are Created
Temporary files have an extension of .temp and created by most of the applications for recovering data if lost in some cases. If you have forgotten to save work in your app and system crashes down then you can recover the whole data by those temporary files.
In one way temporary files are very useful for recovering the deleted data but if you haven't cleared your TEMP folder in Windows then it might take a lot of space and slows down your system. So it's recommended to clean your temporary files containing folder to save your disk's space and to improve the speed of your OS. As more temporary files might become a big obstacle for the system to run properly.
Delete Temporary Files Manually Windows 10, 8, 7
It doesn't matter if you are using windows 10, 8 or 7. These basic steps to delete temporary files will be same for all windows latest and previous builds. Simply follow below steps to
Press Windows+R and type %temp% and hit enter.
Now you will see a folder containing many temporary files. 
Now press Ctrl+A to select all the files and delete them. If you get the error like "File In Use" then skip those files because those files are being used by other applications that are running in your system for temporary work.
This is the simplest way to delete your temporary files in Windows 10, 8.1, 8 and Windows 7 or below. We recommend you to clean your temporary files regularly about twice a month to make your system runs smoothly.
How To Delete Temporary Files On Boot
If you're a very busy person or don't want to delete temporary files manually then you can create a file which will automatically remove all the temporary files when you're booting into your Windows OS.
You need to create a batch file and then save it into a specific location and this batch file will delete all your temporary files when you boot into your OS. This might be harmful in many cases as you can't then recover files that are created by your applications in case you lost them. But if you really wanna do that then follow the steps given below.
Open a Notepad and type
rd %temp% /s /q
md %temp%
2. Click File>Save As and in file name paste the location given below
%appdata%\microsoft\windows\start menu\programs\startup\cleantemp.bat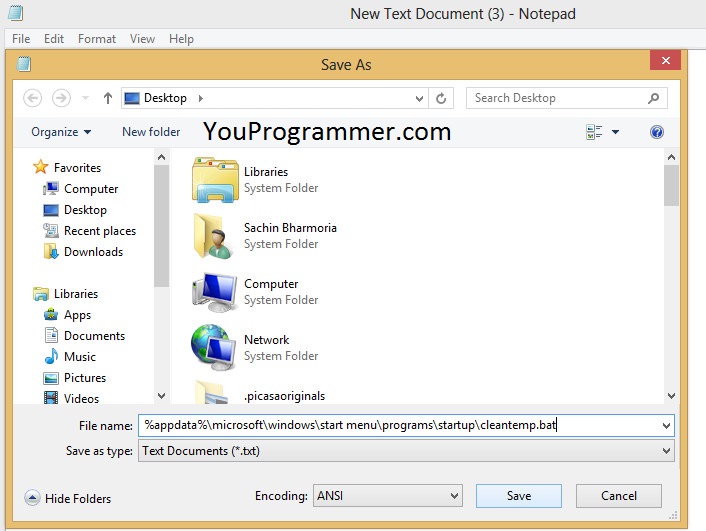 Now there is no need to delete your temporary files manually. Those will be automatically deleted when you will boot into your OS. This might be very time consuming to delete temporary files for some users so they can use this automatic method for deleting temporary files using a batch script.
Hope this will help you regarding the deletion of temporary files in windows all version. Also, if you have any question related to this then feel free to in the comment section below.