Windows 10 has taken the lead of almost all previous windows versions. Because All of the most advanced and smart features are embedded in Windows 10 such as Cortana which is capable of operating your whole system by voice commands which is a way better than speech recognition. All the features and functionalities are worth using for your precious work. The another best thing on windows 10 is the often given updates for better security and features, All you need is an internet connection to discover more of it using new updates on windows 10. The shiny panel of windows menu through windows button it greatly structured and attractive than any previous version of windows. Also, access to any application inside is very easy.
The main part of any system is the part where you store data which is known as Hard Disk Drives where you store your data in a different partition to make your data more structured and get quick access to your directories and files. But the thing intermediate between your HDD and the user to provide a platform to access to those files is known as File Explorer. But most of the new Windows 10 user don't know how to access File Explorer in Windows 10. Such cases they ask to get help with file explorer in windows 10.
Get Help with file explorer in windows 10
We are telling you some sudden asked Q&A and tactics which will surely help you to get better and faster access to Windows 10 file explorer:
How To Open File Explorer:
There are many ways by which you can open file explorer. We are giving you the 5 best ways so that you always have an alternate option.
Using Short Key: Press Windows+E key simultaneously and it will open your windows file explorer.
Cortana: Cortana is a virtual assistant feature embed in windows 10, it helps you perform all your tedious task regarding access to Windows 10 features. To use Cortana simply hit the microphone icon on the search bar and use voice command to open file explorer.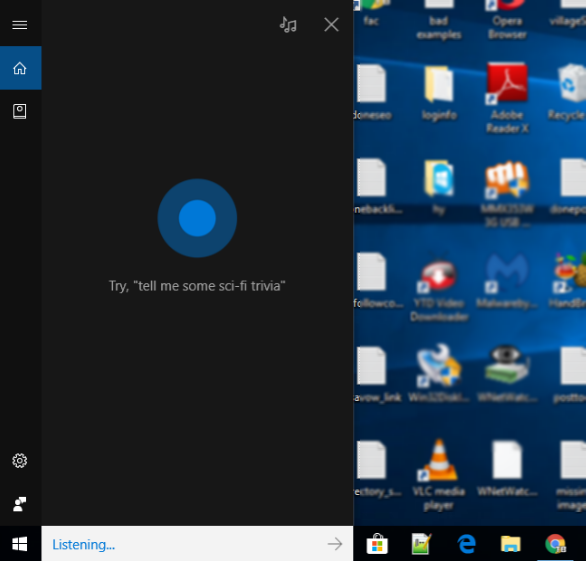 Or
Simply hit the Search bar and type File Explorer and it will pop up with the file explorer icon, hit enter.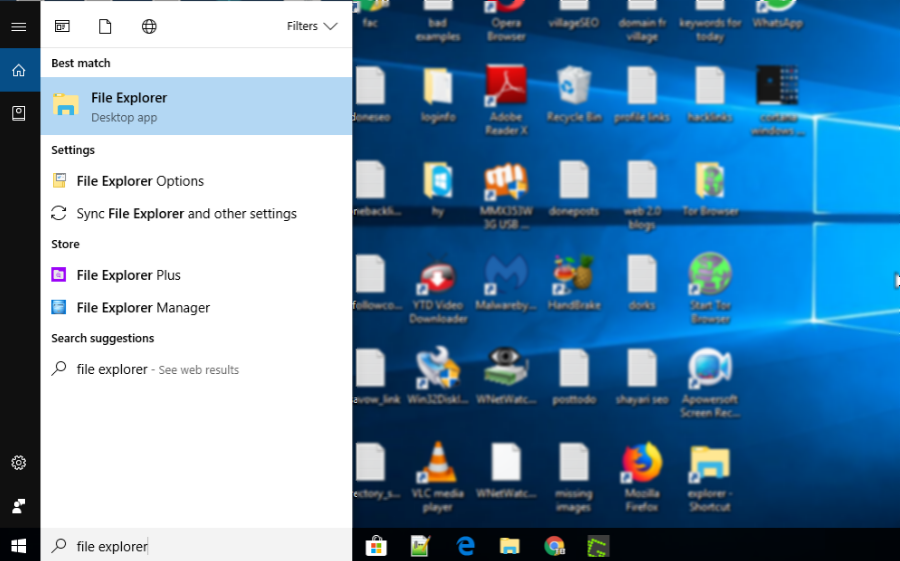 Command Prompt: Open command prompt as a normal user or as an administrator and type Explorer and hit enter, it will instantly open File Explorer.                                                                                                                              

Using Run: Hit Windows+R, it will open Run window, simply type Explorer and hit enter.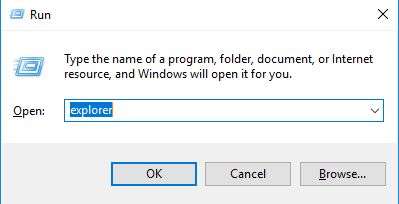 Using Shortcut from Task Bar: Navigate the File Explorer icon from the taskbar and click the icon to open file explorer in your windows 10.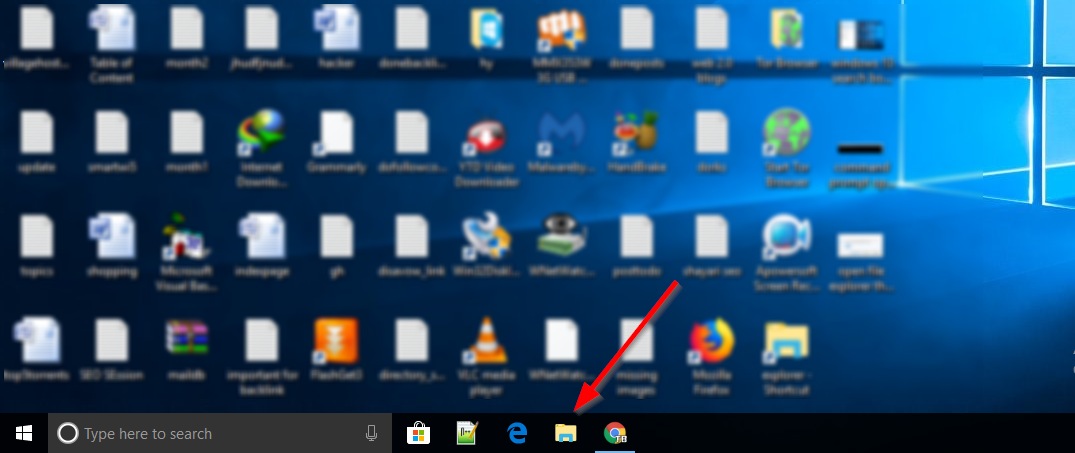 How to Search any file with file explorer in windows 10
Searching files with file explorer in windows 10 is very easy. Here you will be having a rich and fast search bar by which you can access your files and folders. To start searching with File explorer click on the search box as given in below image., type any file or folder name that you wanted to search and it will start searching and give you the detail of all the files and folder with the similar name.                                                                                                                   

With the given result of your search, you can sort it in many ways. For example, It can be sorted by name, Size, type, attributes, authors and many other sorting options. To get to this sorting option, just right click on the file explorer result area and choose "Sort by" and select any option you like to use for sorting your result.

How to Create Shortcuts of a file in Windows 10 File Explorer:
To Create Shortcuts of a file in windows 10 file explorer you need to find and select the desired file which you wanted to create a shortcut. Right click on that file and choose to create shortcut option.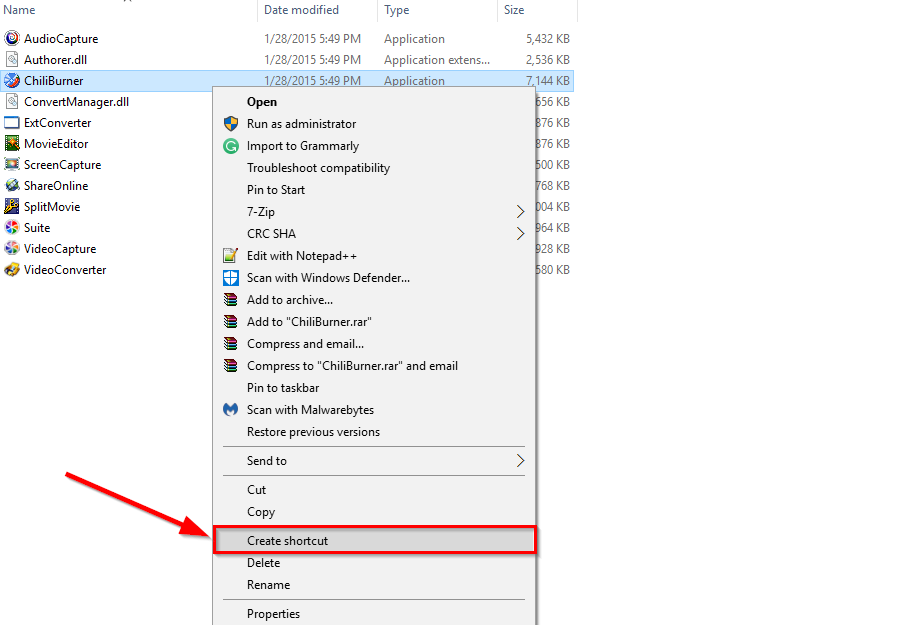 You can create any files shortcut, it can be an image file, an executable file, a video file etc.
Use Windows 10 file explorer Short keys
While doing some operations on Windows 10 file explorer, you will be having options to perform any action, choose either manual way or by using short keys. But short keys are always the better option, so your fingers will be on keyboards and you don't have to navigate menus and options inside. Here are some of the file explorer shortcuts that you can use to perform faster file operations.
Shortcuts To Manage Windows 10 File Explorer
Win+E  – Open Explorer.
(Alt+F)+(Alt+N) – Making duplicate file explorer window as current.
Ctrl+Q – Quit File explorer.
Ctrl+N – Open New File Explorer Window.
Ctrl+Z – Undo Deleted file.
F5 Or Fn+F5 – Refresh File explorer window.
Ctrl+Shift+N – Create New Folder in current directory or HDD.
Alt+D – Jump to file explorer address bar.
(Alt+D)+(Alt+C) – Copy Current file explorer address.
Shortcuts to Search  Files in Windows 10 File Explorer
*.docx – Search for all files with ending .docx
term1 AND term2 – Search for term1 and term2 combined
"term1 term2" – Search for exact phrase
term1 date:>1/1/2017 – Search for files with timestamp greater Jan 1, 2017. < works equivalent
term1 OR term2 – Search for files/ folders containing term1 or term2
term1 -term2 – Search for files/ folders containing term1, but not term2
term size:(small/medium/large/etc.) – Search for files by size. After typing size:, options are offered in drop-down
Esc – Cancel Search
Creating File Explorer shortcut
Creating a shortcut of File Explorer is a good practice of accessing and performing quick actions in file explorer. To create Shortcut follow below steps:
Navigate the Partition of drive HDD where Window OS is installed, usually as default it installed in C Drive, we are navigating through C drive now.
Inside C drive, Open Windows Folder.
Navigate Explorer application file and right click on explorer exe.                                                                             
Choose the option Create Shortcut and click on it.
Copy and Paste the shortcut to the desktop to see on your Windows 10 front screen.
For more quick access to file explorer while using some other application, pin your file explorer shortcut to the taskbar by right-clicking on the shortcut and choosing Pin to taskbar option.                                                                    
The another and best way to get help with file explorer in windows 10, is by checking some resources on Microsoft windows product area. There you will find many articles regarding Windows 10 features and applications such as Cortana, Gaming & Xbox, Security and Privacy, Device and Driver, Microsoft Edge, Repair and Recovery and many others. Hopefully, you are clear with your regarding question "How To Get Help With File Explorer In Windows 10". For more question, you can comment below, we always glad to help you.