IDM is the best software for downloading stuff from the internet. IDM provides best downloading with great speed but you can increase that speed by 25%. IDM (Internet Download Manager) is the software utility which increases your download speed up to very high level. It's the best utility to do multi-downloading. IDM also supports scheduled downloads which make it a very good download manager.
Some users also want to increase download speed in IDM as they aren't satisfied by the download speed provided by IDM and they can do it by using IDM optimizer tool. This tool increases the download speed by 25% and you can enjoy extremely very high download speed than others.
How IDM Optimizer Works and Its Features
IDM optimizer makes registry changes in your system that will help you in increasing your download speed up to 25%.
1. It's Lightweight 
IDM optimizer is a lightweight utility, it's not a very heavy tool that will take your system down. It's very easy to use it. A single click will increase your download speed so you can download as much as you want to download from the internet such as your favorite song, movie or a video file, or downloading torrent files and a single click will restore defaults to normalize your IDM.
2. Quick Effects On Downloads
This tool will make your downloads speed increased by 25% and download speed is increased quickly by IDM Optimizer. You don't need to wait for the download speeds to be increased. It shows the effect instantly with the highest possibilities to increase your download speed.
3. Secure Downloads
IDM optimizer makes your downloads secure and packets of data are received in SOCK5 and SOCK 4 protocol as IDM does. So there is no security threat in this optimizer tool. If you run an antivirus over it, then you will not find any harm from this.
Increase Download Speed Using IDM Optimizer
In order to download in much better and quicker speed using your Internet Download manager you can simply, go through below steps which are easy. Simply follow them and get rid of your slow download speed and get higher and fast downloading throug IDM.
Step: 1. First of all download and install IDM. Link to Download.
Step: 2. Extract it to the required location.
Step: 3.Fire it up and click Maximize Now.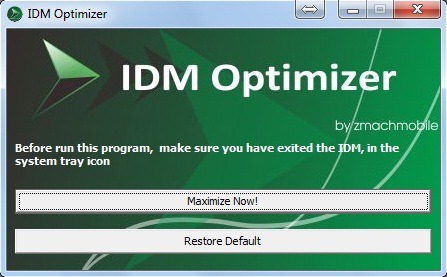 Step: 4.Restart IDM and changes will be working effectively.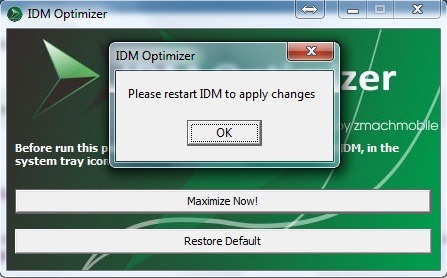 Download Speed Will Be Increased
Now after doing all these steps, changes will be effectively working and your download speed will be increased up to 25%.
If you are getting the error or your download won't start, you can click on restore defaults to restore the default of IDM and then try above methods again.
IDM Optimizer Safe To Use?
Many users might be thinking whether using IDM optimizer is safe or not. There are many rubbish tools available online which doesn't mean to be doing work but slowing down your PC. So you might be thinking whether you should use this tool or not. According to our experience, we haven't encountered any problem using this tool. It's a simple tool which will increase your download speed without slowing down your PC or something like that. This tool will only optimize your IDM to work faster and that is how you can Increase Download Speed in IDM.
Finals Words about IDM Optimizer
IDM optimizer is a very good and clean tool to speed up your IDM download speed up to 25%. One click will make your speed boosted by 25% and one click to get into normal state. Many users are enjoying this tool and you should also use this tool to make your download speed up to 25%. But keep in mind that download this tool only from trusted software download websites and scan this tool with an antivirus before using it on your PC.