A computer font contains set of graphically related glyphs, characters, or symbols. Users can install fonts if they have valid font file. In Windows OS, users can install fonts using a font .ttf file. If you want to enjoy new fonts in Windows 10, you need to install new fonts. However, Windows comes with many preloaded fonts but users who want to enjoy any latest or favorite fons and that font isn't available in their OS, they can easily follow this guide on "how to install fonts Windows 10". We've shown the easiest way to do this and even the website from where you can download the fonts for free. In fact, users who want to type Indian rupee symbol also need to install the Indian rupee font. Similarly, if your country's currency symbol is also not on your keyboard, you can install it and can assemble it so that you can use that symbol.
Many designers kept introducing the new types of fonts, stylish and good looking fonts. If you're bored of same old regular fonts and want to use latest new fonts, the learn how to install fonts Windows 10. The process is very simple and easy. You should have a valid font file and make sure you've downloaded it from a valid source.
Windows 10 is currently latest build from Microsoft and comes preloaded with many stylish fonts but you might be missing some fonts from your old OS or if you need to install the font in your Windows 10 then this article will help you a lot with Installing Custom Fonts In Windows 10. Different fonts have different texture, shape, and size. You can use your favorite fonts easily with Windows OS and can also install custom fonts that you need to use and is currently missing from Windows 10.
Where To Get Free Fonts
Before proceeding, let's talk about the source from where you can get fonts for free. Users who have their font file and just want to install it can skip to the method given below. But, those who don't have the font file should be aware that it's not recommended to download the font file from unknown and invalid sources. Doing this might harm your PC as viruses are spread over the internet and it's possible that your font .tff file is infected with the virus. You can easily get fonts by searching on the internet. But, below are 2 popular websites which also provides cool fonts for free:
1. 1001 Fonts
2. Fonts.com
Steps To install Fonts Windows 10
Installing font in Windows OS is very easy. It can be done by following few steps as given below.
Download your required custom font into your PC and once it's downloaded Right Click on the file (.ttf file) and click on Install.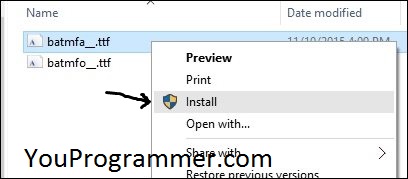 2. Provide administrative privileges by clicking on Yes and wait till the install process is complete.
You've done the process to install fonts Windows 10. But, we still need to check whether the font is installed or not.
Once your installation process is complete, make sure your font is successfully installed or not. You can check if the font is installed or not by fonts manager. It can be accessed through the control panel.
Press Windows+Q key and type Fonts and click on the first result. or open control panel by pressing Win+R and then type Control Panel hit enter. Then select fonts option and click on it.
Now, all the fonts installed on your system will be listed there. There are around 20-30+ default fonts installed there. now, you need to search for the font you've installed.
To search for your font, search it using the search box or simply scroll and then find your font. it should be listed there if it's successfully installed on your system. But, if your font isn't listed there then there are many possibilities behind this problem.
If your font isn't listed in the fonts manager in control panel, then it's possible that your font isn't installed. Have you checked the installation message if appeared or ignored it? If your installation isn't successful, you'll receive an error saying "Font Installation Failed" or similar. If this happens to you, check your font .ttf file. Make sure it's valid and working properly. Download a new copy of the font and try to install fonts Windows 10 again.
Once you have successfully Installed Custom Fonts In Windows 10 PC, open your text editor or Word Pad and select the font that you have installed previously. You can now use the custom installed font on your Windows 10 PC.
We hope you're now using the newly installed font on your Windows OS. We've tried to give you the simplest way to install fonts Windows 10, Windows 8, and Windows 7.