Computers nowadays are very powerful. A small laptop these days is capable of doing large calculations in seconds. There was a time when a computer needs large space and large power supply. But, in the modern world, laptops are getting thinner and thinner, less power needed to work and getting more and more powerful. With the increase in demands of computers worldwide, manufacturers kept introducing new features. However, most laptops and computers which are powerful are very pricey and people even don't need that much computing power for their needs. Only gamers, graphics editor etc who really needs more computing power are buying pricy computing hardware. Most people are using average computer machine which can do their daily work. now, the problem raises that most of the times the computer lags too much and even stops responding. When your computer was new, everything runs fine and after 6-7 months, something magical like happened and your computer slows down. Well' that's not any magic, this all happened due to you and the way you're using the computer. If you don't understand what we meant by this, then read this whole article and learn how to make your computer faster.
What actually happens is that when you buy a brand new computer, there is only few software like Office, some tools etc installed on it. Now, after 203 months of usage, users have installed at least 10-20 3rd party softwares. Even we re-install the operating system and forgot to activate the OS. More software means more cached data and it slows down your PC.
Now, the computer lags too much and didn't boots up quickly. In this article, we will show you exactly how to make computer faster and get a smoother experience. Most users complaints that their PC boots up very slowly. Applications open up very slowly and lagging of the applications is becoming common. Well, we have the solution to every single problem in this post. just follow the whole article and make computer runs faster without increasing RAM or changing the processor.
Best Ways To Make Your Computer Faster
Following are the best ways which will boost the performance of your computer.
Make Sure Your Windows OS Is Activated
The first thing you need to do is, check whether your OS is activated or not. It's obvious that Microsoft wants to make profits with their products. Hence, they won't be providing their WIndows OS free for lifetime. When you install Windows OS, it will work as the trial for 30 days. After 30 days you'll get this copy of Windows is not genuine message displayed on the desktop. This clearly means your OS isn't activated. You should activate Windows as soon as possible. If you don't activate following things will happen:
You'll get no updates and if you want to make computer faster, you'll have to keep your OS updated.
Computer performance goes down and booting time increases.
Most of the Windows settings will be inaccessible etc.
Disable Startup Programs
Half of the computer users complaints that their Windows OS boots up slowly and once boo is complete, desktop icons load up very slowly. Even when they are on the desktop, they can quickly start using the computer.
The main reason behind this problem is that there are a lot of startup programs which are started while the boot process and once the user is on the desktop. Actually, when you install a new software on your system, it might set itself as a startup program. Now, when your OS boots the program will be automatically started. This takes a huge amount of processing power and we recommend you to disable all the unnecessary startup programs.
Right-Click on the taskbar and select Task Manager. Once task manager window will appear, click on More Details.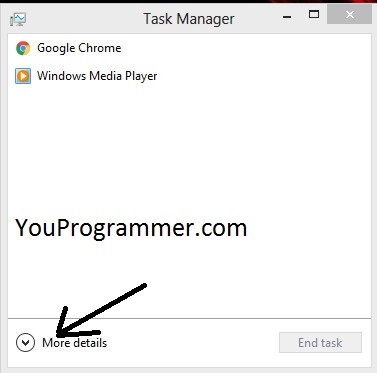 2. Next, click on Startup tab and there all the startup programs will be listed.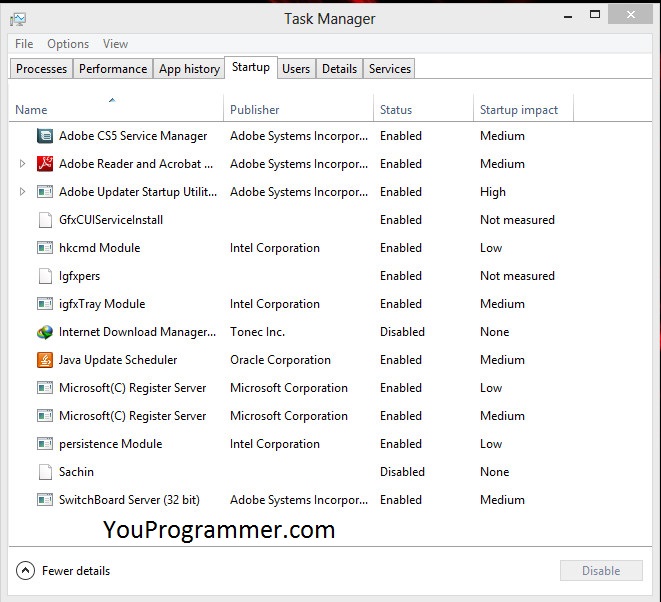 3. Sort all the programs which you don't need. Most of the programs are just program update related which checks the updates of the software once updated.
4. Once you've recognized all the unnecessary programs, Click on any program and then Right Click>Disable. The program will still be there on the list but will not start on startup.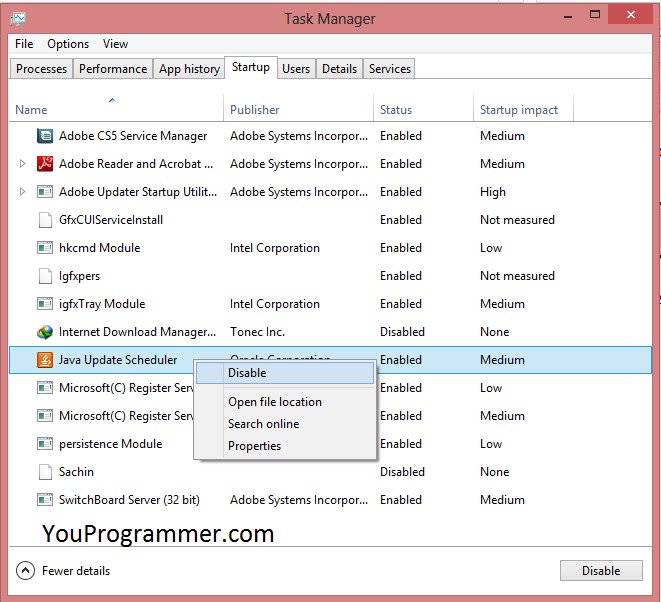 This is the best way to make your computer faster. Users who want to make computer faster should disable all the startup programs which are not necessary. But, make sure that you haven't disabled the system programs. Only disable the 3rd party startup programs.
Removing Temporary Files
Many users didn't know about how to delete temporary files in Windows OS. Those files are just junk, prepared by programs. These temporary files are automatically created and you have to remove those files at regular interval of time. Sometimes these junk files take huge of space on your drive where Windows OS is installed if you haven't deleted them from a long time. So, it is recommended to delete those junk files. This will help you to make your computer faster. Temporary files help to recover lost data if the program is halted. Many programs generate their temporary files for recovery purpose. Below are the steps to remove temporary files to make your computer faster:
Press Win+R and type: %random%
Hit enter and file explorer will open the folder where all your temporary files are kept.
Press Ctrl+A to select all the temporary files and delete them.
You might need administrative access to delete some files. Follow on-screen guide to delete all the files from the temporary files folder.
Then clean your Recycle Bin and you're done.
This will really help you to make your computer faster.
Install Antivirus and Keep Your Computer Virus Free
This method is very important as antivirus is very important for any OS to protect you from spams and illegal activity. We hardly recommend you to install any paid antivirus program. The main reason behind using the antivirus is that it protects you from all the virus threats. Viruses slow down your PC by generating duplicates of your computer files. Many adwares are installed on your system and keep running in the background, eating up your computer's memory.
An antivirus will solve all the virus related problem with your computer. If there's the virus in your system, Antivirus will detect it and will remove it from your system. This will really help to make your computer faster.
Remove All The unwanted Programs
Some users have installed a lot of software in their system which is not even used by them. You should uninstall all those softwares from your computer immediately. Those applications also take space in your drive and will make your computer slower. If you want to make your computer faster, then consider removing all the useless applications from your computer.
Follow the steps given below to remove all the useless programs from your computer:
Press Win+R and type control panel.
In the control panel select Programs option.
Now select any useless application and Right-Click>Uninstall.
Follow the on-screen guide and uninstall the application.
These are the main steps you need to do in order to make computer faster. But, below are some tips that you should follow to make your computer performance smoother.
Tip 1: Always keep your drive 20-30% free where Windows OS is installed. This will help you in improving the performance of the computer. Many users have experienced that if they have only 5-10% free space left on their C drive, their applications lag too much and the performance of the computer also gets decreased. So, if you want to make your computer faster, make your C drive as free as possible.
Tip 2: Use Ready Boost Device – A Ready boost device increases the performance of the computer in many ways. Your applications will open faster, booting time will also decrease and slight imp[rovement in the computer's performance. There are many types of research done on this Windows OS's feature and it's assumed that it actually works. We have an article on increasing RAM of PC where we've discussed ReadyBoost feature.
Tip 3: It's also recommended that you should keep your computer at the right place. it should not be in direct contact with sunrays and make sure your computer doesn't heat up more than usual. If your computer's fans are making too much noise, then it might possible that computer's motherboard is very heated. You should clean dust etc from your motherboard and keep your computer as clean as possible. This will help you to make computer faster.
Tip 4: Keep your OS updated, many updates are related to the performance of the OS. Hence, the newer version of the OS might be more stable and faster. Hence, make sure your OS updated to the latest version. This will make your computer faster.
Tip 5: Keep your drivers updated, drivers are responsible for providing the link between hardware and software. if your drivers are updated, your computer will perform better.
If you follow all these methods and tips, you'll surely feel the improvement in the performance of your computer. If you've suggestions or problem, comment down below and we'll reply you soon.