Recording videos of Live events and uploading them later on social channels seems old fashion and nowadays people are more interested to record a Live stream than uploading them. There are various benefits of Live streaming over uploading them and even businesses are more interested to go for the Live stream to get more exposure with latest updates. Making Live stream is also very good for saving the time and money which it takes on editing part before uploading. Every big social media and many other platforms are providing the live streaming option to their users and since it has more advantage so everyone seems to go for it, doesn't matter if it's a Facebook live video, youtube live streaming, or gaming live streams.
Some important meetings, webinars, and video conferencing in which not everyone is presented can also attend and see them through live streaming. Such events or activities also Induce us to record those live streams so you can also watch them later when you want. It could be a tough task to record live streaming but since you are here so you are going to know how to record a live stream in easy and efficient manner with two quick steps.
Step 1: Download the Software
The very initial phase here is to download the software which has such ability through which we can perform this task of recording live stream. There are many softwares available which are capable enough to perform this task but in features, no one is close as much as movavi software, so here we decided to introduce you with this software so you can get most of it.
Before going to download this software let us give you a little bit of introduction about this.
Introduction to Movavi Screen Recorder: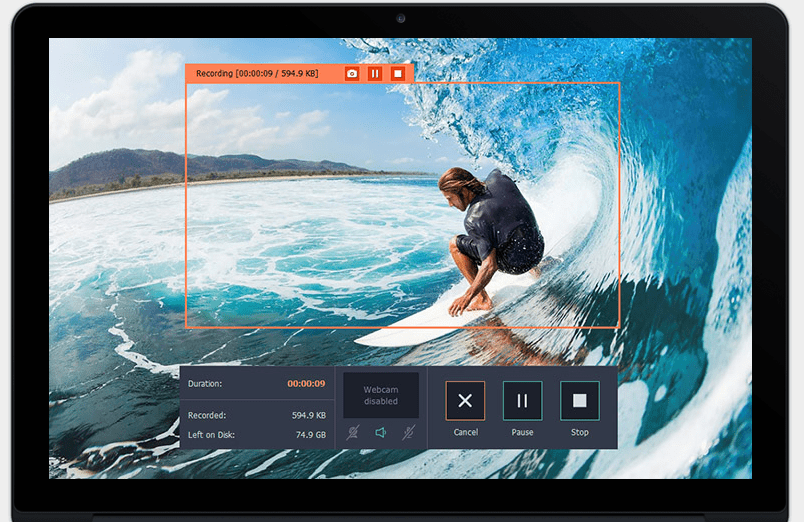 Movavi screen recorder is one of the best and lightweight screen recorder which lets you record your computer/laptop screen with ease. While recording your screen you can set screen capturing parameters to record the desired part of the screen. It can also be very useful to make tutorials of various kind and the intuitive interface lets you perform tasks quickly. Not only your screen but with its audio option you can also record the audio simultaneously. If you are a Mac user then no need to worry about because this software works for Windows and Mac too.
When it comes to recording live streaming then it can easily be done using this software. You can start right away and no expertise needed for this. It can be used to record live stream on Facebook, Youtube live streaming or any other live streaming video platforms such as Twitch.tv or even with recording gaming live streams. All you need to do is, select the screen area which you wanted to record or set the desired screen resolution and don't forget to enable audio option. You can also take screenshots using F8 key while recording the stream. It gives you the option to record the System Audio as well as Microphone audio. So if you are about to give your feedback on a particular live stream while recording it, then you better enable both Microphone as well as System Audio option. You can also set effects such as Keystroke recording for instant and efficient recording and cursor effects as per your need.
Once all done, you just need to press the REC(record) button which will start the 3-second countdown after which you are good to go. It's easy as that.
You can download this screen recorder for recording live streaming video from below links:
Step 2: Setting Up and Go
Once done downloading, follow below quick steps:
Set the resolution/Capture area in which you wanted your live stream to be recorded.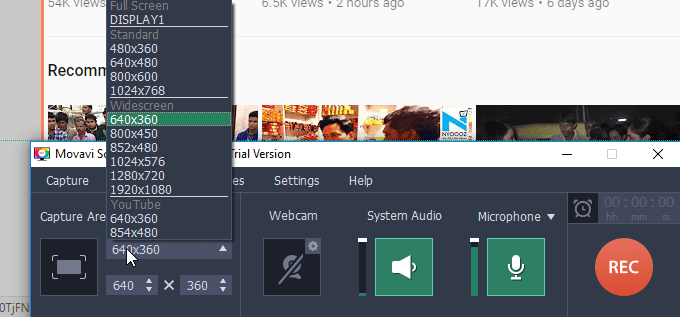 Enable audio option, depends if you wanted to record System Audio/Microphone audio or both.
Open the Live streaming page such as if you wanted to record gaming live stream then all you need to do is open the page and hit REC(Record) button, it will start a 3-second countdown after which it will record the live stream on the selected screen area along with audio.                                                                                                             
Once the live stream ended, press the stop button and save the recorded video to desired file type or video quality such as MP4, AVI, or MOV and even you can apply further settings on particular file type and hit save button.
It maybe seems a tough task for you to record live streaming video but now you are capable enough to record streaming video in easy steps and you don't need to be an expert for this.