Sending text messages these days are very costly as you'll be charged per message. People are using the internet and messaging apps like WhatsApp, Messenger etc. to send and receive messages quickly. However, there are many people who still send and receive text messages. Most of the people encounter the problem of deleted text messages. If you've ever received some precious details like Bank Account Details, Bill No. or any other message which was deleted by mistake then you want to get it back. Many services are linked to your mobile number. You'll receive many important messages on your mobile phone from Govt. and Private services. Losing all the important text messages are very frustrating and shocking moment. If you want to recover deleted text message you should follow the steps and methods given in this article.
When you delete any data from your Android mobile phone it's not actually deleted. It's hidden somewhere in the memory. When you put some new data on your device then old deleted data will be permanently deleted. Hence, there are huge chances that you'll get your messages back easily. Make sure you've stopped sending and receiving new messages if your messages were deleted a few hours back. Receiving new text messages might result in the permanent loss of your old deleted messages.
Many data recovery software and apps are available for free. By using these apps and software, recovery of messages becomes very easy. In fact, some Messaging apps create automatic backup of messages on Google Account. This feature isn't available in many messaging apps but better checking whether this feature is available in your messaging app or not. Open messaging app settings the know. Many messaging apps have a feature which deletes old messages on its own. You should disable that feature. Read this whole article to know more.
Also: How To Backup Android Contacts
Recover Deleted Text Messages On Android
We'll be showing you best 3 methods to recover deleted text messages on Android. These methods work well and are tested. Follow the methods given below and make sure you've access to the internet on the device where you want to recover deleted text messages. Most of the users lost their messages when they restore their Android mobile phone. All their internal storage data is deleted including text messages. In this case, you'll have to use data recovery app/software. We've shown all the possible ways to recover deleted text messages on Android.
Method 1. Using Google Account
Many messaging apps comes with message backup on Google account. If we talk about Google Accounts, it is very useful to create a backup of contacts, settings, and messages and other Android data. Hence your messages might be backed up on your Google account by messaging apps. You should use this method to get your deleted text messages on your Android phone.
To get your text messages back using Google Account (If messages are synced on Google Account) you need to follow the steps given below:
Step 1. First, open your messaging app and check settings. Look for the backup option if it's there. Most of the Messaging apps don't have this feature.
Step 2. Now, open your Settings>Account>Google and select your Google Account. Then enable all the sync options like Contacts, Android Data etc.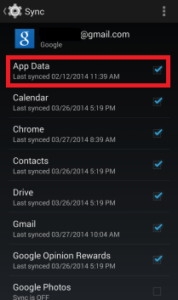 Step 3. Wait till the sync is complete. If your Messaging apps support syncing with Google account, you'll get all your messages back if they were synced before.
Method 2. Using Data Recovery Software
This is another amazing method to get your text messages back on your Android device. Many free Android data recovery software lets you get back all the important data including text messages. But, you should have a rooted Android device. You can check whether your device is rooted or not. If your device is rooted then you can proceed to the steps given below:
Step 1. First, download and install the software from here: "https://www.recovery-android.com/recover-sms-from-android.html". It's available for Windows and MAC OSX.
Step 2. Open settings on your Android device and enable USB Debugging. It's located under Developers Option. (Tap 7 times on your build number under About Phone to enable developers mode)
Step 3. Connect your Android device to USB data cable to your computer.
Step 4. Then select the data you want to recover like Messages and click Next.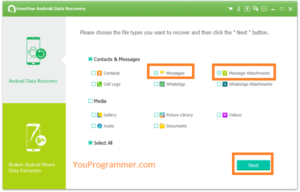 Step 5. Provide Super User permission on your Android device. It'll pop up automatically on your Android device.
Step 6. Wait till the recovery process is complete. After the process is complete, you'll get all your Messages back on your device.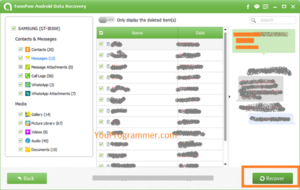 It's another working method to get your messages back on your android device. But the only rooted mobile phone will work in this method and it requires Super User permission to access internal storage of your Android device.
After all these methods you should get your deleted messages back on your Android phone. But, if none of the methods given above worked for you, use the method given below.
Also: Best Selfie Camera Apps
Method 3. Using Android Data Recovery App
In this method, you'll have to use an Android app which is available in Play Store. This app helps you in recovering all the deleted text messages on Android. You should have a rooted device otherwise, this method won't work for you. Follow the steps given below:
Step 1. Download and install GT SMS Recovery app from Play Store.
Step 2. Then open the app (give root access if it asks). Then start the scanning process.
Step 3. Wait till the scan is complete. When the scan is finished you'll get results displayed with the number of recovered deleted messages.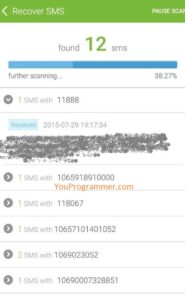 This app works for rooted users only. So, root your device first if it's not rooted. This app can recover your deleted messages even if your device is factory reset.
These 3 methods are the best methods to recover your deleted text messages on Android. If you're having the problem in getting your deleted Android messages back, comment down below. We'll try to solve your problem.