Android pattern secures your phone from unwanted users but sometimes you lost your unlock pattern. This is a serious matter as your phone have all personal and precious data saved in internal memory.
Nowadays Android OS is very popular because of its app store and features provided. Google has launched this cool OS. Billions of devices have an Android OS installed on them.
Removing pattern in Android mobile can be done by many ways but you will lose data in all those methods. Losing data in android mobile is very common in case someone forgot their pattern. But there's a way which can be used to remove pattern without losing data.
How to Unlock Locked Android Phone Without Losing Data
All android devices have basic security options like PIN, Pattern or Password. These security features are very useful to save your phone from unwanted access. Due to a lot of passwords you have to remember or trying a new pattern and forgetting it will get you in a big trouble as your personal information is now far away from you.Patterns are not very easy to remember in case of complex patterns or long patterns.
There're a lot of tools and ways to remove patterns and unlocking your android in the case of forgotten pattern, PIN or password. But in those all tools you will not be able to save your phone memory internal data where your precious data and applications might be saved.
So here's the way using which you can remove android mobile patterns without losing data:-
Things You Will Need To Do This Method: –
A Pc/Laptop. (Windows/MAC/Linux)
Android SDK Tools.
Data Cable.
USB Debugging Enabled.
Step 1.
First of all download android SDK tools from here. It will be very useful to use ADB commands.

Select your OS and download the tool from this website.
Step 2.
Open the package that you've downloaded from the website and select Android SDK Platform Tools then click on Install Packages. Uncheck all other options because you don't need them to do this task.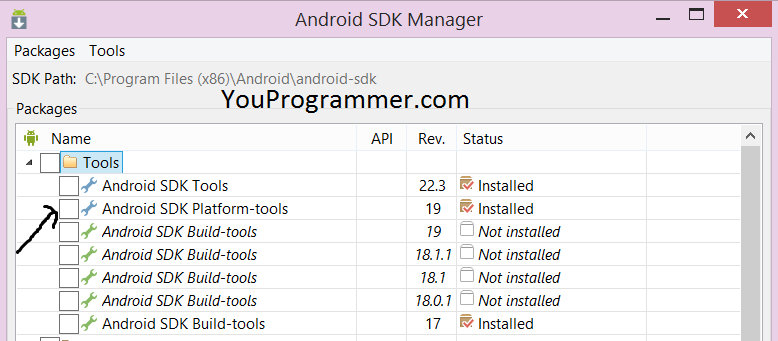 As we mentioned above that your phone must have USB debugging enabled. So connect your phone to your PC/Laptop using the data cable.
Step 3.
Browse to the path where you've installed the android SDK tools. Browse to the location and open platform-tools folder and hold the Shift button and Right click then select option Open Command Window Here.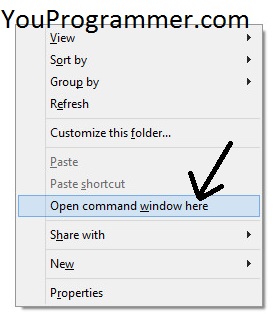 Step 4.
Insert command adb devices to check whether your device is connected or not. Remind that if your device isn't enabled with USB debugging then you can't unlock your device using this method. There are several other methods given below which will help you to bypass android pattern lock easily.
After entering adb devices command you will get the list of devices connected to your PC/Laptop.

Step 5.
Enter the command given below. This is the command which will remove your android pattern and you can bypass android screen pattern easily.
adb shell
cd /data/data/com.android.providers.settings/databases
sqlite3 settings.db
update system set value=0 where name='lock_pattern_autolock';
update system set value=0 where name='lockscreen.lockedoutpermanently';
.quit
Alternatively, you can put command given below if above command isn't working
adb shell rm /data/system/gesture.key
Now reboot your device and you have successfully removed the pattern lock from your mobile and you can bypass the android lock. If your device hasn't enabled USB debugging mode you can try methods given below. These methods might help you in removing your pattern lock without losing data.
Also read: Stop Android from making thumbnails
Unlock Android Pattern Using Google Account
If you're not able to unlock android pattern from the method given above then you can use your Google account to unlock your device. You can bypass android lock screen with google account. So before starting with this method, you should have login access to your google account that is logged in with your Play Store in your android mobile.
Below are the steps to unlock forgotten pattern using google account.
Make several unlocking attempts till a popup appears for the forgotten pattern or something like that.
Click on that link and login with your Google account.
Follow all steps and your device will be unlocked easily.
These are the methods which will surely help you to remove your forgotten android pattern. You can try any method to unlock your device without losing data. There are many other ways for unlocking pattern but those methods will clean all your user data, apps and settings.
If you're thinking of contacting care center to unlock your device without losing your data then they will surely not gonna help you. Most of the mobile repair centers flash your device with new firmware resulting in all loss of data that is saved in your phone's internal memory. Remember that data saved on your SD card will not be deleted so always make a backup of data that is saved in your phone's internal memory.
If your data saved in internal memory is very important and you can't remove the pattern using methods given above you should contact your mobile's manufacturer's customer care. They might help you in some way to save your data.
Methods given above will surely help you to unlock locked android phone without losing data. Let us know in comment section. We'll surely help you to retrieve your data saved in internal memory.