Firefox is one of the popular and best performing free web browser. Firefox has more than 500 million users worldwide. It is a multiplatform browser which works in Windows, Mac, and Linux. Firefox gives you super fast access to the internet and has many other amazing capabilities. With every update, Firefox is getting better and better. Unlike browser like Internet Explorer where you need a very high speed of the internet to access even a simple web page, but in Firefox, it is way faster and convenient and. Along with that super fast accessing to the internet, you can customize firefox till the high end using its features and functionality.
Such popularity and amazing feature make firefox worth using instead of other browsers except Chrome. Because when it comes to chrome it takes 1st place, no doubt on that. But what's better in Firefox than chrome? yes, there is one thing that Firefox seriously performs better than chrome, which is tested many times by us. And that things is performing smoother with multi tabs. Try putting similar processes on the website on chrome and firefox simultaneously and start increasing those of tabs, instantly Chrome will stop responding at some point whereas Firefox will still be working that time.
This long-lasting feature we have encountered in latest version of chrome Quantum and hopefully, in future updates, it will be much more better than today. But to avail this, first you need to know your firefox version if its older than you need to update it. In order to Update Firefox to latest version follow below steps:
Steps to Check and Update FireFox:
Open your Firefox browser.
Click on the three parallel line Menu button from the top right corner of your firefox window.
Once you click the menu button, it will drop down all the avail options on that menu, just click on Help option.   
Now under the help window, click About Firefox.                                                                                            
Once you click that, it will start checking for the updates. If it find out any new update then the process of downloading that update will be initiated right after that.
Since we have given you the screenshot of Firefox latest version so there are no updated available at this time. But if in future, there will be something to update then you need to go through these same steps.
If You have old version of chrome then you will see a widow like this, which will say checking for updates and Downloading Updates.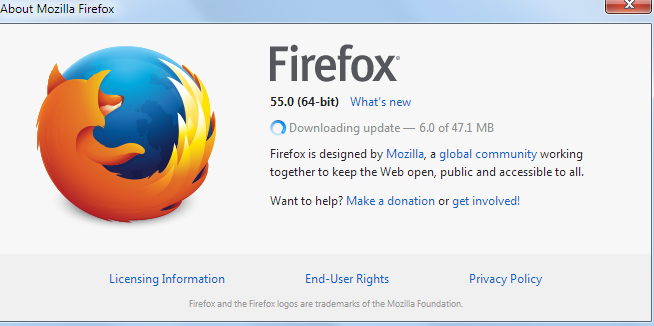 If there are any updates available, it will start download the process. And later when the process of downloading Firefox update is completed, it will ask you to Restart fiefox, just press that hit the given button for that.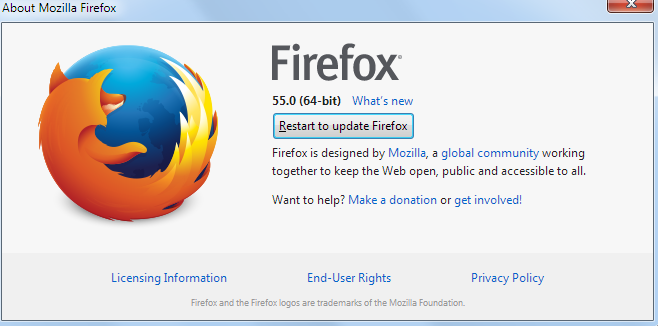 Once you restart it, it will apply all the changes and your Firefox browser will be updated successfully. And you can avail all the new features and functionalities embedded on the latest version of Firefox.