SHAREit is a very popular and fastest growing program to share files between two devices. It starts from China where it was first launched and was named as anyshare. With its fastest, and smooth sharing features and it becomes a trend of sharing files between devices worldwide including, iOS, Windows Phone, Android, and PC as well. You can use shareit in PC easily. This software runs very smoothly and supports sharing of large files and applications. You can share music, apps, videos and other files as well.
SHAREit lets you send your content at lightning speed between devices including photos, videos, music, documents, and folders. Transfer gigabytes of files from PC to PC in minutes, without cables, USB drives or network charges. Want to send all of your photos and videos from your phone or tablet to your PC or your PC to your phone or tablet? It's easy and fast with SHAREit.
Wireless devices with SHAREit can automatically find each other when in range. Transfer HUGE files and videos in seconds, up to 40 x faster than Bluetooth. SHAREit allows file sharing with added security and privacy, files are saved directly on your devices, not in the cloud. Transfer your files between all Windows, Android, iPhone & iPad devices. Using shareit for similar devices is easy, like if you are android user and sharing files with your friends with same OS(Android) then you must be very familiar because of highest majority of using with those devices but what if you want to share files from your PC to your Android device then you maybe not familiar with shareit on pc and might ask how to use shareit in pc. Simply go through below steps to know exactly how you can do this:
1. Download SHAREit Download For PC:
Start by downloading Shareit software for your PC or Laptop. You can download SHAREit for free from here. It's an official build available for PC users and you can use it for free. There are no limitations using this tool in PC and you can send the same amount of files that you used to send on previous devices(Android, iOS, Windows Phone).
2. Requirements For Using SHAREit in PC:
You PC should have WiFi supported. Many laptops have inbuilt WiFi so turn it on in order to use SHAREit.
Both sender and receiver must have SHAREit installed.
3. Steps to Use SHAREit in PC:
Step 1: First of all open SHAREit in both devices. Here is a screenshot of SHAREit for Windows OS.
Click on the little icon pointed above and network name and password will appear.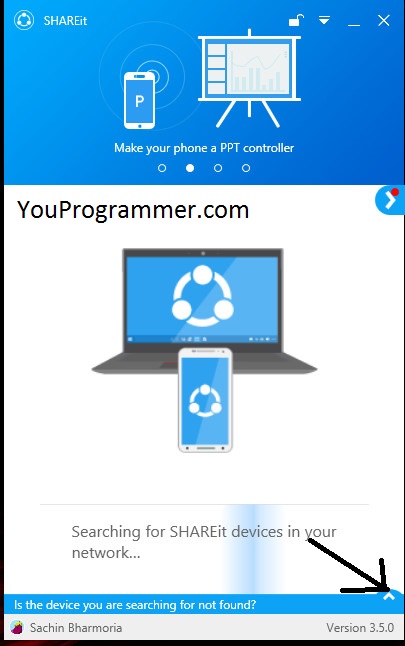 Step 2: Now, go to your other device and turn on the WiFi and connect to the network created by SHAREit and enter the password that is shown in your SHAREit on PC.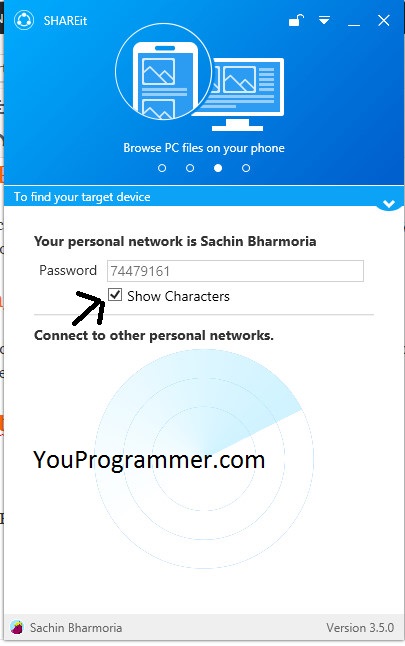 Step 3: Now in your mobile open SHAREit and go to options and select "Connect To PC" and scan the Barcode by going back on screen in SHAREit on PC. After successfully scanning that barcode you will be able to transfer files between mobile and PC easily.
Share Files in Latest Version of Shareit:
To share files from the latest version of pc, simply follow these below instruction: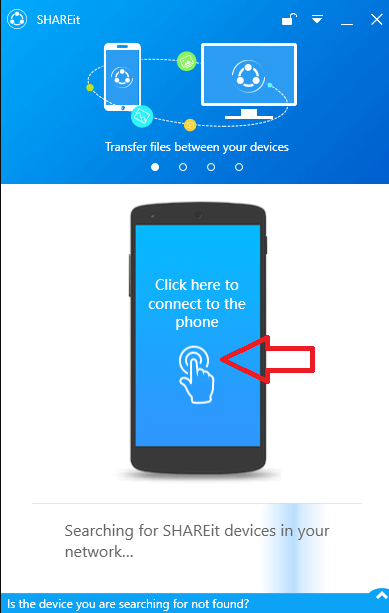 After opening SHAREit on pc, it will start searching for devices. Just click on Mobile symbol as shown in the above image. Now you will see QR code on the desktop.
Open SHAREit on Mobile device. But before that you must have the latest version of shareit installed on your phone. Simply update it through Google play store or from other sources on the internet, it will show update option instead of install option if you are updating from play store.
As shown in above screenshot, select the icon from the top left corner.
Click the option "Connect to PC". After selecting the option it will start searching for devices.
if you don't see any devices then Click Scan to connect option as shown above.
Now Scan QR code from the desktop. It will show you desktop PC name on your phone. Touch on PC name. Then you will see below screen on desktop. Select Accept
Now you will see two devices connected. If you want to send files from mobile to PC, just select Photos of Files option and browse mobile, select files and send to PC. Or If you want to send files from PC to mobile, just click on Files, browse computer and send files to mobile.
Key Features Of SHAREit
Share everything with other devices – pictures, videos, music files, documents, and contacts.
Devices with SHAREit can automatically find each other when in range.
Transfer HUGE files and videos in seconds …up to 40x faster than Bluetooth.
Share without the need for Bluetooth, phone network or active Wi-Fi network, devices wirelessly connect directly.
Even the app itself can be shared to other devices wirelessly, and rapid sharing can begin immediatel

y

.
Supports group sharing up to 5 devices simultaneously. Instantly share a party video, music album or photo library to up to five friends simultaneously.
After going through this article you may know how to use shareit in pc.