The changing software industry has led to the rapid growth and diversification of domains in the digital arena which includes various forms of outlook such as online shopping or ticket booking or data collecting and analysis etc.
To this list there is a recent addition of hacking and though many people consider it as a threat to the digital space but a form hacking known as digital hacking is essentially an important source to keep the digital spectrum safe and virus free and it is also used by many public authorities like police and intelligence bureaus to combat cyber crime.
Thus ethical hacking is one of the major solution for various digital problems and the software kali Linux is one the softwares which effectively helps in efficient and fast modes of ethical hacking.
What is Kali Linux?
Kali Linux is basically a software for ethical hacking and in more sophisticated terms it is recalled as Linux operating system based Debian software used for digital forensics and penetration testing. It is generally used for data write back and to process back-end information. It is basically composed of over 600 pre-installed penetration testing programmes to penetrate firewalls of multiple softwares and programmes. It has many sophisticated features like:
The major important feature is that this software has a dedicated project added and set aside for compatibility and porting to various but specific Android devices. It is also pertinent to note that it is also the first Open Source Android Penetration Testing Platform for many Nexus Devices.
Modes of Kali Linux:-
Backtrack which has a forensic mode.

Persistence mode.
The major requirements of Kali Linux are:-
It requires a minimum of 10GB hard disk space for installation.

It also requires a minimum of

512MB RAM for i386 and AMD64 architectures.

It also requires a bootable CD Drive or a bootable USB.
But that is also the major advantage of this software as it is easily portable and thus generally referred to as Kali Linux bootable USB.
Background of Kali Linux:
This software is based on the operating system of UNIX family and it is thus a part of one of the most efficient and compatible software which is known for its multitasking and multiuser catering needs.
UNIX also has a strong hierarchical file system  and also uses plain text for storing data. Thus this software has a modular design and an unified file system as the main means of communication. This makes it portable and efficient for cheaper digital penetration purposes.
Where to install kali Linux in USB?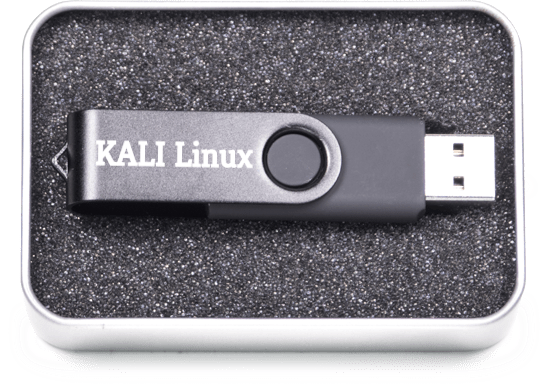 This software can be installed by many modes like directly installing in the hard drive of the device but that generally leads to memory exhaustion and also leads to space depletion. Thus it becomes necessary to cause partition of hard drive in the virtual machine. Hence, it is an essentially easier mode to install Kali Linux in USB because:
It is totally portable and thus less hassles.

There is no need to create separate partition in the hard drive.

Booting errors and missing drivers may arise if directly installed in the virtual machines.

Data can be saved in persistence mode which is only present in the USB option.
Thus it gives a boost to easier ways of ethical hacking by means of phishing, data tabbing and other easier modes which can essentially be used and implemented by digital users to provide better settings to their digital presence and thus provide safeguards against various kinds of online threats like cyber bullying or online stalking and also gives a secure digital and social media presence especially to young users and also to  beginner coders to enhance their talents and learn more.
How to install Kali Linux?
There are three major ways to install kali Linux on USB and they are:-
By using Win32 Disk Manager

By using Rufus Bootable USB marker

By Command Prompt Advanced users option
Win32 Disk manager
Download the Win disk manager tool from this link

here

.

Before that plug in the USB to your device and make sure that it is well connected.

Install this Win Disk manager and then in the folder option, go and choose the USB option in the external devices part.

Then click on the folder icon and search for kali ISO image and make sure that the format is

 *.*

otherwise no image can be seen.

Now click on the Write button.

A pop up window will appear and you must accept the warning.

After this a process completion message will come, wait till then.

Then eject the USB device carefully and run it in the device you want.
This is the easiest and the most efficient method to be used which saves a lot of effort and time.
Using Rufus Bootable USB Marker
This is another simple method to install this software and this is far efficient  and faster than Win disk manager. The steps to be followed are:-
Download the

Rufus tool

from this link

here

.

Before that plug in the USB to your device and make sure that it is well connected.

Install this Rufus tool and then in the folder option  go and choose the USB option in the external devices part.

Now set the partition scheme as the GPT partition scheme for

UEFI

.

Also note the file system as

FAT32

.

Now choose the

cluster size to 16Kb

.

Now wait till the completion of the process after

clicking on the Start

button.

After the process is completed, you can see the

Ready

button.

You can then start using the kali Linux file.
Using Windows Command Prompt (CMD)
This is only  for advanced level users as it requires the understanding of various commands and formats before executing the function.
Thus the steps are given as:
First step is to check that the USB is virus free and safe to use.

Insert the USB in your device that is PC/ laptop.

Now you have to  press

Win+R

and type "

cmd

", and then press

Enter

.

In this command prompt menu opens and here write

Diskpart

.

Now first provide the

admin acces

s in order to run

Diskpart

.

In this type,

list disk

which gives you option for all the disks in the device and now you can choose in which disk would you want to run the kali Linux.

Now if you

USB is disk A

, the choose it and press select.

Now type

Clean

and press

Enter

.

Now you have to create

partition primary

.

Now type

select partition A

as you have chosen disk A.

Now we need to format this partition and so we have to write a simple code like format fs=fat32 quick

.

Once this formatting is done, type

active

and the you have to assign.

Now copy this Kali ISO to the USB and now you can extract it using

WinRAR

or

7Zip

.
This is the perfect and easiest method to install kali Linux and thus is is the most efficient means as there is no need to download any software or unnecessarily increase the memory space.
Checking Procedure
Now comes the most important procedure that is to check whether this software in the USB can be used and run in any other device or not. In order to do that we have to follow the given simple steps as:
Plug in the USB in the device that is PC or Laptop in which you want to install and use kali Linux software.

Turn off the device and turn it on again in order to open boot device selection menu.

In order to enter this menu, you have to press

F11 or F12

key from the keyboard.

Now in this select the mode as USB and the press Enter.

Now wait until the device is successfully booted.

Then start the device and use the kali Linux software.

Make sure that you remember the default username of kali Linux as

root and its password as toor

.
Conclusion:
Thus these are the simplest and most frugal methods to download and install kali Linux in USB and use it accordingly. This software is essentially cheaper and it is very advantageous for the beginners to download it and start using it for getting a quick grasp on means and procedure of ethical hacking.
The USB mode is the easiest mode provided that the devices used must be compatible with the USB and the device in itself has more than 10 GB RAM.