When we download a file from the internet using any browser or downloading software, it goes to Download folder by default. The default download location is the Download folder in Windows, MAC or Android phones. Most of the users are using Download folder as default downloads location. Hence, if you've deleted Download folder by mistake, all your download will e lost. However, when you delete any file in Windows, MAC it goes to Recycle Bin or Trash folder. A user has to delete the file from Recycle Bin/Trash so that file is deleted permanently. But, if we delete any file using the Shift+Delete key, it's permanently deleted. Also, the default download folder location is the part of WIndows/MAC files. If you've changed your OS or your OS is damaged and you've to delete the previous OS to install the new one, all your Downloads will be deleted.
Many users have lost their data as their OS is bricked and installing a new one is the only solution left. In this case your Downloads, User Documents, and files etc. will be deleted. To protect yourself from this problem and to recover deleted data from Download folder, you've to follow the whole article. We'll be showing you what to do in case your all downloads are deleted accidentally. And what to do if your OS is bricked and you need to protect all your important downloads. Many users do heavy downloading. They download files of very big size and remains them in default downloads location. This results in high risk of losing all those downloads in case of OS failure. The first thing to concern is that never remains all your important downloads in the default downloads location which is C:\Users\UserName\Downloads in WIndows OS.
Recover Deleted Files From Download Folder
In order to recover deleted files from Download folder, you need to use the methods given below. We've explained the methods step by step. We'll also show you what to do if your OS is bricked and you need to save your Downloads in the safe location.
Method 1. Recover Downloads Using Data Recovery Software
This method works in most of the cases. Users might get their data back using any best data recovery software. There is much professional data recovery software available in the market which can recover your deleted files from download folder within few hours. It depends on how much data you were having in the download folder.
Recovery software like Recovery My Files for Windows can recover any file format. Your downloaded files are mostly music files with .MP3 or another audio format, .exe files if you've downloaded Games or programs, and .doc if you've downloaded some documents. ALso, you can recover almost any type of file using Recover My Files data recovery software. You might use other data recovery software like Seagate, Runtime Get Data back for Windows. Check our post on best data recovery software and know which one you should use.
For MAC you can use Seagate which has the power of recovering your deleted files from the download folder. It can recover all data formats. But, you'll have to pay about 100$ for this software. Amazing this is that users can download this software for free. Download this software, perform a scan on deleted folders to check whether this software shows the deleted data that you need back. Then purchase the license if it shows your deleted data after the scan is complete. Save your data and enjoy, read the instructions on the official website.
Method 2. Performing System Recovery In Windows/MAC To Recover Downloads
This method is the easiest way to recover deleted files from the download folder. If your files are deleted a few hours back then there are chances that you might get your data back. Recovery is the process in which your OS is recovered to the same condition as it was when its recovery point was created. Windows/MAC created recovery point automatically when you make some changes in your OS or install some new software/games. Hence, when you recover your OS to a recovery point, you might get your data back as OS and its files and folders are reverted to the situation as they were before. It's kind of data and settings recovery process. Follow the steps given below to recover deleted files from download folder in PC/MAC:
For Windows OS (Windows 10, 8, 7, XP)
Step 1. First press Win+R and type Control Panel and press Enter.
Step 2. Now, you'll see your Control Panel. Find the Recovery option there and click on that.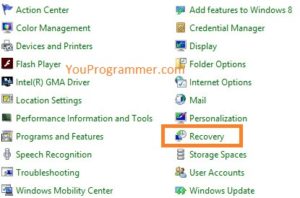 Step 3. Then select System Restore and a dialogue will appear. Wait till processing is complete.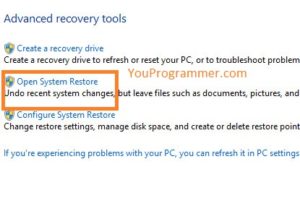 Step 4. Now, Windows will provide you the Recommended Restore point. You can restore to that recovery point or choose Custom to look if there are more recovery points.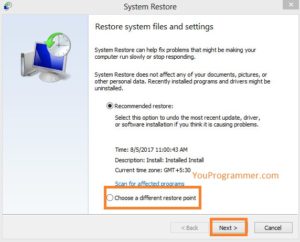 Step 5. Select your required recovery point and click Next.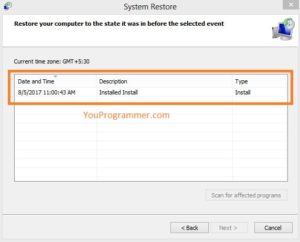 Now again click on Next. It'll recover everything from the drive where your Windows is installed and Download folder is located.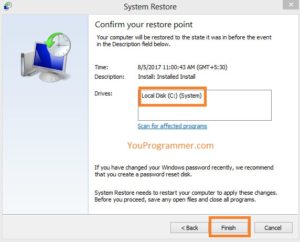 Step 6. Wait till restore is complete and check whether you got your deleted files back or not.
For MAC OSX
Restoring your MAC OSX to earlier date might help you in getting deleted files from download folder in MAC. Follow the steps given below:
Step 1. Turn on/Restart your MAC machine and keep pressing Command+R to open OSX Recovery Tool.
Step 2. Then select Restore from Timeback Machine. It's the restore points called as Timeback Machine in MAC OSX.
Step 3. Select the backup and wait till the restore is complete. YOu might get your downloaded files back in Download folder.
This is the easiest pay which can possibly recover your deleted files from the download folders. You can use this if you don't want to use data recovery software.
Extra Tip: How To Get Back Download Files In Case OS Is Damaged
Sometimes our OS is bricked and damaged and isn't turning ON. In this case, there's only one solution left which is changing the OS. When you change your OS, you'll loose all your filed like Downloads, Documents etc and all the data which is saved in C Drive. To make your data safe so that if won't be deleted even you've re-installed the Windows OS, follow the steps given below:
Step 1. First, create bootable live Linux Pendrive and follow the same article to know how to boot into live Linux mode using Pendrive.
Step 2. Then once you've successfully entered into Live Kali Linux, open the file explorer and click on Other Location.
Step 3. Select your C drive and navigate to Users\UserName\Downloads and copy all your download to another drive.
Step 4. Shut Down your live Kali Linux and install your Windows without losing download files.
These methos are the best way to recover deleted files fron download folders and the way to create backup of download files in case of damaged or bricked OS. If you're having any prolem comment down below and we'll try to help you.