Microsoft Word is one of the most popular document maker software. It's used by millions of users worldwide. Paper work is replaced by MS Word in offices. It's because of its simplicity and features that MS Word provides to its users. Microsoft Word has all those features which are necessary to create documents with ease and much more. You can design your documents in many ways using MS Word. Many users lost their important documents due to system failure or due to any other failure. If you're using PC with no power backup supply, losing Word DOcuments are very easy as your system will power off once the power supply is gone. It's very sad as if you're writing a long important article or email. MS WOrd comes with many powerful features including recovering of a unsaved document. So, you can recover unsaved word document in MS Word.
Users can easily recover unsaved documents in Word 2016, 2013, and 2010. If you're using any of these versions of Word, don't be sad as MS Word comes with an inbuilt feature of recovering unsaved documents. There's no need to download external tools or to do some tweaks in order to get your unsaved documents back in Word. It's one of the best features you'll get in MS Word as you can recover unsaved Word Documents with ease. You need to follow some steps given below.
Also: Recover Deleted Downloaded Files Easily
Recover Unsaved Word Document
Recovering word documents can be done within the word software. You need to select some options and it will help you in recovering unsaved word documents. The method given below will work on following MS Word versions:
Microsoft Word 2010, Microsoft Word 2013, Microsoft Word 2016
Step 1. Open Word software and click on File option on the top left side on your screen.

Step 2. Then click on Manage Version>Recover Documents to recover your lost documents.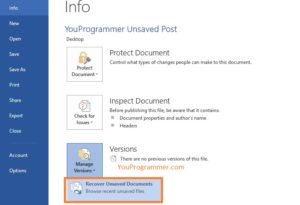 Step 3. You'll get a drop-down option saying Recover Documents. Click on that option and you'll be promoted to a new window.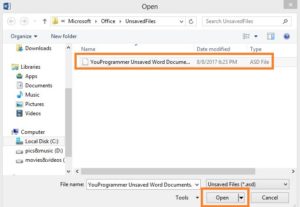 Step 4. Select the document that you want to recover and Click Open.
Step 5. You'll now get the option on your Word screen to Save All. Click on that option to save all your document data. You've successfully recovered your unsaved Word document. 

These simple steps will help you in recovering the lost Word Documents. If you're using Word 2010, WOrd 2013 or Word 2016 then you can recover the lost or unsaved Word Documents easily. If you don't want to lose your documents in future then read the tips we've given below. These tips will help you in saving your documents properly automatically or manually on your own. Check the tips given below.
Also: Best Data Recovery Software
In future you never want to recover unsaved word document, you should get smarter while working with Word Document. MS Word is one of the best selling software due to its features and user interface. It allows users to do more with fewer efforts. Below are some tips that you should follow.
Tip 1: Always Press CTRL+S After Few Lines
If you're working on a big article you should prefer pressing CTRL+S after writing few lines. Maybe after 3-4 lines, you should press CTRL+S. This habit will help you in saving the documents easily and you'll never lose your documents if your system crashed or power is turned off.
Also: Best Multiplayer PC Games
Alternatively, you can click on File>Save and your document will be saved. in flow, you would like to press CTRL+S to save your document. Even if you don't want to press CTRL+S to save your documents, you can use Auto Recover feature. Auto-Recover allows you to recover your documents automatically after few interval of time. Follow the steps given below to use Auto Recover feature in MS Word:
Tip 2. Use Auto Recover Feature
Step 1. First, open your Word software and click on File.

Step 2. Then select the Option from the menu and select Save option.
Step 3. Now, check the option Save AutoRecover if it's unchecked and change minutes to 1 minute so that after every 1 minute your Word Document's recovery will be automatically generated.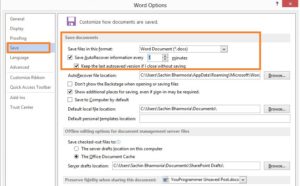 This feature works like Auto Save feature. Your document recovery will be generated after every 1 minute and in case your system shuts down without warning or due to no power supply. You. If your system is crashed and you dn';t get time to save your document, you can follow the steps given above to get your documents back easily. These are some tweaks that will help you in recovering unsaved word documents.