If you're running Windows 10 or Windows 8 on low specs PC/Laptop then you probably suffered from high CPU usage. This causes serious problems with user experience. Your PC becomes slower and sometimes everything freezes then users can't-do anything. We know you're one of them that's why you're here (We also suffer from this problem sometimes 😉 ). Even with high PC specifications, users are getting High Disk and CPU usage by Service Host: Local System (Network Restricted) like errors. If you're getting familiar with these problems and want to get rid of them the follow the whole article. Many users reported that up to 90% of the CPU and Disk is used by this service.
This results in serious problems like Windows hangs frequently and much more happens. In most of the cases, this High Disk and CPU Usage is caused by any process or program you're running. But, if you think this is the common thing with your PC then you should fix this. When Service Host Local System (Network Restricted) is using Disk up to 90-95% you won't be able to read any other file from the system. It almost makes disk unable to read by other programs. Also, if this service is using CPU at very high rate, your processing unit will not work properly.
This problem is mainly caused by memory leak or your system files are corrupted. However, Microsoft claims that there are very few possibilities of memory leak in Windows and memory management is very legitimate in Windows. But, in your case, the memory leak might be the reason of this problem. Many possible things are the reason for this problem. So, we can't tell what's the problem in your case. Just follow all the methods give below and you'll solve this problem very easily.
Solve: Service Host: Local System (Network Restricted) High CPU Usage and High Disk Usage
This service sometimes sucks your all the processing sometimes. There's a service known as Superfetch which is the reason for this problem most of the times. We've shown in this article how you can stop this service. If Superfetch isn't the problem in your case, you're probably suffering from the memory leak in Windows. This is serious as your programs might be force closed and stopped due to memory leak problems or your system files might be damaged or corrupted. So, better fixing Service Host: Local System (Network Restricted) High CPU or Disk usage problems as soon as possible.
Stop The Superfetch Service From Service Manager
The first thing you need to do is, just stop Superfetch service from the service manager. After stopping this service, monitor if there are some changes in disk or CPU.
1. Open the Control Panel, select Administrative Tools, and open Services. Or press Win+R type services.msc and hit enter.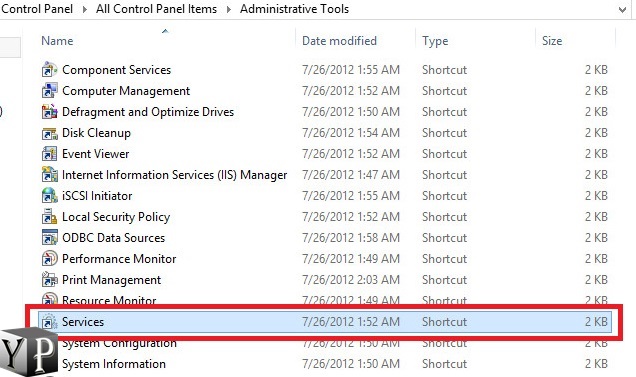 2. Find the Superfetch service. Scroll up and down to find this service.
3. Now, Right-Click>Stop and service will now stop.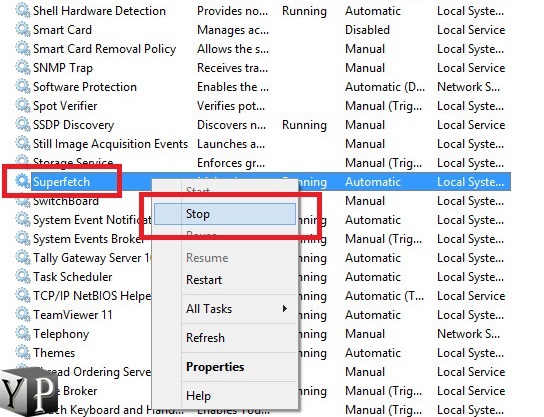 4. Open your task manager and monitor is there's any change in memory and disk usage. If you think memory and disk usage is lowered, then Superfetch is the root of all your problems.
5. Right-Click on Superfetch again and select properties.
6. Now, set the startup type to disabled. This service is in fact used to improve and maintain system performance. But, sometimes it's the reason of all headaches related to high CPU & Disk usage.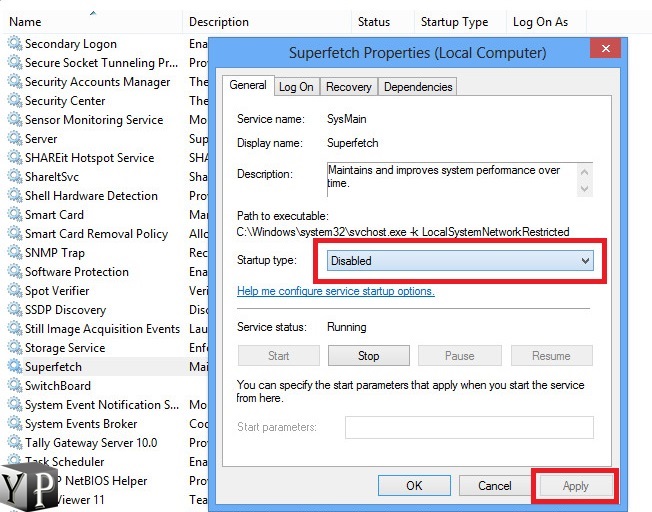 End The Network Restricted Service
If you think your problem isn't solved by this and high disk and CUP usage problem still exist. Then you should follow the next method. We'll now end the Service Host: Local System (Network Restricted) using the task manager. Maybe, ending this service will fix all the CPU & Disk usage related problems. Service will restart on its own.
1. Right-Click on the taskbar and select Task Manager.
2. Click on More details and look for Service Host: Local System (Network Restricted). Now, Right Click>End Task.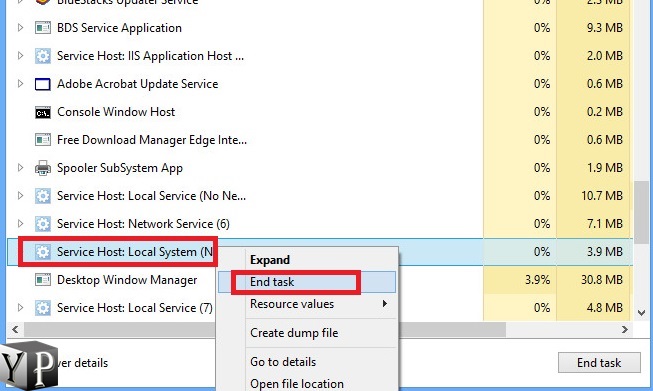 3. Now, check if there's change in the system performance.
Also: Bad Pool Header Fix (Windows)
In fact, you can entirely kill Local System processes. Below are the steps for doing this.
Open task manager, click on More Details and find Service Host: Local system.
Now, Right Click>Go To Details.
Then again Right Click>End Task.
Approve the warning if received and restart your PC.
Isn't your problem solved? Well, don't lose your heart as there are still 3 fixes waiting for you. Ther will probably solve your problem. Maybe yous system files are not working properly. So, in this case, you should perform the system scan. It's very easy and CMD is used to check all the system files. If any corrupted system file is found, Windows will fix that on its own.
Run System Files Scanner (sfc /scannow)
SFC (System File Checker) scan is useful if there's any problem with the system files. This scan will automatically scan all the corrupted files within your System 32 folder.
Press Win+R and type CMD, hit enter. CMD will appear now.
Type sfc /scannow and hit enter.
Now, the system file checker scan will start. Wait till the scan is complete.
If any system file is corrupted or missing, it'll be replaced and you'll see the replaced system files in the results. Check if there's change in the CPU and Disk usage. If it's caused by any corrupted system file, this method will fix your problem. Maybe windows resource protection could not start the repair service error is displayed during the scan. So, solve it and run the scan again.
We hope your Service Host: Local System (Network Restricted) related problem is now solved. But, if you're still having this problem, we're sure that memory leak is the reason behind your problem.
Use Registry Editor To Stop Memory Leak
Press Win+R, type regedit and hit enter.
Give administrator privileges as it requires admin privileges to access registry editor.
Navigate to HKEY_LOCAL_MACHINE > SYSTEM > ControlSet001> Services> Ndu
You'll then get a key named Start. Double click on it.
Set the value to 4 and click OK.
Restart your PC. Now, the memory leak will not happen again and your problem will be fixed.
We hope your problem is solved by following these steps. But, if you're struggling from this problem even after following these steps, you should comment down below regarding your problems. We'll try to help you out.