Skype is used by millions of people worldwide because it's full of features. It's not only the software or service using which you can do video and audio calls but you can share your desktop screen as well using the Skype. There are many reasons behind sharing the Skype screen with the person to whom you're talking. Users these days want to let the work done by others on the desktop by giving them the remote control access. Generally, people use TeamViewer these days but most of the users don't know that Skype is also capable of doing the same thing. So in short, Skype is the complete desktop solution for Skype chat, video chat, audio calls, conference, as well remote control access software. With all these features, Skype is able to gain a lot of attention worldwide. But, new users are having some problems using the Skype. New Skype users don't know how to Share Screen on Skype.
So, in this article, we'll be showing you the complete guide on how to screen share on Skype. It's the easy task but there are few steps you need to perform. The best thing about the Skype screen share is that it's possible to give the remote control access to the user which whom you're sharing your screen. There's full control on the Screen share feature and users can stop and start the screen share at any time with just one click. But, giving control to the user is possible if you've joined the conference room and want to give the control to any of the contacts in the conference list. Now, once you've given the control to the user, he'll be able to use your computer with full grants.
Note 1: Don't give permissions to the user who isn't known to you. As the users who have remote access to your computer can do some serious damages or can get your p[ersonal information very easily. So, keep this thing in your mind and only give the remote access to the user who's fully trusted to you.
Note 2: When your screen share is turned on, make sure you don't do some private things as the user with whom you're sharing your screen is able to see what you're doing. By private things we meant, logging into your bank account, social media account, opening some private pictures/folders/files and so on. Everything you're doing on your screen is visible to another person too.
How To Share Screen On Skype
Now, let's go through the steps to share screen on Skype. You need to call first to the person with you want to share the screen.
First, video/audio call to the person.
During the call, click on the + icon (plus) on the screen. (Bottom center).
If you're using more than one screen, you'll get the option which screen to share.
Select the screen to share.
Select Share your screen drop down menu and chose what to share, a specific window or the entire desktop.
Click on Start, your sharing is now started.
Once your sharing is started, another user will be able to see what you're up to on your desktop. This way, you can discuss things you want to share with another user very easily and remotely.
Now, once the discussion is complete and you want to Stop the screen sharing, click on the Stop Sharing button and your session will be stopped instantly.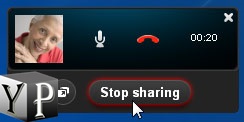 In Skype For Business, users can give the remote control access to the users in the conference. It allows you to give other people control on your desktop so that they can do some work for you. This is very important and one of the best feature. There's no need to use some other software to give the remote control access of your PC. Below are the steps you should follow.
Give Remote Control Access Using Skype
Start the Sharing session in Skype For business.
Now, on the Sharing toolbar, select Give Control>Select Participant to whom you want to give the remote control access.
Now, the person is able to use your desktop easily. He has now the full control over your desktop.
To take the control back or to stop the remote control access, click on Give Control>Take Back Control. Now, the remote control access is stopped.
We hope that you now know how to share Screen on Skype and how to give remote control access using Skype on Desktop. If you still have some questions or problem regarding this article, feel free to comment down below. We'll reply you soon with another solution.