SVG and PNG both are graphics related file extensions. SVG stands for Scalable Vector Graphics whereas PNG stands for Portable Network Graphics. SVG designed for describing two-dimensional vector and mixed vector/raster graphics in XML SVG It is an XML-based vector image format developed by W3C. SVG is supported in every major browser nowadays. SVG is supported in browsers like Internet Explorer 9+, Firefox 4+, Chrome 4+, Safari 4+, Opera 9.5+.
PNG is also very popular and because of its lossless behavior, it gives good quality graphics. Also, it is supported and usable in every software and image viewer.
Why convert SVG to PNG?
However, SVG is very popular and can be viewed and used in many places but there is still some limitation on some platforms where the SVG format is not supported. Also, some image viewer also not allows SVG images to view. And you maybe one of them who suffering for this limitation and you got an SVG file that you wanna use. In this case, PNG format can help you because it gives lossless compression and you will get a qualified image file. So here is some solution for you by which you can convert your SVG file to PNG online.
Benefits of converting SVG to PNG online:
The only reason to consider online converter is that you don't have to install any kind of software and wait till installation process completed. It is very quick, just simply open your browser and convert your SVG file. Online converting makes it very portable so you can use it on your smartphones as well. and no additional configuration required to do this.
We have listed some websites below which can be used for converting SVG to PNG and these websites don't need any kind of extensions on your browser to use just simply choose an svg file to convert and start converting to png.
SVG to PNG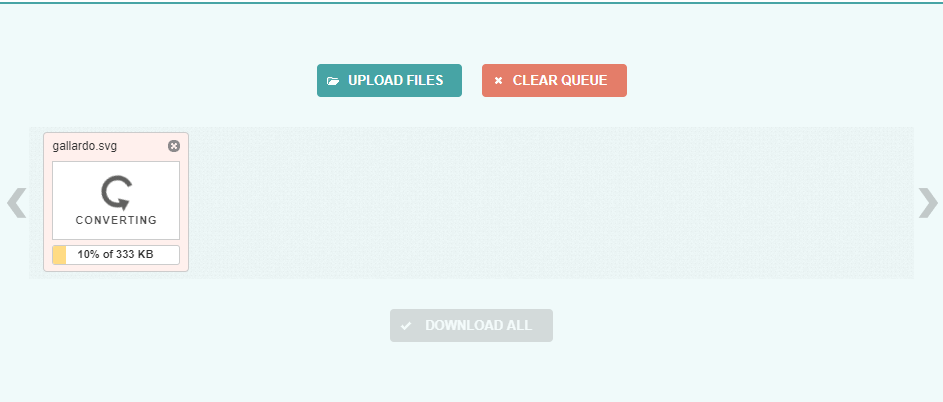 This website is officially made for converting SVG to png. On its home page, you will see an upload files button that you can use for uploading an svg file for conversion. Besides from using the upload files button for selecting a file from your file explorer you can directly drag and drop file around the drop files area.
Along with Upload files button, you will see another button CLEAR QUEUE that can be used for clear the file conversion queue. After successfully completed the conversion you will see the download All button that can be used for downloading your converted png files. You can also download that converted file either separately, using thumbnails, or grouped in a ZIP archive.
Convertio


Convertio is another site which provides file conversion service. It allows you to upload or select files from your computer, Dropbox, Google Drive or any URL of svg file. It is really smooth with svg to png conversion. Drag and Drop option available when the file is stored on your computer. You can download your PNG file right afterward when the conversion completed. Also, you can directly save the converted file to your Dropbox or Google Drive. Convertio can convert upto the size of 100mb file.
Along with this specific conversion, it also supports many other types of file conversion such as:
PDF to JPG
PDF to DOC
PDF to XLS
DOC to PDF
MP4 to AVI
AVI to MP4
PDF to XPS
MKV to MP4
JPG to PDF and many others.
Zamzar

Zamzar providing the conversion service from a very long time and so far very popular to do this. With a very simple design of this site and not much option when converting file it is simply a basic site. But works really well in term of conversion of files. For converting your svg file you need to go through only four steps which used for conversion. The initial step will be to select the file by manually or by drag and drop, choose the file format in which you wanna convert the svg file, here we are converting to png format so we will select the png format. In the third step enter your email address where you want to receive the converted file and step 4 is for the Covert button for agreeing to its terms and start converting.
In term of downloading the file, its can be little unreliable for you but it can be good on that way, when you trying to send converted files to your friends or colleagues then you can simply put their email address in step 4 and that will make your work little less and easy.
Above given three sites are trusted and tested before explaining here. You need some only a browser to operate and run or go through this conversion process. These sites are pretty useful for conversion of svg to png. If the particular site has multiple site conversion then don't need to worry about because the links along with every site directly link to specifically svg to png conversion page.