Sending text messages to loved ones for free online is a great idea. If someone wants to greet his/her family not by social messenger apps but by sending them a text message (SMS) then it would be a great idea. Also, sending a text message will be a relevant way to greet someone as social messengers are full of messages that your loved ones ignore. Your SMS receiver doesn't need any internet connection to receive your greetings. So, here's list of top 5 websites to send free SMS online.
But, in this era of technology, many youths don't use any SMS plan to send SMS at cheaper costs. If you're sending SMS using your mobile balance then it costs very high. If you need to send an urgent text message to someone then it would be very costly for you. Alternatively, you can use some free online services to the best site to send free long SMS online. Registration and sending messages on these websites is completely free.
Hence, you send a text message to anyone just using your mobile phone and internet connection. There's no need to take an SMS plan from your network operator or sending urgent SMS online at a higher cost. Use these best site to send free SMS to any mobile. You can send unlimited messages to any phone number.
Don't Miss: Top PTC Websites To Make Money
Here's the list of top websites to send free SMS online:
This website is leading website to send free SMS online in India. Using this website you can send messages and Voice messages as well. Even there's a feature to make a free voice call using this website. Registration on this website is very simple. All you need to do is register with your number on Site2Sms and get your free account.
They also have mobile tracker feature as well which can show you the possible location of any mobile phone number. You can schedule your SMS as well to send them on accurate time when you can't access this service but need to send a text message. They also provide delivery reports to make you sure whether SMS has been delivered or not.
Also, there's feature to send multiple/group messages to send a message to multiple people at once. Voice message service is also available. Record your voice message, upload it to site2sms and send it to any mobile phone number.
This is another great website to send free SMS online. Using this service you can send unlimited free SMS to loved one. It's similar to site2sms but the lack of features like voice SMS and voice calls etc. but if you're looking for an online website to send unlimited free SMS then this is the best option for you.
They also have great recommendations of greetings messages and you can just click on the best greeting to send it directly to the receiver.
You can schedule your SMS easily using this free online SMS service. Group message feature is also available. They also have a mobile app for Windows Phone, Android and iOS to make your experience awesome.
This is an amazing website to send unlimited SMS for free online. But, not only you can send messages but also can earn money rewards, talktime etc. on this website. All you need to do is that invite your friends to join this website and you'll be rewarded by various ways.
If we talk about their SMS service, according to them you can send unlimited messages for free. All the messages are delivered within 10 seconds and they provide high-speed delivery of SMS. You can schedule your messages also using this website.
They also have browser extension for Chrome and Firefox which is a great thing. Just install the extension and you can quickly send the message to your loved one in a single click.
With these features, 160by2 is an amazing website you should use to send free messages online. Its extension is the best thing you should check and use.
Also: Increase Internal Storage Of Mobile
This is a free service to send your SMS online to all part of the world. There is almost every country included in their list where you would like to send your free SMS.
Most amazing part is that there's no need to register your E-Mail or phone number on this website. Just visit their website and send your free SMS to any part of the world without registration.
But, the bad thing about this service is that sometimes your message isn't delivered and delivery of the message is failed. This might happen due to heavy load on their servers. But, you can try this service and check whether it works for you or not.
If you're thinking to send the message to any part of the world for free, then you should check this website. It might be helpful for you.
This is an application that is available for mobile devices. They also have a website but it's no longer working these days. But Android users can use this application to enjoy free SMS sending online service.
But, they have your IMEI number and IP address and if you're doing something wrong with the service, you might be in trouble.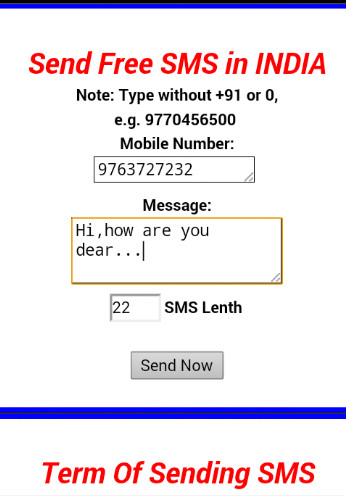 If you're looking for an android application to send free online SMS then this app for Android will be the best choice for you. You can earn rewards, can recharge your mobile phone number by the money you earned using this app and much more in the single app.
With all these features this is the best android app to send free online SMS.