Even been in a situation where you turned on your PC and entered your password to get some job done and all of a snap your computer shows "Wrong Password!"? You tried and tried and re-entered indefinite number of passwords and still no success at all. This can be a very sadistic and disheartening situation because if you don't enter the correct password then you won't be able to access any of the files, folders, documents, software, etc. on your computer as the password will prevent you to get into your system.
So, the million dollar question is if it is the end for your PC? The simple answer would be absolutely NO if you know how to bypass Windows7 password. Using, few tricks and tweaking some changes on your computer, it is possible to bypass the password of your computer and totally remove the lock screen from your system. In this guide, it is our main motto to remove the password screen from your Windows 7 computer so that you can use your system normally again. We will demonstrate two ways to achieve this task.
Solution 1:
Bypass Windows 7 Password with Offline NT Password & Registry Editor
Offline NT Password and Registry Editor is commandline based Windows password recovery software that is used to completely remove the password from your PC by giving some text commands. This part can be a little confusing since it needs a lot of computer expertise. We will try to explain each steps briefly so that you guys can implement this.
Step 1. Firstly, grab a separate working PC or laptop and download the ISO image file from the official website. It is free to use.
Step 2. Burn the ISO image file in a USB driver or CD/DVD and create a password recovery disk.
Step 3. Restart the locked PC with the password recovery disk and Offline NT program should be loaded automatically.
Step 4. Select the partition drive where you installed the OS and choose the password reset option.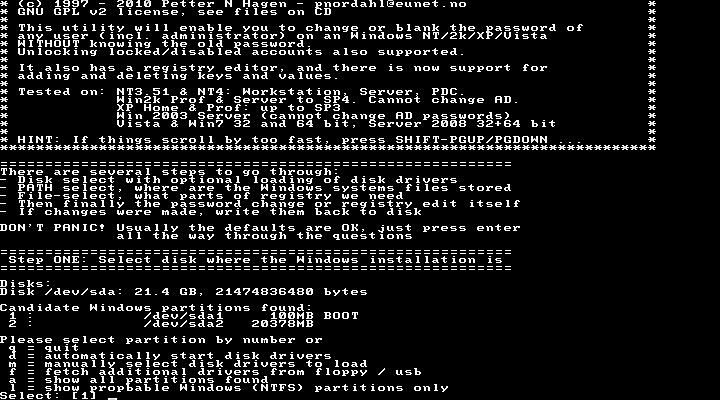 Step 5. Enter the username from which you want to remove the password and press Enter.
Step 6. Finally, select "Clear/Blank the password" and exit from the program.
Step 7. Now, restart your PC and you won't be asked any password to enter.
Cons :–
Very time consuming and complicated method that can be performed by only computer experts.
Doesn't work with 64 bit versions of Windows 7.
Won't work if the password is more than 8 characters length.
Solution 2:
Bypass Windows 7 Password with Third Party Program
If you guys find the above method very complicated and couldn't get it to remove the password from your computer then using a third party software is the best option.
UUkeys Windows Password Mate is the perfect solution when it comes to bypass passwords in any Windows computers and laptops. It is a very intuitive program with a very sophisticated design that helps to bypass Windows passwords even if you have no computer knowledge at all. This can be used to remove passwords from both local and administrator accounts. It gives the option to create password recovery disk using both USB flash drivers as well as CD/DVD.
The basic idea is to create a password recovery disk using UUkeys program from a different accessible computer and then use that to remove the password from your Windows 7 computer. We will briefly describe the steps and hopefully it will get the job done.
Step 1. Get a distinct computer and install UUkeys program
The first task is to get a different computer since you can't use yours right now. Just borrow one from your friends or families and install the program so that you can quickly make a password reset disk.
Step 2. Make a Password Reset Disk in Two ways.
Launch the program and you will be able to see two options to make the bootable disk – USB Driver and CD/DVD. Simple insert a blank CD/DVD or flash drive with at least 512 MBs of free space and click on "Burn USB" or "Burn CD/DVD". The burning process will begin and will probably take few minutes to finish the operation.
Step 3. Bypass Windows 7 Password and Unlock your Computer
Now, plug in the password reset disk on your locked PC and reboot it. The program should be loaded on the startup screen and here, you only need to select the operating system that you are using like Windows 7 and choose the username from which you want to remove the password permanently.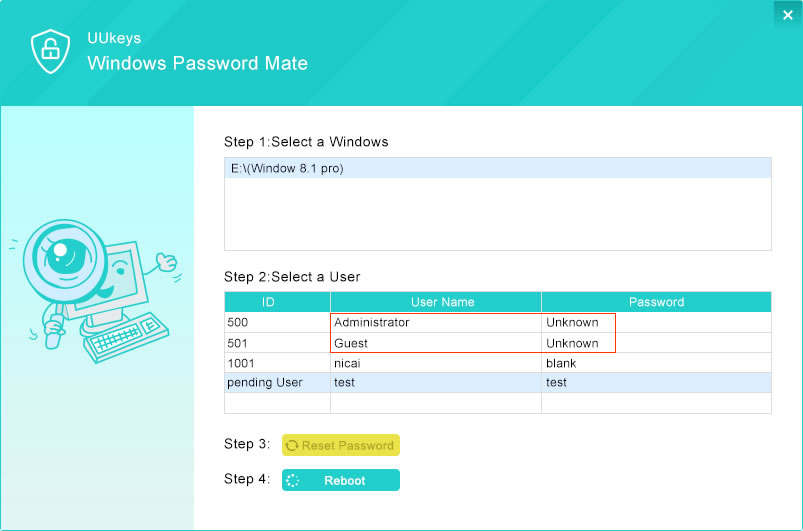 Now, click on "Reset Password" and reboot your PC. You should be able to login to your computer without any password.
Conclusion:
You will find a lot of tools online regarding windows 7 password bypass but lot of them are not trustworthy. Instead of going to find some free tools for this task you should probably switch to paid softwares and UUkeys is one of them. Also, you can take trial of this before purchasing. UUkeys Windows Password mate has always been helpful if you are ever locked out from your own Windows computer or laptop. You can use the same method to unlock any brand of system like Samsung, Asus, Sony, Toshiba, etc. and it is guaranteed that the program will never delete any files from your PC. Hopefully, the mentioned guide has helped you to bypass your computer password.