Graphics Cards are used to improve the gaming experience. From boosting the gaming experience to improving the video quality, graphics cards are really very useful. Without the graphics card, you can't enjoy the game in high quality with better FPS. Using graphics card you can play 3D, 4K videos very easily. Games without graphics card aren't enjoyable these days. Nvidia is one of the popular Graphics Cards worldwide. If you're using Nvidia and getting unable to connect to Nvidia then there's something wrong with your Nvidia GeForce Experience. This problem is experienced by many users worldwide. THis raises due to many reasons and one of the main reason is that your GeForce Experience is outdated. In this article, we'll be guiding you through all the steps required to solve the GeForce Experience unable to connect to Nvidia error.
GeForce is companion application to your GeForce graphics card. It keeps your drivers up to date. The main reason behind using this is that it optimizes the game settings. Also, users can record their gameplay to share with friends or audience easily. Unable to connect to Nvidia problem raises when users are trying to download the driver updates. But GeForce shows the error. A message popup with the error message written and users can't-do anything.
Users who always want to keep their graphics card's drivers up to date never compromise with this error. Also. it's always recommended that drivers should always be updated. So that there will be no problem with the computer's performance. However, 3rd party programs can be used to update the Nvidia graphics drivers. But why you should use other tools when you can solve this error easily.
Fix: GeForce Experience Unable To Connect To Nvidia
We the possible fix to this problem below. You should follow all these methods in the way they are arranged. It'll help you in fixing your problem easily.
Restart The Computer, Check Internet Connection and Host File
Most of the times, this error is just a flack and you should really restart your computer before applying any fix. Once you've restarted your computer, try again updating the drivers. If you're still getting unable to connect to Nvidia problem then make sure you've working internet connection. To check whether your internet is working properly or not, open CMD and type ping google.com and hit enter. If your ping request is 100% complete then this means you've working internet connection and this problem is not raised due to internet connection problems.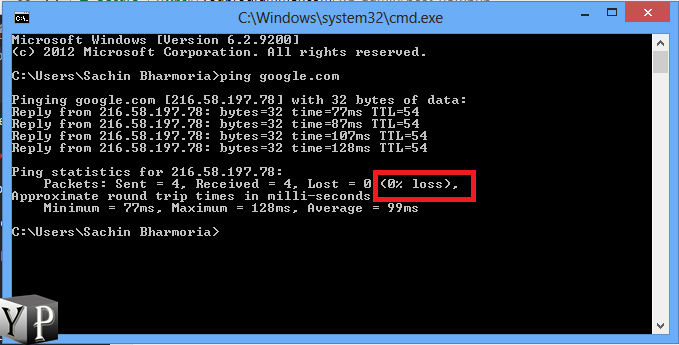 Also, you should check your host file. It's located in C:\Windows\System32\Drivers\etc location. Many times we've detected that any virus attack changes the host file. This might be the reason behind your problem too. So, better to check the host file too. Below is the default host file and if you think your host file does not look like the image given below then you'll have to replace it.
# Copyright (c) 1993-2009 Microsoft Corp. # Copyright (c) 1993-2009 Microsoft Corp. # # This is a sample HOSTS file used by Microsoft TCP/IP for Windows. # # This file contains the mappings of IP addresses to host names. Each # entry should be kept on an individual line. The IP address should # be placed in the first column followed by the corresponding host name. # The IP address and the host name should be separated by at least one # space. # # Additionally, comments (such as these) may be inserted on individual # lines or following the machine name denoted by a '#' symbol. ## localhost name resolution is handled within DNS itself. # 127.0.0.1       localhost #       ::1             localhost
Check If Nvidia Services Is Running
Many times, Nvidia update services aren't running and this is the reason that you can't update your drivers using Nvidia. You can easily check whether it's running or not using services manager.
Press Win+R and type services.msc and hit enter.
Services manager will appear and now search for the Nvidia Network Service.
If its status is running, you don't need to do anything. But, if it's stopped or disabled you should enable it.
So, Right-Click and select Start. If it's successfully started and running your problem is solved.
Also, Right-Click on NVIDIA Network Service and select Properties.
Set its startup type to Automatic.
Tip: If you can't start it using services manager. Then Open Task manager and click on More Details. End the NvidiaNetworkServices.exe from the Details tab. Then try open Services Manager and again to start the Nvidia Network Service.
Re-Install GeForce Experience
Now, if you think that internet connection is working fine and there's no problem in the host file. Then you should follow our second method which is re-installing the GeForce Experience. Many users claims on forums that by just re-installing the GeForce solves their unable to connect to Nvidia problem automatically. It's because due to any misconfiguration in the GeForce files, any problem is raised so it's not able to connect to the internet.
You have two choices: update the GeForce experience or Uninstall it and install it again. If you don't want to uninstall the GeForce then you should download the latest version from the official website of the Nvidia. Then just open the installer and update your Nvidia GeForce Experience. The installer will update your Nvidia software to the latest version. Now, you should check if you're able to download the driver's update or still getting unable to connect to Nvidia problem.
Still no success! Now, just uninstall the Nvidia GeForce and run the downloaded installed again to install it back again.
Open Control Panel and select GeForce Experience, Right-Click>Uninstall.
Follow the on-screen guide to uninstall it from your system
Now, open the downloaded installer and install it on your system.
Once installed, open it and check if it's able to download the driver updates or not.
We hope you're now able to download the Driver updates using the Geforce Experience. But, if you're still not able to solve the problem then you can download the update the driver update manually. Nvidia provides all the driver updates on its official website. You should check their official website for your driver update.
Visit this link: www.nvidia.in/Download/index.aspx?lang=en-in
Now, select the details about your computer and the graphics card you're using.
Download the driver update and install it on your system.
We hope you've now fixed the unable to connect to Nvidia. If you're still in problem then comment down below and we'll try to help you in every possible way.