Chrome currently own 59% browser market share which is very huge. It's more than half and hence it's the favorite browser to be attacked by malware and viruses. Websites like torrent websites, 18+ websites and other illegal websites are full of harmful threats. When a user visit to that website, the virus is somehow installed on your system/Chrome due to user's mistake. Once the virus starts running, it can send your private information like Passwords, Browsing History and much more to the user. This is the biggest data breach a Google Chrome user can suffer from. In fact, many adware is installed on your Chrome browser. This results in unwanted popups and other frustrating things. If it's the case with you, make sure you've removed the viruses from your system. These days, urgent Chrome update is spread over the internet.
This is actually an fake web page which asks user to update their Chrome Web Browser. When users clicks on the download button a atch file is received by the user. Once users clicks on the batch file, a virus is installed on their system. Once the virus is installed, it'll have many levfels of access to your system and Chrome browser. Many users know that it's fake and is a virus. But, most of the users becomes victim to this threat. If you're one of them then you should immediately follow the instruction given below in order to save yourself from further threats.
It can install unwanted programs on your system without user's knowledge.
Can pop ups web pages that contain harmful programs and files.
May install other adware on your system.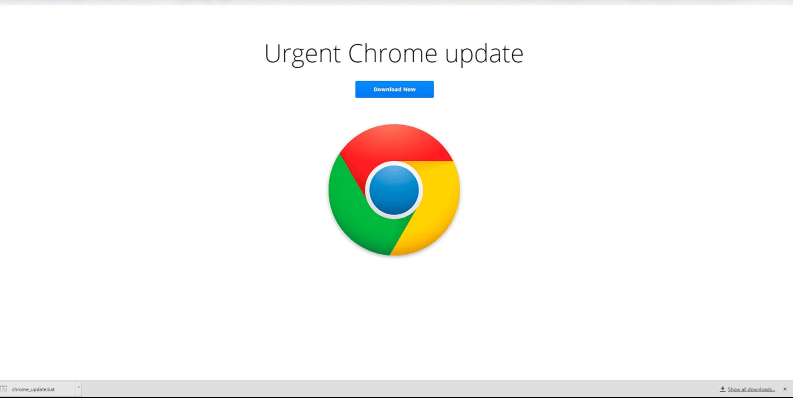 The web page from where the virus is distributed looks like the image given above. If you've downloaded any file from such web page and installed it on your system then you're in a serious problem. If you don't remove the virus as soon as possible, then all your passwords, browsing history etc. might be leaked through Chrome.
Remove Urgent Chrome Update
In order to remove such a big threat from your Computer, you need to do some anti-malware tool scans and antivirus scans on your system. If you don't have any antivirus installed on your system, don't worry. We'll show you some of the free anti-malware tools which will remove the threat from your system for free.
One of the best anti-malware tools is Malwarebytes. THis tool is paid but comes with a free trial. It's enough to remove all the adware and other threats installed by that fake urgent Chrome update virus.
We've used this tool and it works very well in case of removing the viruses from your system and then cleaning your Browsers adware and other possible viruses. Follow the steps given below to use this tool:
1. Download and install this tool from this link.
2. Once installed, open the tool and click on Scan to run the anti-malware scan. It'll take much time for the scan to complete.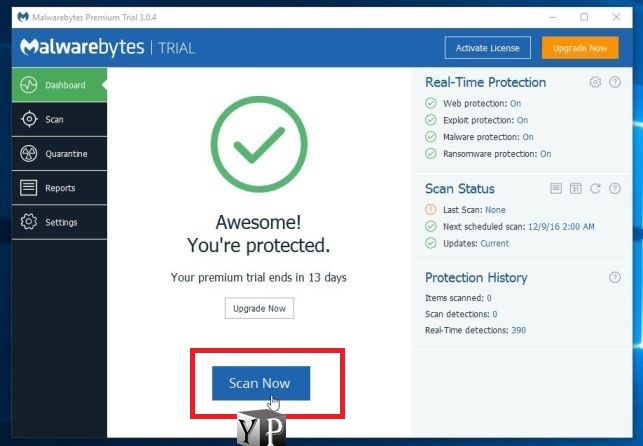 3. Once the scan is complete, select all the threats which are detected by Malwarebytes and click on Quarantine.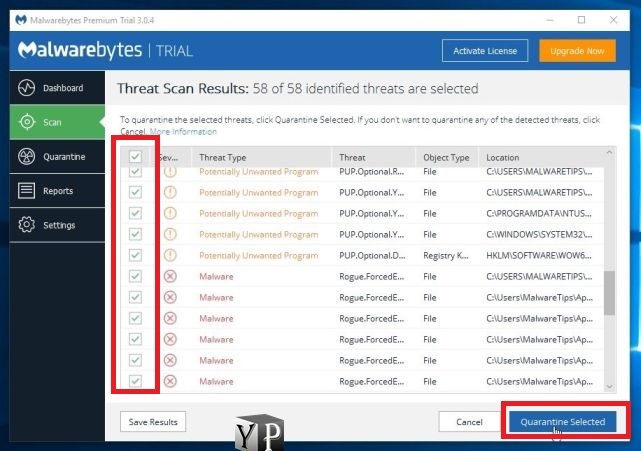 4. Malwarebytes will now delete all the viruses and unwanted programs from your Computer. Then you'll have to Restart your Computer.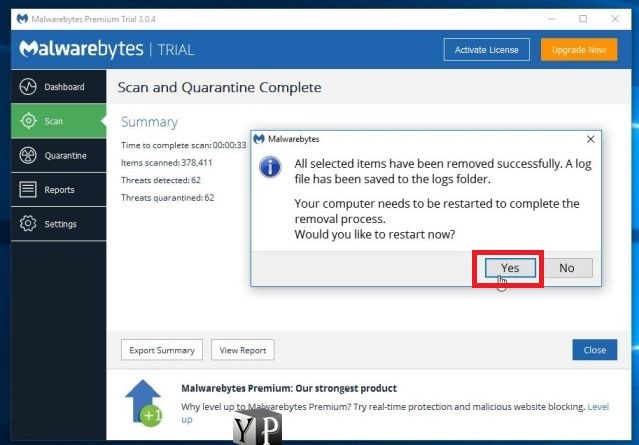 After restarting your PC, we recommend you to clean your temporary files in Windows. This is necessary as some scripts might still present in the temp folder in your Windows PC. It might result in re-activation of the virus which was previously active on your PC.
Also, you can Scan your PC again with the same tool so that remaining viruses and adware will be cleaned. Due to the fact, that Malwarebytes free version will not help you in cleaning your all viruses. A paid version will be required for this task. So, if you want to buy the software, then buy it or use an another tool known as Hit-Man PRO. This is also amazing anti-malware tool. They also provide a 30 Day free trial to its users. You can run this anti-malware tool to get rid of problems caused by fake urgent chrome update virus.
Uninstall Unknown Programs From Your System
Most of the adware malware installs many unwanted software and tools on your system. Fake urgent Chrome update virus can install some adware responsible for unwanted programs in your system. You should immediately check for those programs and should uninstall them from your system.
You can check installed programs on your system by following the steps given below:
1. Press Win+R and type control panel.
2. Now, open Programs and Features. Then look at the list of all the programs installed on your system.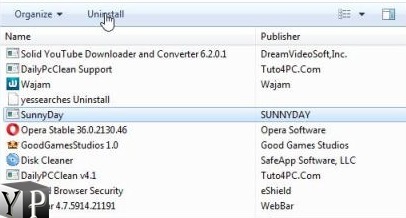 3. If you think some programs aren't installed by you, uninstall them immediately. Programs with Unknown Publishers should also be uninstalled.
Once you've uninstalled all the unknown programs, Restart your PC and clean the temporary files again. Now, open Google Chrome and check whether it's working normally or not. If it's still redirecting you to some unwanted websites and frustrating pop ups then this means your problem isn't solved properly. You still need to clean your Chrome web browser. It's simple and easy process.
Reset Google Chrome
Resetting Chrome browser will result in losing all your data. So, make sure you've backup all your data like saved passwords etc. Then follow the steps given below.
Open Google Chrome and press Alt+F, then select Settings.
Toggle the settings menu and then click on Advanced>Reset.
Select Restore Settings To Their Original Defaults and click Reset.
Wait till the Reset is complete. Then Restart Google Chrome.
You can also run the Chrome Cleanup tool scan for advance cleanup of Chrome Browser. It'll scan all the possible threats harming Google Chrome and then you can remove them from your system. This Cleanup tool is published officially by Google Chrome Team.
Scan With Chrome Cleanup Tool
1. Download the tool from this link.
2. Click on the .exe file and give it Administrator Privileges.
3. Chrome Cleanup tool will now scan for all the possible threats on your System. If it detects the suspicious programs, a list will be shown with the threat listed.
4. Click Remove Suspicious Programs and all the threats will be removed from your system.
These all methods will surely help you in removing the viruses that are loaded into your computer due to fake urgent Chrome update message. If you're still having the problem, comment down below and we'll try to help you out.