Many users want to use dark theme in Windows 10. Windows 10 comes with some of the preinstalled themes which are light in color. If users are using their PC/Laptop for a long time, they probably need a dark theme. Dark theme will make user experience very different and users can work on their PC/Laptop for more time. By default in Windows 10, when we open things like File Explorer, Software, Browser the background of Window is white. It decreases your laptops battery performance also. So, if users want to experience whole new level of the user interface in the black background they can do this by doing some tweaks in Windows 10. It's possible to turn on the dark theme in Windows 10. When you apply Windows 10 dark theme, every background in Window will be black. There are several ways to apply dark theme.
You can edit registry keys and can use a software which will turn your user interface to black. In Windows, users can edit things like taskbar color, Window top bar color, and some other color settings. There's no option to edit the color of the background of file explorer or other things. Those are white or assigned by Windows and can't be changed by users using settings. It can be done by the method we've shown below.
Use Dark Theme In Windows 10
We'll be showing you best three methods to use dark theme in Windows 10. You can use black edition in Windows 10 by editing registry keys, using a software, or using high contrast theme which is preloaded.
Method 1. Using Windows 10 Black Edition Software
In this method, we'll be showing you a spoftware which can turn your Windows 10 to black edition. This software comes with many black themes which look great.  Users can even customize the start menu and other things according to their requirements. but, the best thing is that it's easy to use many black themes in Windows 10 using this software. There are about 5-6 themes which will be installed by this software once installed. Follow the guide given below to install Windows 10 back Edition Software.
Download this software from this link and extract it.
Once you've extracted this software open its contents. Open the Theme folder and install the .exe file which is Windows 10 Black Edition.
Once installed, don't open it. You'll have to open Extra Apps folder and then OldNewExplorer folder. Inside this folder open the OldNewExplorerCfg.exe file and tick the check boxes like the image given below. Then click on Install button to install it.
After this come back to ExtraApps folder and open StartIsBackPlusPlus_setup.exe and click on Install For Me. It'll install all the required this that is required for installing Dark Theme in Windows 10.
Now, open Settings on your Windows 10 and then click on Personalization and then select Themes>Theme Settings.
You'll get new themes which are installed on your system. Select any of the themes and it'll turn your Windows 10 to black theme. All the things in Windows 10 will run with the dark interface.
If you want to configure other settings, open the start menu the Right Click above the Shut Down button and select Properties. You can then edit appearance settings according to your needs.
Easiest Way To Use Dark Theme In Windows 10!
With this software, you can customize many things in Windows 10 and can use the dark theme in Windows 10. This is the best and easy way to use dark interface in Windows 10. Users can even change the start menu icon and many other appearance settings easily. But, don't forget to check our next two methods. If you don't want to download and use this software, follow our next methods which don't need any software.
Method 2. By Using The Registry Editor
This is kind of tech method to enable dark theme in Windows 10. We'll be creating new registry values in the registry editor. To access registry editor, users should have access to the administrator account otherwise it's not possible to access the registry editor. Also, make sure you've followed exactly the same process we've shown below. Otherwise, you might brick your machine as Windows is controlled by Registry keys. Users can define many things in registry keys and can also enable hidden dark theme in Windows 10. Follow the steps given below:
1. First, press Win+R and type regedit. Hit enter and give it the administrator privileges.
2. Now, navigate to HKEY_LOCAL_MACHINE\SOFTWARE\Microsoft\Windows\CurrentVersion\Themes .
3. Right Click on Themes and select New>Key. Put Personalize as the name of the key.
4. Click on Personalize and inside it Right Click>New>Dword (32-bit) Value. Put its name as AppsUseLightTheme. Double click to open it and set its value to 0 to enable dark theme or 1 to disable dark theme.
5. Navigate to new location HKEY_CURRENT_USER\SOFTWARE\Microsoft\Windows\CurrentVersion\Themes\Personalize. 
Tip: There's no need to create Personalize folder as it's already there.
6. You need to create a new Dword (32-bit) Value and put its name as AppsUseLightTheme.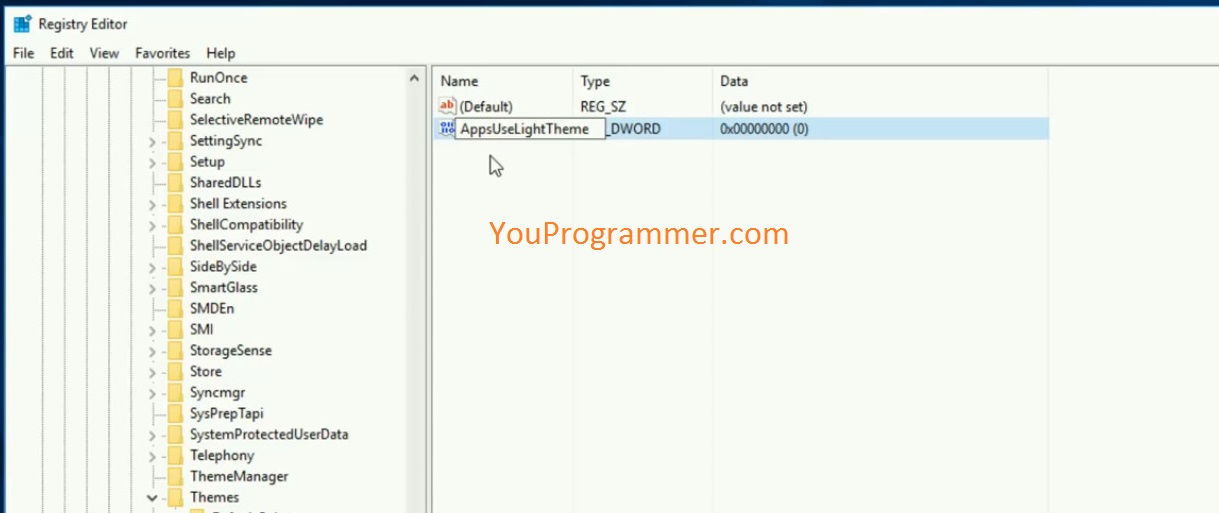 7. Set its value to 0 to enable it and 1 to disable it. Now, restart your PC/laptop and check if the dark theme is enabled.
Tip: To disable the dark theme you can delete the AppsUseLightTheme values from the registry editor or set its value to 1 on both locations.
This is another method to use the dark theme in Windows 10. Make sure you've done exactly the same steps given above. Also, you can enable dark theme in Edge, Mail and other apps in Windows 10. There's no need to do any tweak to do this. Just open Settings>Personalize>Enable Dark Theme. This makes easier access to the dark theme in most of the Microsoft apps like Clalander, Mail, Edge Browser and other apps.
Method 3. Use High Contrast Theme In Windows 10
High Contrast themes are another best way to turn your Windows 10 to dark edition.
These themes are preloaded in Windows 10 and there's no need to download these themes. It's the amazing to experience and use these themes in Windows 10. So, follow the steps given below:
1. Open Settings and select Personalize under settings.
2. Then select Themes and then Select Theme Settings.
Tip: Alternatively you can Right Click on the desktop and select Personalize to access personalize settings without opening the Settings app in Windows 10.
3. Then scroll down and find for High Contrast Themes and select any of the themes as per requirements. Try all of them to check which one suits you.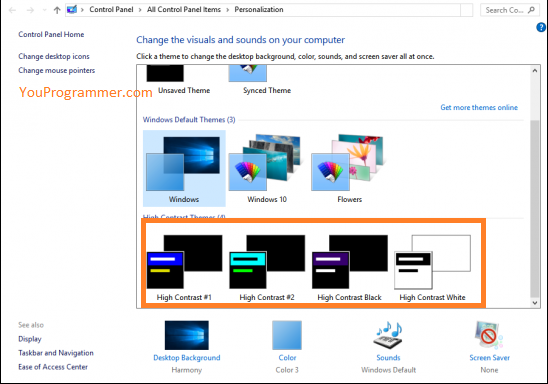 We hope that you've used any of the methods given above to use dark theme in Windows 10. Every method is tested and works well in Windows 10. If you're still having a problem then comment down below. We'll try to help you. Also, don't forget to subscribe to our daily newsletter.