Windows 10 is the latest build from Microsoft and it provides many features that are useful in our daily life. Windows 10 booting process is very quick and currently, Windows 10 boot time consumption is lowest among other Windows OS builds from Microsoft. Sometimes Windows 10 won't boot and stucks at error. The Windows 10 booting process is very simple so it boots quickly and you can start using it. If you're receiving problem like Windows 10 won't boot then you should read all the causes and solutions given below.
What Is Done In Booting Process
Booting process of Windows 10 is very simple.When you power on your PC BIOS (Basic Input Output System) and UEFI starts checking all the things that are required for a successful boot like your hardware, attached things and all stuff like that. Once your all the hardware is working well and checked Windows 10 starts installing your Mouse, Keyboards etc. so you can use them for your work.
WINLOAD.exe is the main thing that boots you into Windows 10. If you're getting "Status: 0xc0000605 Info: A component of the operating system has expired," error then your WINLOAD.exe isn't working well. You can fix this problem by recovery settings or by CMD using commands on your own.
How To Fix Windows 10 Won't Boot
This issue of Windows 10 won't boot can be solved by using Startup Repair or by using CMD. In Startup repair you need to choose only some options and Windows will fix its problem on own. But in CMD you can use various commands to fix this problem.
Performing Startup Repair
Startup repair is a service which checks all the system files and solves all the problems with them. This is an automatic process and there's no need to type commands. System Startup repair will fix all the problems on its own.
How To Perform Startup Repair
For doing startup repair you need to get into windows recovery mode. This can be done by two ways given below-
If you're somehow able to boot into Windows and on the lock screen, press Shift key and from power options click on Restart. This will boot you into recovery mode.
Turn on-off your PC three times. When you sees Windows logo on screen power off your PC and perform this 3 times to get into recovery menu.
Once you are able to get into recovery menu click on Advance  Options.
Click on Troubleshoot
Click on Advanced Options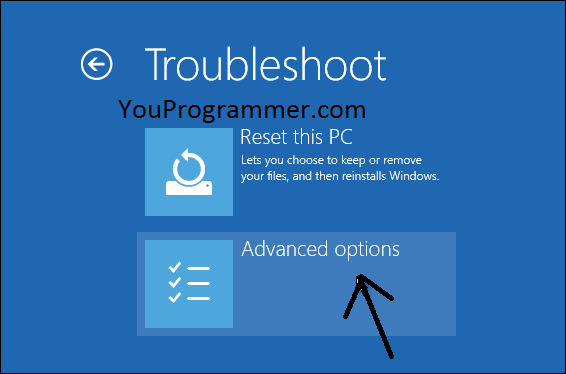 Choose Startup Repair. This will now repair your Windows 10 for all the problems.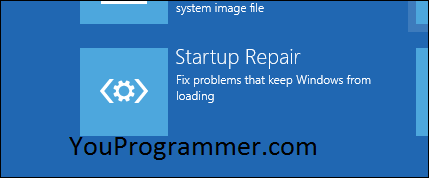 Fix Windows 10 Won't Boot Using CMD
If above method won't work for you there is another method to fix booting issue in Windows 10. In this method, we will be using CMD and then fix booting problem in Windows 10.
Steps To Fix Windows 10 Won't Boot Using CMD
First of all, you need to create a Windows 10 Bootable Flash Drive. If you don't have Windows 10 installation files you can create one by any working Windows 10 PC.
Once you have Windows 10 Bootable flash drive boot into it from the boot menu. Now after booting into setup choose the Repair Computer option > Troubleshoot > Advanced Options > Command Prompt. If you are using a recovery drive, click
If you are using a recovery drive, click Troubleshoot > Advanced Options > Command Prompt.
A command prompt will appear on your screen and now you need to type few commands to fix your Windows 10 booting problem.
The first command is BOOTREC /FIXMBR

This command will fix the errors with master boot record. Master Boot Record is the first sector of any hard disk that shows the location of OS and makes your OS bootable. This command will fix all the issues with MBR.
After this, you need to enter the second command which is BOOTREC /FIXBOOT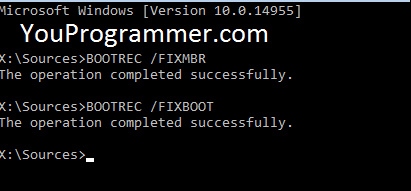 It writes a new boot sector in Windows if any damage was done on HDD.
If you got the error like Boot Manager Is Missing then your should type BOOTREC /RebuildBcd.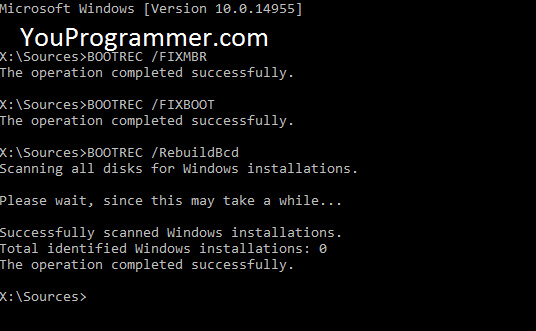 These steps will surely fix your problem of Windows won't boot. If you're still not able to boot into your Windows OS then you should try reinstalling your Windows 10.
Hope this helps you to fix the problem of Windows 10 Won't Boot.
Also Read:  How To Install Fonts Windows 10