Windows OS is used by millions of users worldwide due to its features and ease to use. Microsoft is trying to give more and more features to users so that they can grow their market share. Windows is very easy and reliable to use but users can get in trouble when any error occurs. The error might be related to any software or the to system. However, Windows OS can repair all its important files on its own. This capability of windows is amazing. If any file inside the System32 folder is corrupted or deleted, Windows can fix this. The user just needs to run SFC scan and this will scan all the files inside system 32 folder. If some files are corrupted, those will be fixed. But, during this scan, users might get an error like windows resource protection could not start the repair service.
This problem generally occurs when you are trying to use the command called "sfc /scannow" or System File checker tool in Windows OS. This tool provides facility to scan for the corrupted files in your system and is located in C:\Windows\System32 folder. This tool is very useful for advanced users and you can run this tool with administrator privileges. But some users may receive problems running this tool.
Fix: Windows Resource Protection Could Not Start The Repair Service
This problem arises due to WRP files are missing or corrupted. In fact, it's hard to fix this if the methods given below will not work for you. There are many possible reasons that your WRP files are corrupted. One of the biggest reason is the virus in your system. Most of the viruses are built to harm System32 folder. hence, if you've solved this problem make sure you'll scan your system with any antivirus program.
Also Read: Fix: Service Registration Is Missing or Corrupt
There are two possible fixes for this problem which are used to fix windows resource protection could not start the repair service problem without restoring your system. One of the ways is to check whether Windows Module Installer is working or not. Most of the times, this problem arises when WMI is stopped or disabled. Another way is using CMD, the process is same but we'll be using CMD in this method.
If WMI isn't working sfc /scannow will not work. It'll return an error and one of the error is the error you're facing. WMI has access to all the registry keys. Hence, if you're trying to run sfc /scannow command in CMD, and WMI isn't running then Windows can't run the scan. Because it'll not have the necessary information and access because WMI is stopped or disabled.
Below are two methods and other tips which will surely fix windows resource protection could not start the repair service. Make sure you've followed the steps carefully.
1. Start WMI Using Services Manager
In this method, we are using service manager to solve this. There's no need to open the command prompt as you can do this using services manager. Services Manager is used to managing all the OS related services which are available in OS. You can start/stop service according to your needs. If WMI is not running or its startup type is Manual, you need to start it from services manager.
1.Press Win+R, then type "services.msc" and hit enter.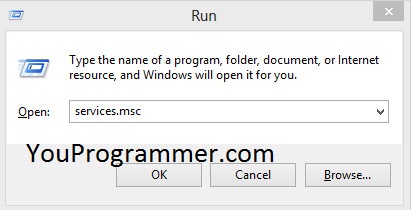 2. In the service window look for "Windows Module Installer". This the service which takes care of your updates and manages your updates and all stuff like that. It has full access to registry keys etc.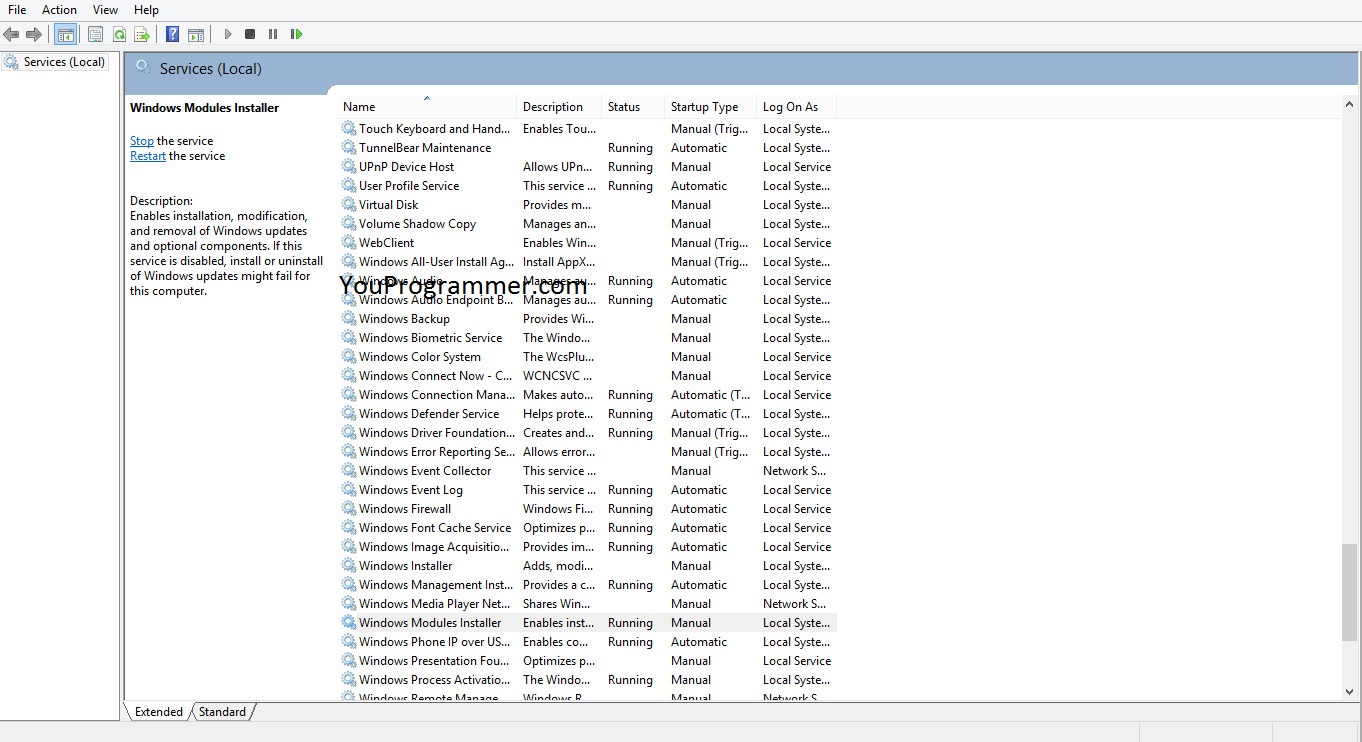 3. Double click on it and check whether the service is started or not. If service is not running. Click on "Start". Also, check that its startup type has set to "Automatic". Now, it'll start automatically when you'll boot into Windows every time.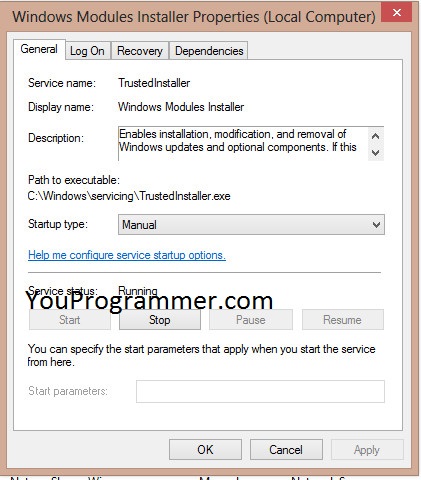 This may fix your problem. You should again try the scan tool to check for corrupted files. If you are still receiving problem then you should try another method given below.
2. Use Command Prompt To Start WMI
This method is similar to above but we are using CMD for this purpose. The process is similar to the method given above. But, it might somehow heal your problem. We'll be using some commands and these commands will start the WMI.
We can also configure the startup type of WMI from here. We'll be setting startup type to auto so that Windows Module Installer will start automatically and you'll never encounter the problem again.
Open CMD with administrative privileges. Without administrator privileges, you can't do this.
Type "sc config trustedinstaller start= auto" and press enter. This will configure your trusted installer service to auto start.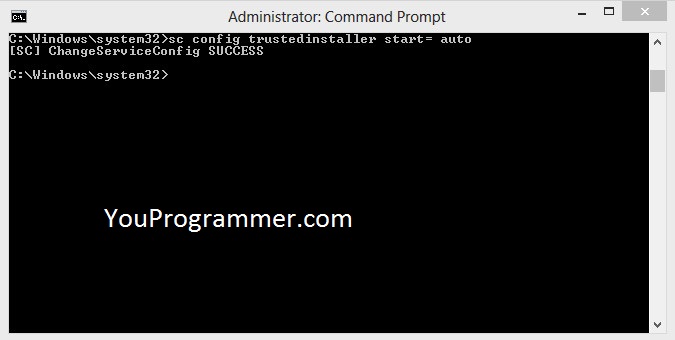 3. Now type "net start trustedinstaller" and hit enter. This will start your WMI service and you can run the scan now without errors.
After following all these methods, check whether your problem is solved. Open CMD with ADMIN privileges and run "sfc /scannow" command. The scan should start without any error and your problem of windows resource protection could not start the repair service should be fixed. Maybe in your case, the problem isn't solved. There might be another reason behind this problem. You should follow our tip given below.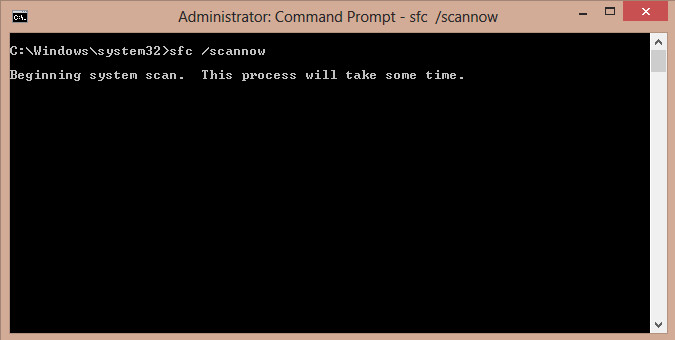 Tip: Restore Your PC To Previous Versions
This might fix your problem. You can restore your PC to previous versions. Windows has the ability to restore its files to the recovery points which are automatically or manually created by system and user. If you've any recovery point then prefer to restore our PC to that recovery point.
1. Press Win+R and type control panel.
2. Click on Recovery option, then select Open System Restore.
3. Wait till a Windows is shown with recommended recovery points.
4. Select the recommended recovery point or click on More to see all the available recovery points.
5.Restore your PC to that recovery point and then try running the scan again. It should be running now.
SFC is the utility which stands for System File Checker that scans for corrupted files in your System files and automatically fix them. This tool is recommended to check your system files if your system is not running well or making huge errors. SFC scan will fix all those problems. But, if this scan isn't working then you might not be able to solve most of the problems in your PC. Hence, you're in a big trouble and you should repair your Windows if methods given above doesn't work in your case.
If you are still getting the error sfc/scannow Windows Resource Protection Could Not Start the Repair Service then let us know about it in the comment section below.