Best Typing Software: If you just started with PC/laptop and you are having trouble to find keys to write words then you must see some typing software that can help you to be pro typist. On the different OS, there are some different type of best typing software. We are going to give you a list of 12 best typing software for Windows.
Why Need of Best Typing Software?
In this world of computers, most of the processes are done by using computers. It is very tough if you have no skills on typing and still struggling to find keys to type. Having no typing skills make you slow with your computerized work that simply means that the more you will slow on your keyword, the more your work will delay. So being a good typer and be a good typist is a good advantage nowadays.
To become a good typist, you need a lot of practice and practical work. Typing Softwares are those which can help you to achieve this goal.
So now without wasting your time let's start wit the list of best typing software tools.
1. Typing Master 10 (Free)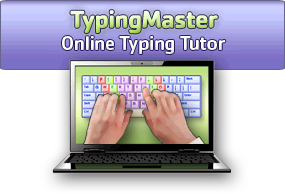 Typing Master 10 is one of the best and Free typing software for Windows to enhance your typing skills. It comes with many essential features for beginners to accelerate their typing skills.
It provides you the Typing Meter for real-time skills analysis widget. It comes up with more than 5 languages like English, Spanish, French, German, Dutch, Swedish and Finnish.
In this software, you can practice and learn faster typing by doing many activities that the software provides you. You can play typing games and give some typing tests to check how much your typing skills are improved.
2. RapidTyping (Free)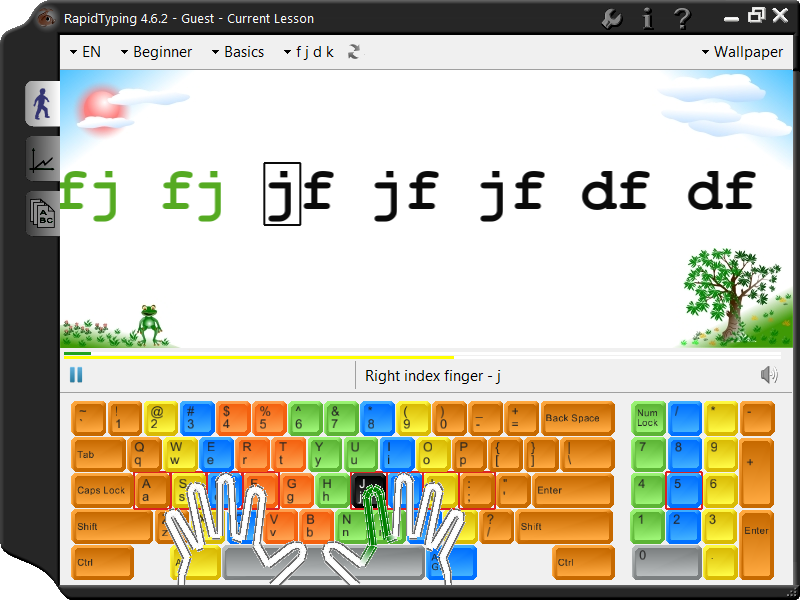 It a Free touch typing software tool with lots of advanced features.
It has a full course for Beginner, Advanced and Expert typists with moving hand gestures. Rapid typing has many features to suite from kids to adult with its organized tutorials. It supports many languages: Arabic, Dutch, English, Finnish, French, German, Greek, Hungarian, Russian and Spanish. It is a  totally free software. It supports many other keyboard layouts. To further simplify your typing lessons, you can see your moving hands over the keyboard at the time of typing.
RapidTyping shows you the speed of your typing in WPM, CPM, KPM, WPS, CPS, KPS in high accuracy. You can even check how much keystroke was gone wrong or correct during your typing task.
4. TypeFaster Typing Tutor (Free)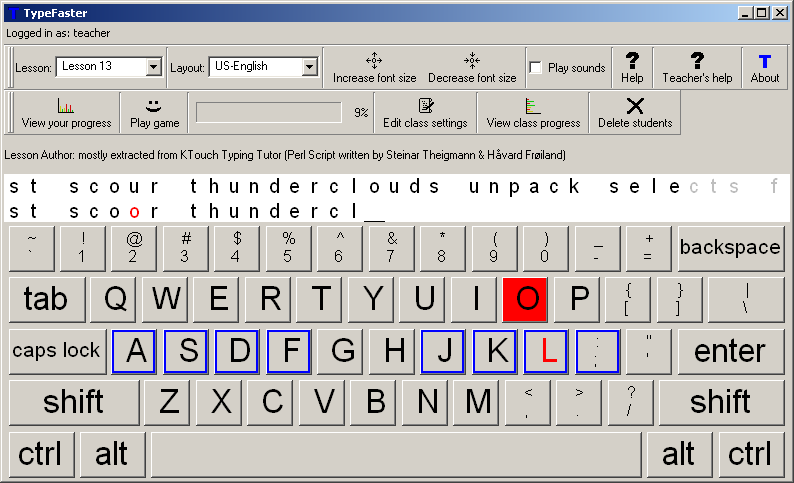 It is another best and typing software that can teach you how to touch-type. TypeFster comes in three version the first one is the Standard version that provides you pretty much everything with multiple languages. It also has 10+ languages with the feature of single-user, multi-user and multi-user with teacher support.
The second version is Accessible Version. This version is for visually impaired or blind users with full support to learn touch typing. The Third version is Spanish version with same features in Spanish. It is much lightweight touch-type software than others.
Download TypeFaster Typing Tutor
5. GS Typing Tutor (Trial/Paid)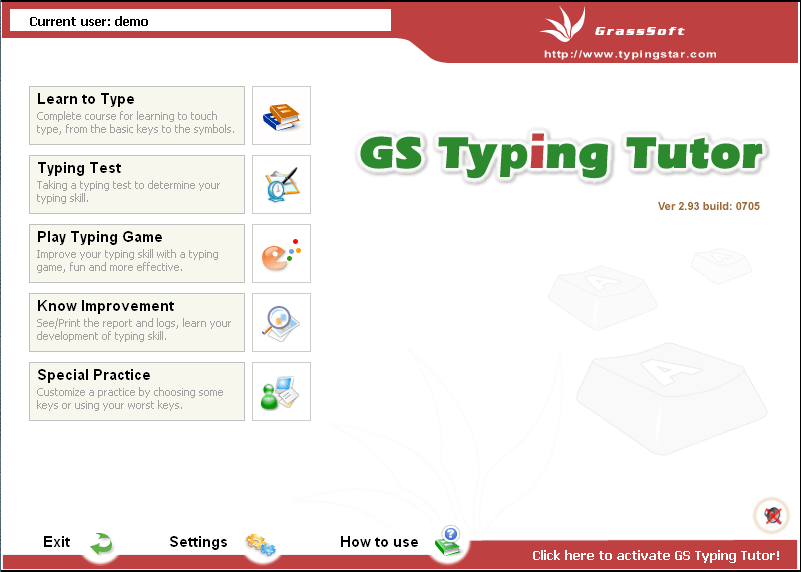 GS Typing Tutor is a powerful and rich-featured touch typing software. It will help you memorize the keyboard layout and also to develop typing speed quickly.
Even if you already know how to touch typing it will also help you to acquire professional touch-typing skills. Because the faster you type, the more you will save your time.
It gives you Comprehensive typing lessons with Onscreen Keyboard. Tracking your performance is very easy with GS typing tutor.
6. Typing Quest (Trail/Paid)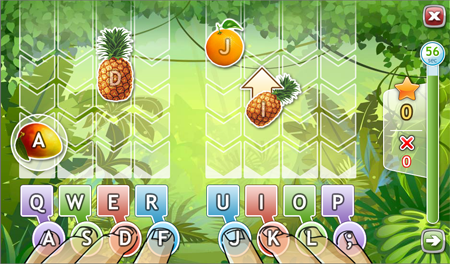 Typing Quest is fun touch-typing software which teaches you how to touch-type with lots of adventure. It has adaptive review drill to examine the mistyped words during the typing session and represent those words for extra practice. It is specially made up for kids or very beginners to learn.Typing Quest is
Typing Quest is specialized for his Laboratory games to learn touch typing. It is a paid software but you can take trial also.
7. Ultrakey (Paid)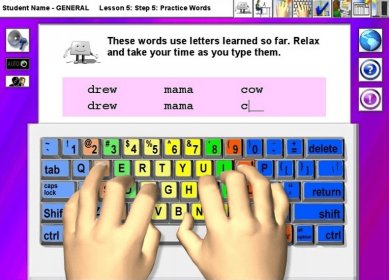 Ultrakey is another typing software that is much effective and reliable to learn typing. It is a cloud-based typing software it means, it gives you ability to communicate with UltraKey records, whether they are housed within a school or district, or they are hosted by Bytes of Learning. Ultrakey engages you with the voice, video, animated graphics, and a clear path of learning.
It provides you relevant lessons for kids to adults and to track your performance and check your skills. All you need to spent at least 20min and practice yourself with Ultrakey and you will become the more accurate and fast typist than before.
8. Keyblaze (Free)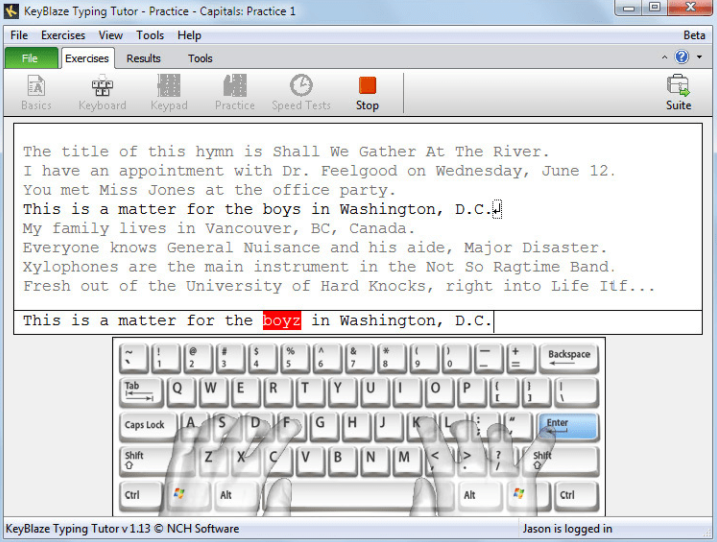 It is a free typing tutor software to learn and improve your typing skills. You can start from very basic learning of typing like Home Keys for index, middle and pinky fingers and practice lessons including poetry, prose and drills. You can practice various lesson provide by Keyblaze to enhance your skills more. It is available for almost all version of Windows(10, 8, 8.1, 7, vista).
9. Master Key (Trial/Paid)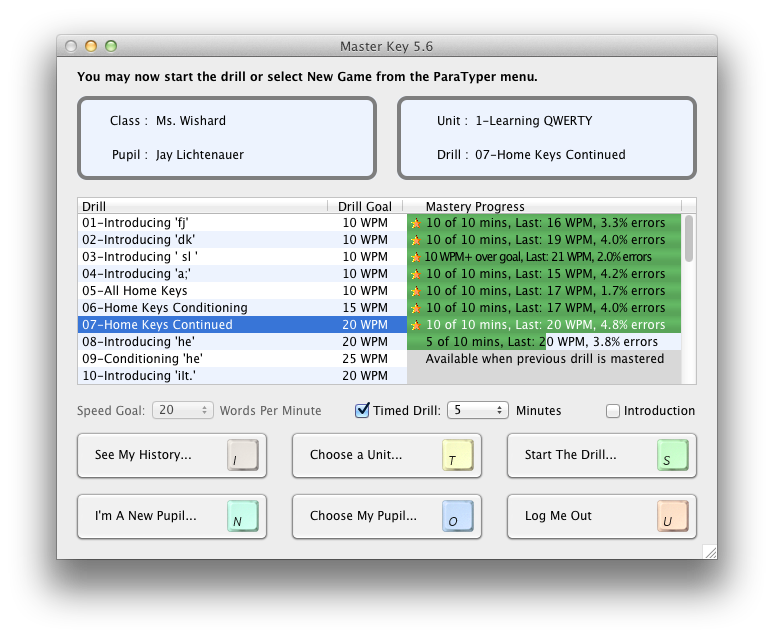 Master Key is a Straightforward typing training for beginner to advance level. With its own drill editor, you can create your own drills based on your own key vocabulary. It has ParaTyping games for you to learn typing in fun way.
It has an advanced feature of networking to share and save dynamic data of your typing program. It is a paid program.
10. Bodie's Typing (Free)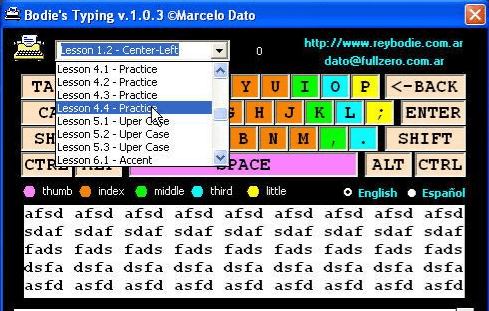 It is another free software tool for learning to type. With its bunch of great tutorials, you can practice typing and become a good typist within few weeks. It supports 15 languages includes English. It is very lightweight typing software so it doesn't need a lot of space on your Windows PC.
Kiran's Typing Tutor (Free)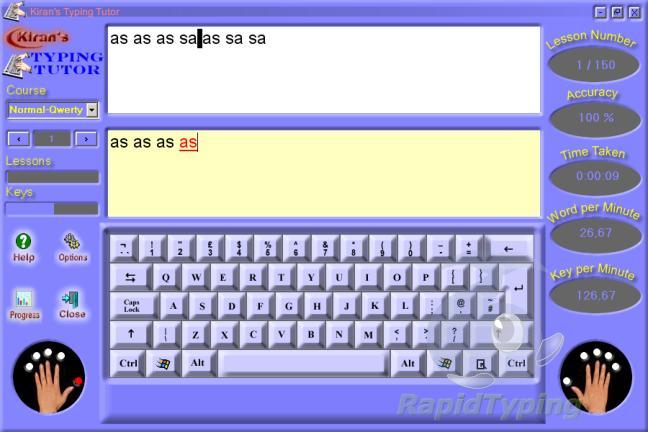 Kiran's Typing Tutor is another best and free typing software developed by an Indian developer Kiran. It helps you to gain the very basic understanding of typing. With it's easy to use interface, you can see your everyday report about how much time you have spent practicing and learning.
11. Rational Typist (Free)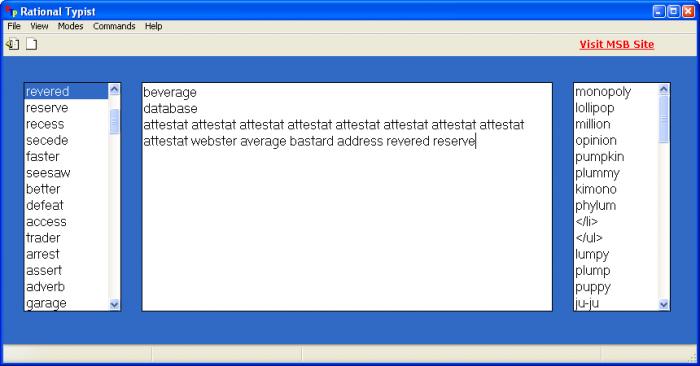 It is on of the oldest typing software that allows you to practice typing. One of its features is, it alerts you by beeping everytime you made mistake. At the ending, you can see the statics of every error you made during typing.
12. Typesy (Paid)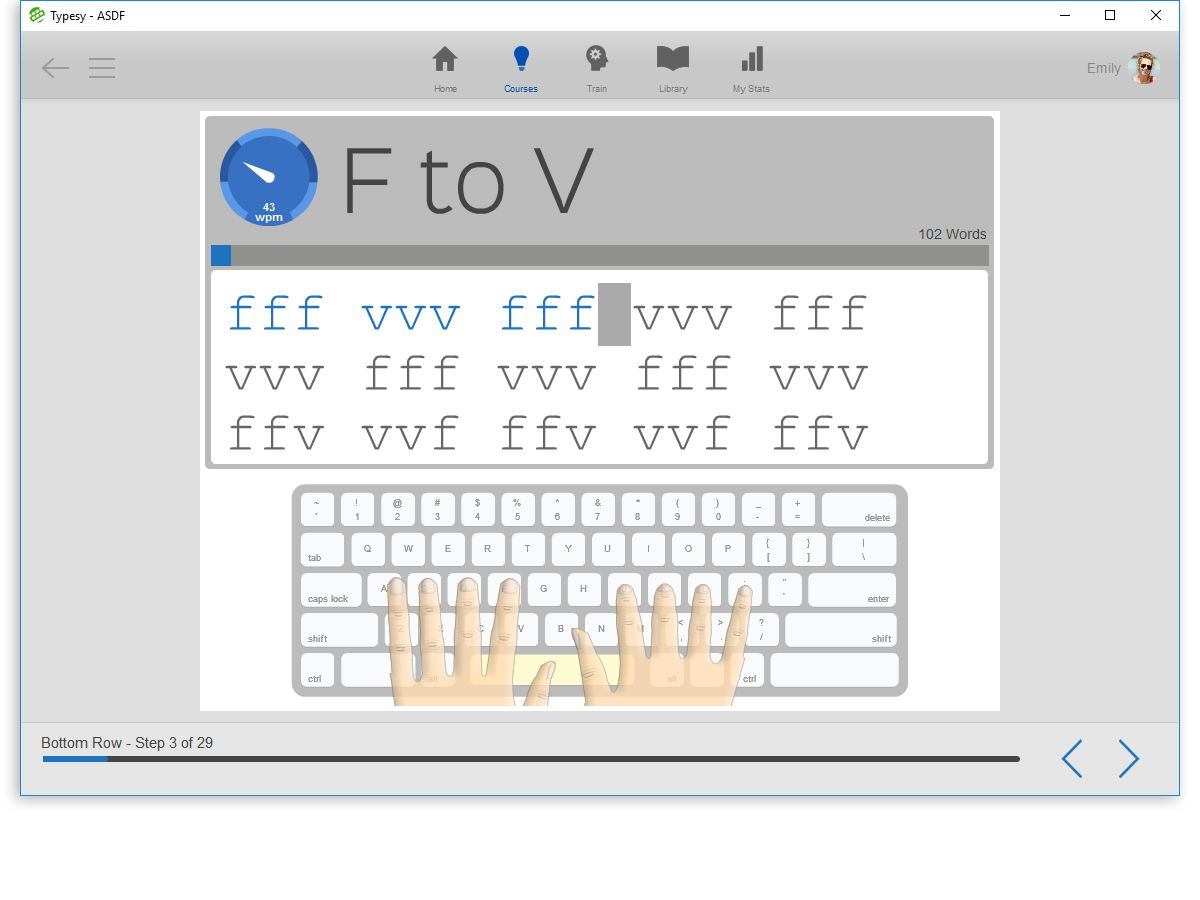 It is one of the best industry-leading typing tutor software. You can be one of the pro typists by giving you daily 7minutes to the software. It is paid software. It is specially developed for professionals to learn touch typing. The best part about Typesy is that you can use this on every platform, it is compatible with every OS(Windows, Mac, Linux).
Bonus Tip: If you are one of them who love doing most of the things online instead of installing stuff to later use. For those, we have some amazing websites by you can learn and explore almost same features as any offline typing software.
Typing.com

10FastFingers.com

Typingtrainer.com

Ratatype.com

Goodtyping.com