Having an informative chat session with your colleague through cam chat? and wanna to store that whole video chat for later understanding. Or want to save chat with your friends and family! then webcam recording software is the only solution for that. This software allows you to save your whole chat session during video/cam chat with someone. So we have prepared a list of best webcam recording software that you can use.
1. Bandicam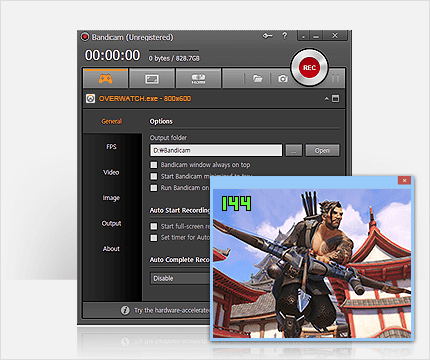 Bandicam is a real-time webcam screen recorder which allows you to record the webcam chat sessions. Before start recording webcam you can set the quality that you need from the webcam recorded video. You can also change other settings like the location of that video file, type of video like MP4 or AVI. Along with webcam recording, it also gives you the ability to record stream, games, and other video chat from a variety of software. It is very flexible with almost every windows application.Bandicam gives you the best webcam recording experience. Bandicam is freely available to download but to take advantage of its all features you can register for Bandicam that it paid one. However, you can avail its webcam recording feature in unregistered version also.
Supported OS: Windows XP, Vista, 7/8/10
2. Free2x Webcam recorder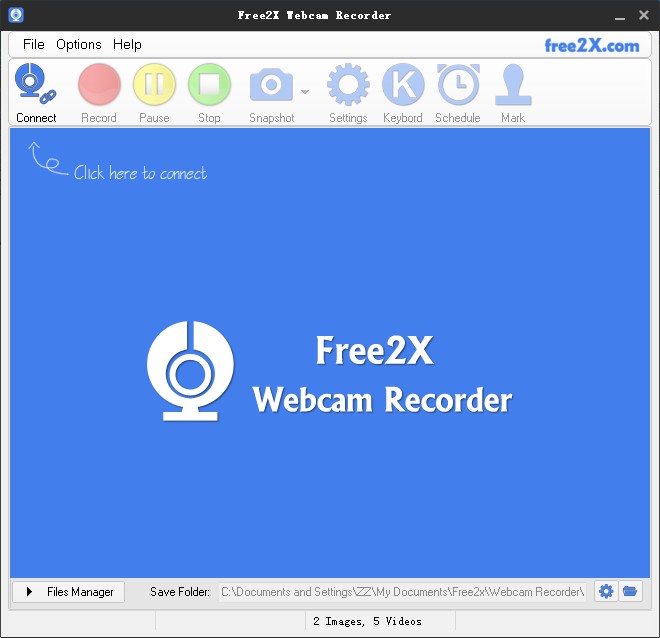 Free2X is a free webcam recording software. It can record video from any webcams and sources. You can control its common function such as Record/Pause/Stop just by using keyboard shortcuts. Also y, u can customize its keyboard shortcut to handle its common features. You can set watermark in your recorded video file. You can schedule its recording to record in a particular time session or record in time to time. This is totally free to use and very lightweight and its size around 3mb.
Supported OS: Windows 10/8/7/Vista/XP
3. Debut Video Capture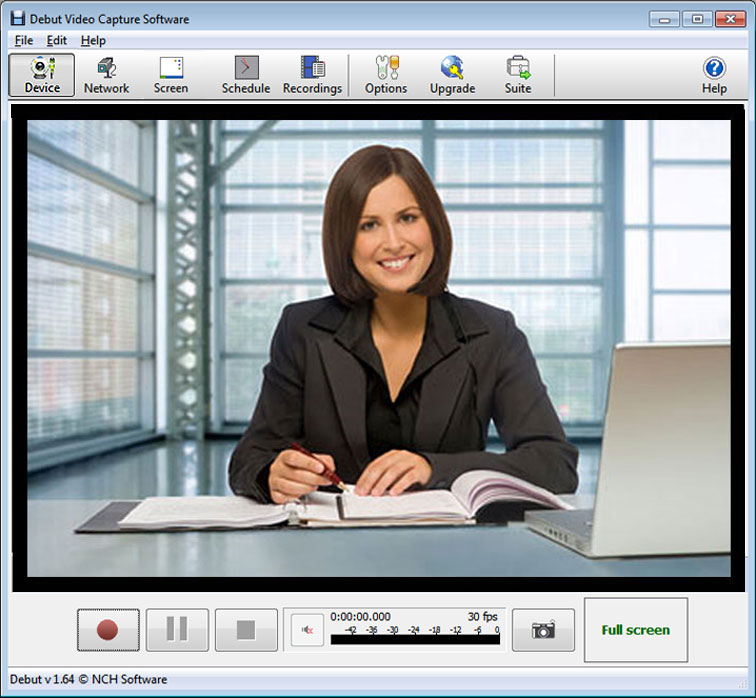 Debut video capture is an amazing software that allows you to record video of your webcam. This software has too many configure features regarding your webcam video file. You can record your webcam video as AVI, WMV, FLV, MPG, mp4, MOV and many other videos formats. Along with recording video from webcam, you can record from network IP camera and other video input device as well. Debut can record video alone or video and audio simultaneously. You can set video resolution, size, and frame rate for capture anytime.
This software is available in both free and paid version, so If you are about to use this for commercial use then you can buy its paid version, otherwise, you can download its free version for personal use only.
Supported OS: Windows
4. Camersoft Webcam capture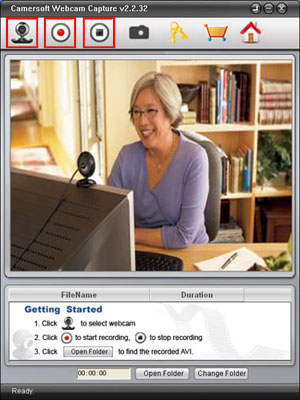 This is a powerful and professional webcam capture recording software. Camersoft webcam capture can be used for monitor your webcam or webcam surveillance purpose. This is completely free so you can use it without spending a single penny.
This software comes with very friendly and simple UI so everyone can use it easily. On the starting of this webcam software, it could automatically detect the webcam of your device and make your work easier. It also provides the snapshot function so, you can take a snapshot easily.
5. iSpy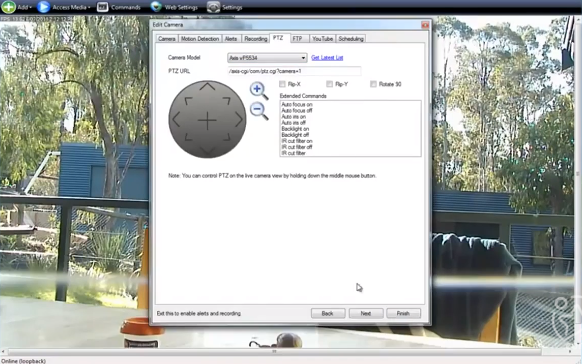 It is a free open source webcam recording or monitoring software to use. It is mostly used for surveillance purpose. By using iSpy you can monitor your webcam, it can take inputs from your conventional webcam, IP cam, capture card, desktop camera or microphone. Its interface is very configurable. If we talk about its cons then iSpy take a little bit more ram and its interface looks little old fashioned. Also, it is only available for Windows Vista, 7 and 8 but ispy is highly configurable and comes with some excellent features and that advantage can completely cover all its cons.
Supported OS: Windows Vista, 7, 8
6. CAMSPINNER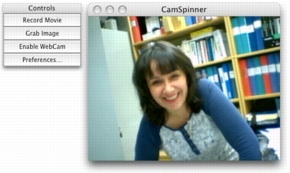 It is another excellent webcam recording software only available software for Mac. It has customizable webcam page template and allows you to record videos in several formats. Camspinner has amazing AppleScript support to schedule its actions. It is also compatible with iPhone and has faster FTP uploads. It is very handy webcam software for Mac
Supported OS: Mac
7. Super webcam Recorder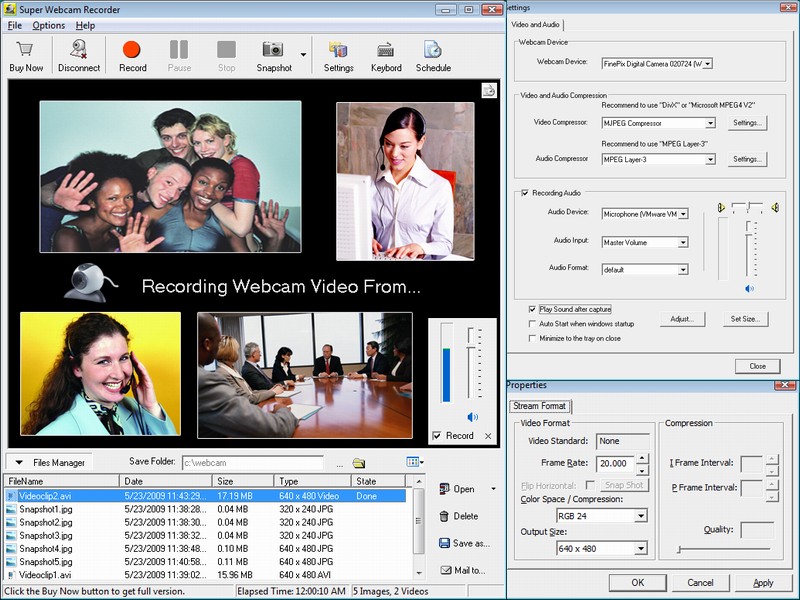 This is another simple webcam recording software developed by zeallsoft. This software gives you the ability to define the file format, codec, video size, audio source, sample rate, channel, resolution, and bitrate. By this software, you can record videos easily and quickly. You can also take snapshots, trim and enhance your video. Email service for taken or captured webcam video. Feature for Saving recording video to AVI/WMV file.
Supported OS: Windows
8. Eatcam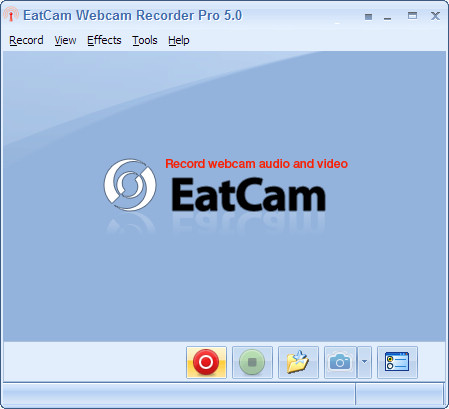 If you are finding for a pro webcam recorder then Eatcam is the right solution for you. With sufficient amount of features, it becomes very popular for webcam recording since its launching. This webcam recorder can record anything that displays on your computer/laptop screen. You can use its 800 x 600 screen resolution with 256 colors. This webcam recorder works with MSN, Skype, ICQ, AIM, and Yahoo! Messenger. It has 100+ skin for pro version of it. Audio recording is supported by internal microphone or external device. This software comes in two version free and paid. The paid version is pro version that has all its amazing features and works with multiple application. Free version is the basic version that has limited features. But you can take 15 days trial of its pro version to avail its amazing pro webcam recording features.
Supported OS: Windows Vista, XP, 2000
9. CyberLink YouCam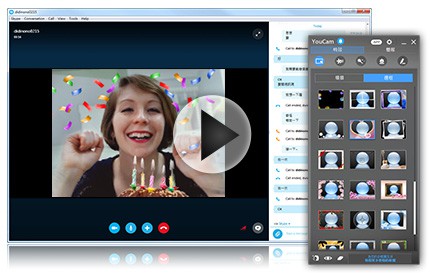 This software has screen recording feature by which you can record your desktop screen with a specific area or record the screen around mouse cursor. You can record the whole screen to provide some instructable tutorials to others.
Using Youcam for security purpose can be the right selection for you. With its simple safety tools as Surveillance Mode, it can detect motion and you can manage it to take a snapshot for that time.
Supported On: Windows 10, 8, 8.1, 7, Vista 
10. Webcam/Screen Video capture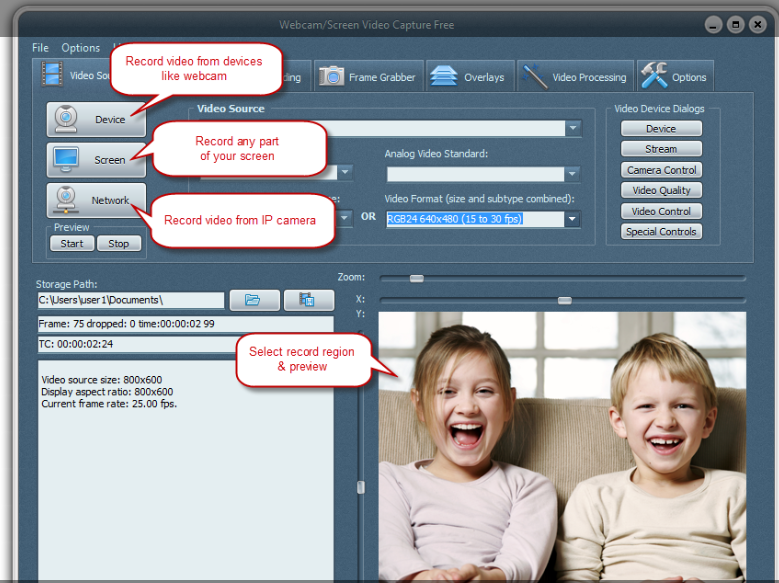 This is pretty useful software to record webcam videos. This is many in one software for recording. By this software, you can Capture Video from Devices, Capture IP Camera Record Screen or Record Streaming Video. The best part about this software that it is totally free. It has very handy features. It allows you to capture images at up to 30 fps from network IP camera for broadcasting live audio and video stream on the internet.  It helps capture video from a webcam, digital camera, USB cameras, PCI capture card, or video input device and so on.
Supported OS: Windows XP/Vista/7/8/8.1/10
Get Webcam/screen video capture