Windows OS can be controlled by voice. Have you ever think about this topic! Control your Computer Using Voice Commands. Microsoft provides a tool for Windows users using which you can easily control PC by your voice. There are many voice commands supported by this tool. This tool is very useful for those who love to control their PC using any kind of artificial intelligence. Microsoft has introduced Cortana but this tool can do all those works which Cortana too can't perform.
Windows OS has many capabilities and crossing limits in order to provide more features to users and one of the coolest features that Microsoft gives with their OS builds is "Speech Recognition". Microsoft has introduced the best version of this feature in Windows 7. It's not in all builds of Microsoft Windows. In Windows 10 Cortana is also available but you can't use this to control all PC functions.
What Is Speech Recognition?
Speech recognition is the ability of a machine or program to identify words and phrases in spoken language and convert them to a machine-readable format that is obviously in 1 and 0's form. Rudimentary speech recognition software has a limited vocabulary of words and phrases, and it may only identify these if they are spoken very clearly.
Controlling your PC using your voice is few steps far. Follow this tutorial in order to control your PC using voice.
Supported Windows OS Versions:
This Speech Recognition is supported on Windows 7 and above versions of Windows OS. You can use this tool in all builds above Windows 7 easily.
Step1:
First of all, open your control panel and search for "Speech Recognition".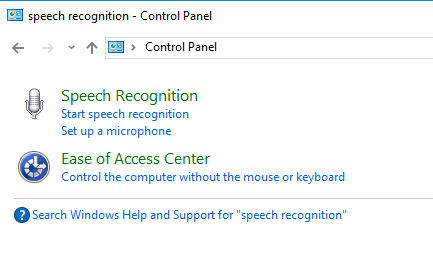 Step2:
Now in next window, you will find few options. Click on  "Start Speech Recognition"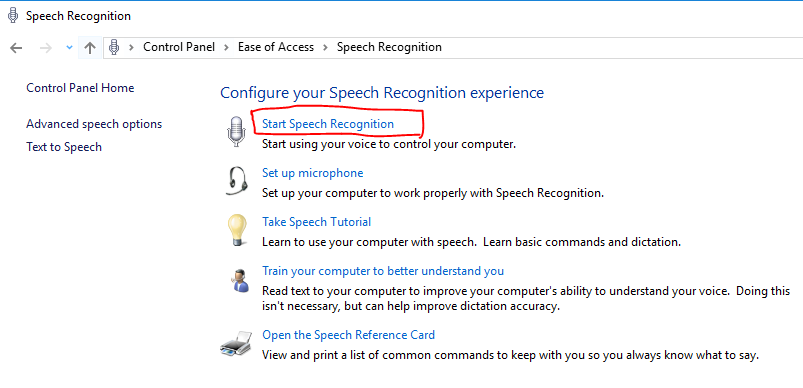 Now you will be promoted to next steps. Select your Headphone or Microphones using which you want to give commands to your computer. Choose either one, Also depends on surrounding as well. If you are in the crowdy area then using with headphones is recommended to get the better result.
Step3:
You will see a window telling about what this speech recognition tool can do for you. Just click Next.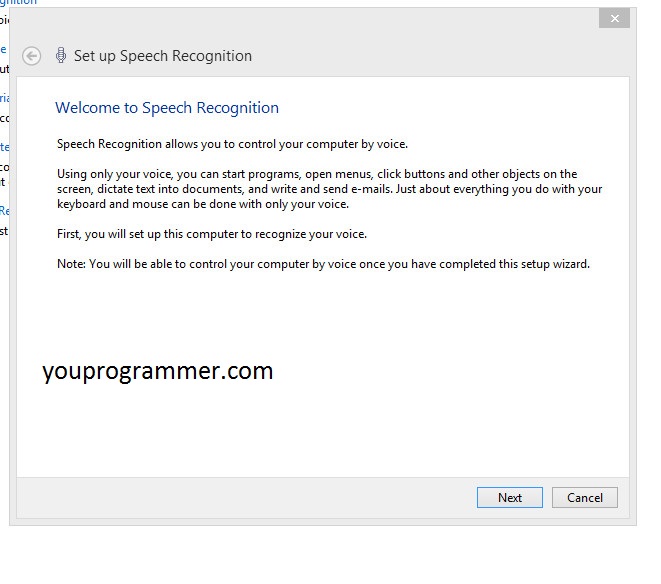 Step4:
Now you need to check whether your microphone is working or not. You will be giving all voice commands by your microphone. You can select inbuilt Desktop microphone or can use an external microphone. Don't forget to check whether your microphone is working or not.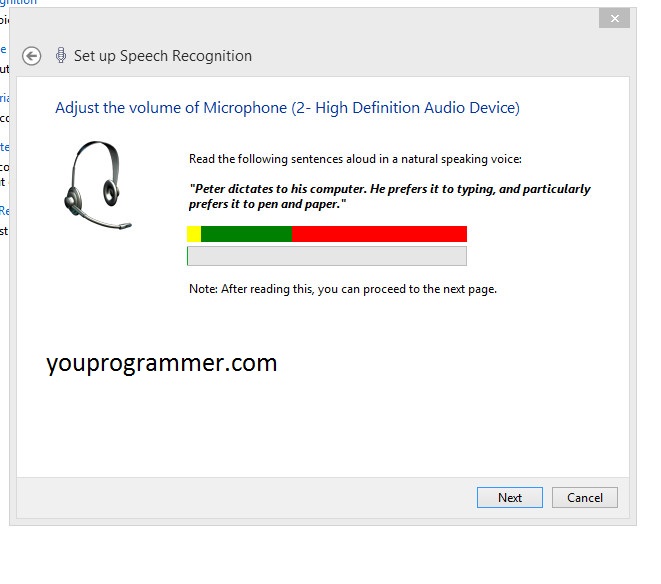 Step 5:
In this step, you need to read some paragraphs. This step is very important and read all paragraphs with your own vocabulary so that computer can understand your vocabulary and can take commands.
Step 6:
After doing all these steps a small tool will appear on your screen and you just need to click on "Mic" icon and give commands to your Windows PC and it will do all the tasks for you.
What If Your Computer Isn't Able To Understand Well?
This problem can be solved by making a recognition process again. To do so you need to go back to speech recognition and click on "Train Your Computer To Understand You Well". This will help your computer understand your voice capabilities and the frequency of your voice during the training process. So that next time you don't have to repeat commands again an again. Your computer will understand everything in first chance.
Note:
Speech Recognition is only available for the following languages: English (United States and United Kingdom), French, German, Japanese, Mandarin (Chinese Simplified and Chinese Traditional), and Spanish. It Simply means that your computer can only understand commands in following languages. If you want to use this voice recognization tool in your native language then you must look for future updates.