If you want to install Windows Operating system using the USB, you'll have to make your USB bootable first. Only then you'll be able to boot into Windows to install the operating system. In fact, if your laptop/notebook don't have CD drive, and you want to install Windows OS, then there's no need to buy an external CD/DVD drive. USB can do this job even better than CD/DVD drive. Users can create bootable USB and then use it to install Windows OS. There might be many reasons behind making bootable USB. But, the process is similar to make bootable USB. In this article, we've turned a normal USB device to bootable USB device using CMD. Even you can use a free software if you're not very techy and don't want to use CMD for this purpose.
The reason behind making a bootable USB is that USB is more portable and small device as compared to the CDs. Also, there is a huge risk of CDs to be broked in pockets or in bags. But, USB devices are strong enough. Every laptop has USB port but not all laptops have CD/DVD drive in them. It's because nowadays users need more slim and lightweight laptops. Hence, manufacturers are not installing CD drive in new models of laptops. Also, there are few users using CDs to store the data. Everyone is using USB/Pendrive these days.
So, let's talk about the process of making bootable Pendrive or USB drive. The process is simple. We'll be using the CMD in our first method. In second method we've shown how to create bootable USB using Rufus. Rufus is a very popular tool used for making bootable Pendrive/USB. This tool is totally free and if you don't like executing the command in CMD, skip to the second method and learn to create bootable USB using Rufus.
How To Create Windows 10 Bootable USB Using CMD
Command Prompt is really very useful in Windows OS especially the latest windows 10 OS. It's used to perform many operations in Windows OS. If you've used CMD before then you know the usability of this command line interpreter application. To create bootable USB using CMD, you need to be the administrator of the PC or should have administrator account password. As we're using diskpart in this method and diskpart needs administrative privileges to run.
First of all open press Win+R and type CMD and press enter. This will opens up your command prompt.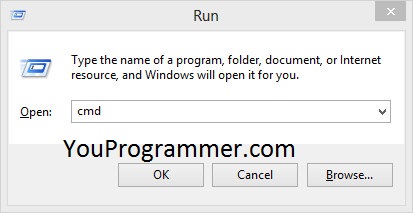 2. Type "Diskpart" and hit enter. This will ask for administrator access. Click "Yes".
3. Now type "list disk" this will show up the connected storage devices to your computer like internal HDD/SDD and external USB devices.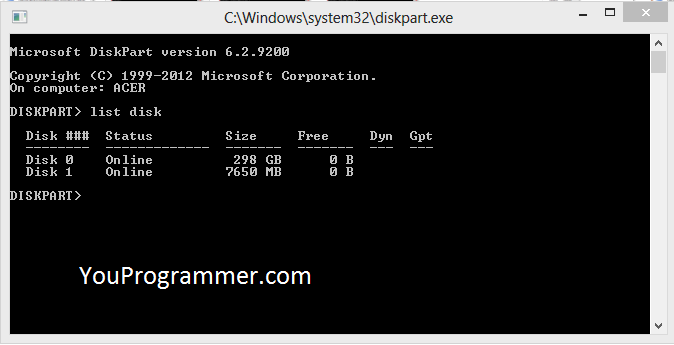 4. As you can see in the image given above that we've two disks. Once is disk 0 which is the HDD of the system and disk 1 is the USB device we've connected. We want to make disk 1 bootable, so type "select disk 1"
5. Type "clean" and hit enter. This will clean your pendrive.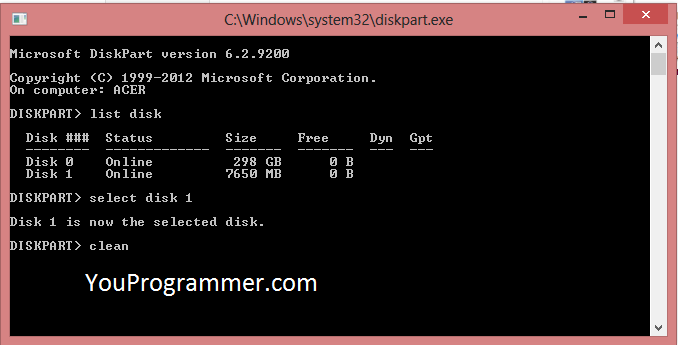 6. Now type "create partition primary" and this will create partitions in your pendrive.
7. Type "select partition 1" and this will select the partition number one which you've just created in the previous step.
8. Now, in last step type "format fs=ntfs quick" and hit enter. This command will format your USB device to the NTFS format which is required to install Windows OS.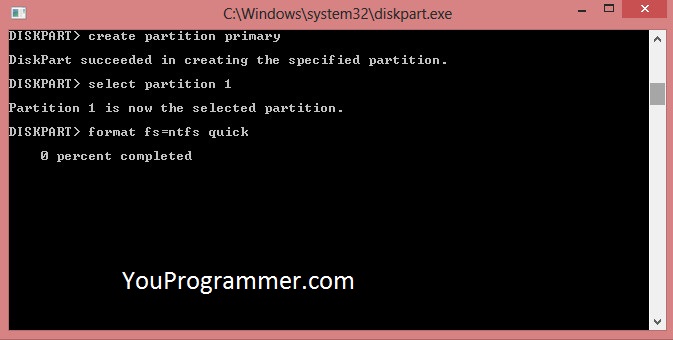 9. Now after format is completed type "active" and this will active your pendrive's partition and your pendrive is bootable now.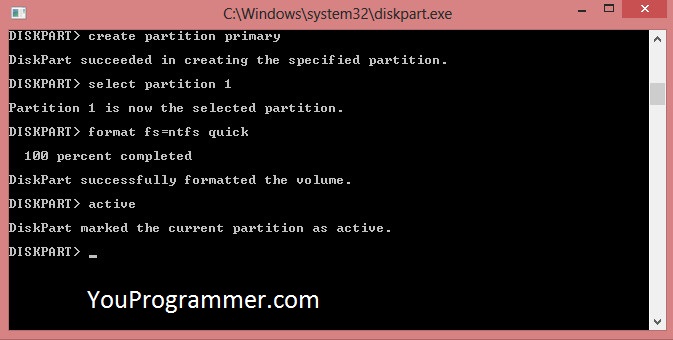 10. Type "assign" and hit enter.
Now, once you've made your USB bootable, copy the Windows installation files to your USB. Then your USB can be used on any computer machine for installing the Windows OS. To reverse your USB to the normal state (non-bootable) full format your USB device. Just during the time of format, uncheck the Quick Format check box.
How To Boot Your Bootable USB?
To boot from a bootable USB, you need to
 ► insert your USB drive
 ► restart/start your computer
 ► goto the boot selection menu through
BIOS
 ► Select the USB option in the boot device selection menu.
Create Bootable USB Using Rufus
Rufus is a free tool which is very useful to create bootable USB. This tool provides easy GU interface. Just plug in your USB device and one click will make your device a bootable USB device. Follow the steps given below:
Download the tool from here.
Now, open the tool. Make sure your USB device is plugged in.
Then select your device from the drop-down selection menu.
Set the format to NTFS.
If you've WIndows ISO image, you can directly burn it to the USB by browsing it from the option.
Click on Start button and wait till Rufus create bootable USB.
Wrapping Up:
The booting ability of that USB drive remains last longer till the physical death of that drive. Bootable Pendrive has many advantages especially when it comes to speed. Also, bootable USB drive is much reliable than CD/DVD and you can so several modifications on that as well. The only thing to make sure that all the previous data on that USB drive is backed up already.