Firefox is one of the most loved and used web browser worldwide. One of the biggest things about Firefox is that it is open source and works on almost every operating system. People are loving Firefox because it's not made for profit by its developers. There is almost every feature available in Firefox that you'll generally use in Chrome, Edge like web browsers. The updated version of Mozilla has many features and runs smoothly and everything is for free. Many users in Firefox are getting an error about Firefox profile missing. This problem arises when your profile data is missing or not readable by Firefox. Firefox stores user data in a separate folder in user's profile so that it can save user's settings, history etc. If this folder is missing, your profile will not be loaded in Firefox resulting in profile missing error.
However, this isn't a very big error for you if you don't give importance to your data in Firefox.When error pop ups on the screen, clicking on OK will restart Firefox and your problem is solved. But, if you have some important data in Firefox browser like Bookmarks, Saved password etc. then you might want to fix this error. There are three possibilities that this error is encountered by you.
Firefox's user profile folder is renamed or deleted.
Firefox doesn't have access to user profile folder.
Data inside profile folder is corrupted.
These three reasons which are responsible for your problem. In newer versions of Firefox, if user profile folder isn't found it'll automatically create a new user profile folder. This results in losing all your previous data. But, you'll not get a window pop up saying Firefox profile missing. In the older version, you'll get an error but once you've clicked on OK Firefox will restart with default profile or will create a new one.
If you're getting an error this means you'll have to fix your problem manually if you want to use your precious data again. It might happen that folder is renamed and you can retrieve your data back again. So, better following the steps given below.
Firefox Profile Missing Solution
There are two fixes to this problem. You can either check if the folder is renamed or moved from the required location or can create a new profile in Firefox.
These are the only solutions you've left once the Firefox profile missing error is encountered by you. In most of the cases, this problem arises due to profile folder is movies or data is corrupted by the virus. So, read the two methods given below and solve your problem.
Check If Profile Folder Is Moved Or Renamed
It's very easy to access check whether the profile folder is missing or renamed to another name. If you remember what's the name of your Firefox profile then you probably can check whether the folder is renamed or not. If there's no folder available under the Firefox profile folder it means profiles are deleted by someone or due to any technical error.
Browse to C:\Users\Username\AppData\Local\Mozilla\Firefox\Profiles. (Make sure hidden files are shown because AppData folder is hidden in Windows.)
Now, check whether there are folders in that location. If there's no folder it means profiles are deleted and you need to create one. But if there is any folder available make sure it's named properly.
Default profile folder name will end with .default and if it's renamed to another name, rename it back to default. Follow the same thing with your custom profile in Firefox profile folder.
Tip: If your profile folder is moved to another location you can paste it inside Profile folder. It'll help you in recovering all your Firefox data and your problem will be fixed. But, if there's no folder found or you can find the actual reason then consider creating a new profile.
Also: How To Enable Javascript In Firefox
Create A New Firefox Profile
You can create a new Firefox profile to save your data in your own profile name. If you decided to use Firefox in default account, all your data will be saved in the default folder. But, some users might want to create a new profile and start using Firefox with the newly created profile. This is recommended if more than two users are using Firefox. They can save their data in different folders and data will e saved separately.
1. Press Win+R and type firefox.exe -P, hit enter and a dialogue will appear.
2. Now, you'll get a list of profiles which are available. If you want to delete the profile, select from the list and delete it. To create a new one select Create Profile.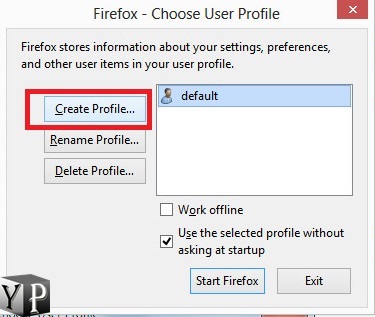 3. Click Next and then Enter the Profile Name. You can even select the folder where user data will be saved.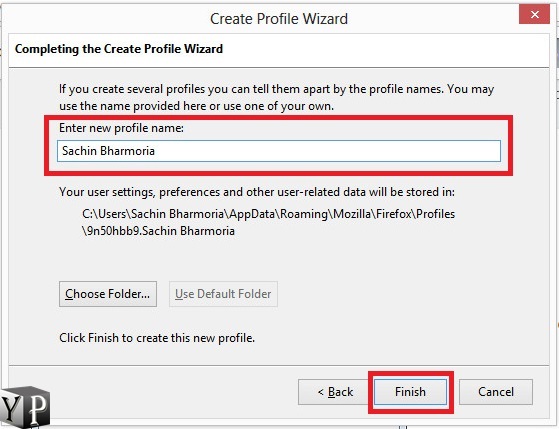 4. Click on Finish and now again press Win+R and open Profile manager again. Uncheck the box saying Use Selected Profile Without Asking At Startup. Select the profile from the list and click Start Firefox.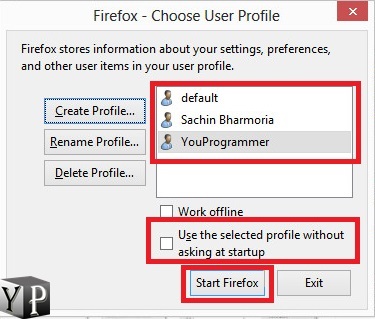 Now, if you're using multiple user accounts in Firefox, next time Firefox will ask you which user profile to use for browsing.
With these methods, you can solve your problem easily. If you're still having the problem related to your profile in FIrefox then comment down below. We'll try to help you and make sure you've subscribed to our newsletter.