You can increase BASS to get more beats from your speakers or headphones. Listening to music is the best way to spent time. In PC/Laptop, we listen to music many times like while surfing on the internet or playing games and on our android phone as well using some music players. We all know that bass is the frequency in sound which creates Boom-Boom sound and that gives pleasure in listening to music. Listening to trance without Bass is totally vain as it doesn't give us much pleasure and for that purpose, you absolutely need a bass booster to make it more enjoyable.
We use headphones and speakers mostly to get more clear and good sound. Sometimes in speakers, there is level to set Bass but there is no such option for headphones. So here in this article, we will share with you that how we can increase Bass in sound using system properties in Windows.
Method 1. By Changing Sound Quality In Player
These days many media players are available and you can use them for free. Many popular players like VLC media player supports many video codecs and features like online surfing etc. These media players also have inbuilt Equalizer setting and you can use that equalizer to change the sound type and quality that you are playing. Inbuilt Windows Media Player also supports equalizer feature and you can also use that for full HD videos playing and songs listening as it comes with Windows OS itself and best to play music etc.
Here's the process to access the equalizer settings of Windows Media player: –
Right Click inside the Windows Media Player and select Enhancements>Graphic Equalizer.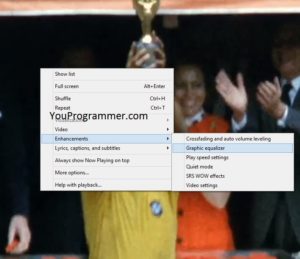 2.Now set the required settings and changes will be made instantly.

Method 2. By Changing System Sound Settings
In this method, we will change all the sound settings of the system in order to get the bass sound. These settings will entirely change sound quality and each media you played or any sound coming through your system will be according to settings you have set.
Step:

 1

First of all, go to sound bar and click on Speaker button there. Now speaker properties will appear.

Step:

2

After this go to "Enhancements" and find an option called Equalizer or Bass Boost. Settings may vary accordingly your audio driver which is installed on your system. In my case its "Bass Boost" So I will simply tick on the option.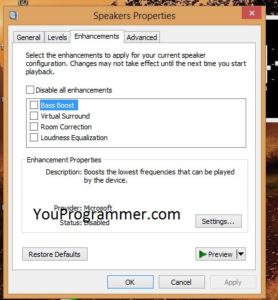 Step:

3

After these all steps, you can also increase the Bass Boost level by clicking on the Settings and then increasing the value to a required level. Then press OK and apply all the changes you made. You can also access many other Sound related features from this window like Virtual Sound and much more.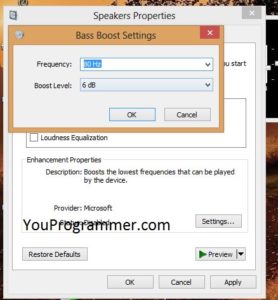 All these steps will help you to increase the BASS of sound in your PC or laptop and work for you as a bass booster. You can enjoy more powerful beats. These settings give best results if you are using headphones.
In fact, you can also apply some manual changes to your external speakers if they have knobs for adjusting BASS and Terrible like sound frequencies. Never use default values because that will not give you good sound.
You can adjust BASS or Terrible of sound using these inbuilt settings. There is no need of external Softwares or tools to do that.