Microsoft's Windows 10 is one of the most popular and growing Operating System in the PC world. Users are upgrading to Windows 10 to stay away from threats and viruses. Microsoft is even offering a free upgrade to Windows 10 which is amazing. It's because they want more and more users for Windows 10. By this, they can grow their market share and revenue. This world is now full of cyber threats and hackers kept finding new ways to break the security. In most of the users becomes victims due to their own mistakes. But, using a latest operating system like Windows 10 is a great thing as it ensures you that you're updated to the latest secure operating system. Latest Windows 10 not only good for security reasons but is fast and powerful OS for heavy gaming. If you're in a problem with Windows 10, you can get help in Windows 10 for free.
Windows 10 has market share around 30% which is very huge. So, Microsoft needs to provide very good and quick help support to all its users so that their problem will be solved. Most of the help services for Windows 10 are for free if you've bought a license for your Windows 10. However, Microsoft is also providing free support to those users who've upgraded from Windows 7 to Windows 10 for free.
In fact, there are many ways to help yourself if you're suffering from any Windows 10 related problem. Simple search the web and get help from various websites. We don't recommend you to contact the Microsoft Help Desk directly if you can solve the problem on your own. But, if you're in serious problems like you've lost your data due to the problem in Windows or your Windows 10 is infected with the virus and you want your files back.
In this case, you should immediately contact any nearby store or chat with a person who will guide you to solve your problem. Many users are getting problems in activating or reactivating their copy of Windows 10. In this case, only Microsoft live support or store can help you. We'll guide you through all the steps to get help from Microsoft to solve your problems with Windows 10.
Also: How To Install Windows 10 Fonts
Get Help In Windows 10 From Microsoft
THere are several ways to get help from Microsoft. You can either chat with a live person or can get a call from them. There's another way in which you can find a nearby store and talk with MS assistant who'll solve all your problems. But, the main thing is that how you can reach their store and set an appointment or hot to chat with the live person. Even if you don't want to ask them for help, you can do it by asking questions on forums. Read the guide given below.
Use Contact Support App In Windows 10
This is the easiest and quick way to get help to solve your problems. This app is preloaded with Windows 10 and you can launch it by pressing Win+Q and type Contact Support. Select the first option and you'll get app interface like the image is given below.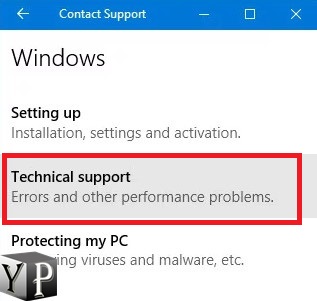 Now, you need to select the kind of help you want. Select your option and you'll be contacted by Windows 10 Expert soon. You might be contacted by chat or a live call and depends on the options you've selected and the kind of help you want.
This app can be used to browse the official forums and other websites where users can ask questions to get help from official experts and other people. We're sure that you'll get every possible help with this method.
Also: Make Windows 10 Look Like Windows 7
Set Appointment On Your Nearest Microsoft Store
If you think that your problem can only be solved by visiting the Microsoft Store then there's a way to set an appointment. This process is online and so don't worry about time. It's easy and quick process. The best thing about this help is that you can talk about your problem with Windows 10 Expert. They will try to satisfy you in every single way and will solve your problem. In order to set an appointment with MS Experts you need to follow the steps given below:
Visit In-Store Answer Desk and scroll down. Then select Set An Appointment option.
Now, search for the city where you live or the place where you can visit to get help from Microsoft experts.
After selecting all the location related fields, on next screen scroll down to get help related options. You can either contact MS Stores for help, for business related queries or get personal training from them. Select the option you want and click set an appointment now.
Select the topic on which you want to get help from Microsoft and describe your topic. You'll have to complete all the three steps.
In the first step select and describe your problem, on 2nd step set date and time for the appointment and in the last step enter your personal details.
That's all you need to do to set an appointment. You can now visit MS Store at the same time and date you've selected during the submission of the form. Then meet Windows 10 experts and get help in Windows 10.
Ask In Windows 10 Help Forums
Many users don't actually want to talk to MS Expert on live chat or phone call. Even m people don't have much time to visit Microsoft Stores to talk with Windows 10 expert. In this case, it seems that it's impossible to get Windows 10 help. But, there are many independent help forums where anyone can ask questions.
Microsoft also has an official forum where users can ask their questions. In fact, many experts are available on these forums who will answer your question. You can even ask any problem, HOW-To Tutorial or anything you want. Active users on those forums will try to help you in every possible way. Also, the discussion will improve your knowledge about Windows 10. Below are the official Microsoft help forums you can check. Even there are many other forums available where you can ask your questions.
You can even browse our website to know more about Windows 10. We've also done many articles on Windows 10 problems. Also, you can comment down below and describe your problem. We'll try to help you in fixing Windows 10. But, to get official support from Microsoft, you should follow the methods and steps given above.