Windows 10 is currently latest build of Windows from Microsoft. There are many features in Windows 10 like it's now more fast and secure than any version of Windows. Gaming in Windows 10 is very powerful and users can play top heavy games easily in Windows 10. However, users still need good PC/Laptop configuration for a smoother experience but Windows 10 accelerates almost everything to provide faster experience. But, many users still want to use Windows 7 because of its simplicity. There are many things that force most users to use Windows 7. One of the biggest reason is that Windows 7 is easy to use. The start button and many other things are loved by the users. But, we recommend users to use Windows 10. It's because Windows 10 has all those major security features and updates that make your system secure and faster. In fact, you can make Windows 10 look like Windows 7 if you're used to Windows 7 UI.
Currently, Windows 7 has 48.91% market share and Windows 10 owns 27.63% of the market share according to NetMarketShare. These numbers clear the popularity and love of Windows 7 among users worldwide. Microsoft officially stated that they'll not give any update or support to Windows 7 users by 2020 so users should update to Windows 10 by this update. They also stated that Windows 7 isn't safer to use in this time of rising numerous hackers. So, if you care about your security, you should update to Windows 10. Users interface in Windows 10 can be made like Windows 7.
Users can make Windows 10 start button look like Windows 7. If you're a Windows 10 user then this article is for you. if you're Windows 7 user then upgrade your system to Windows 10 for free because it's possible to make Windows 10 look like Windows 7. Below is the simplest way we've shown which will make Windows 10 UI like Windows 7.
Make Windows 10 Look Like Windows 7
Below are some tweaks that you need to follow to make Windows 10 interface like Windows 7. There are no advance steps to do this. There's a software called Classic Shell which enabled any user to transform Windows 10 interface to Windows 7. It's totally free and all the features in this software are free to use. Users can select many types of start button layouts and many types of start button icon. It's so flexible and users can even design their own start button and set it using Classic Shell software. It's amazing as it allows you to customize start button up to limits in Windows 10. Even this software work in Windows 8, 8.1. If you're thinking to use this software in these versions, it's possible. Classic Shell also comes with powerful and more optimized settings for Windows 10. So, follow the steps given below to make Windows 10 look like Windows 7.
Download and install the software from the official website of Classic Shell.
Once installed search classic in the search bar under Start Menu and open Classic Shell Start Menu Settings.
Tip: You can also open Classic Shell from the shortcut which will be made after installation of the software.
3. Now, select Start Menu Style so that you can set the style of the Start Menu according to your needs. There are 3 main styles available there. These are Classic Style, Classic Style With Two Columns, Windows 7 Style. You can choose any of them according to your needs. But, to make start button look like Windows 7, select Windows 7 Style. Also, if you've your custom start menu style then click on Select Skin and browse your Custom Skin.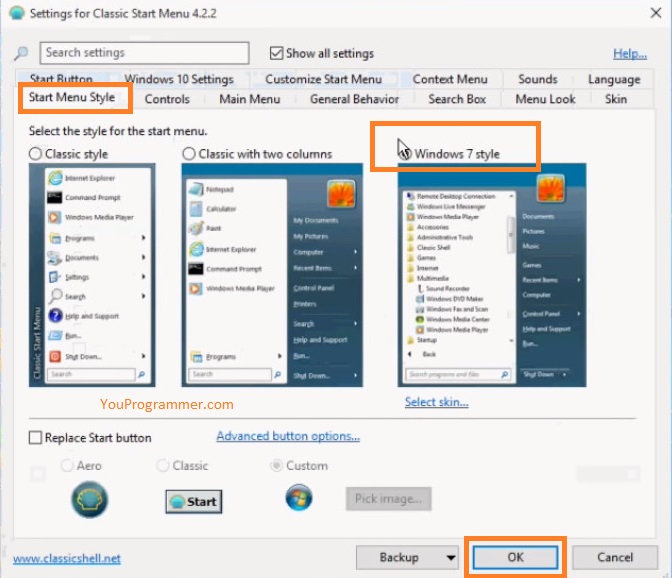 4. Then we need to change the start button. As we mentioned above, the start button can be set according to users needs. It can be self-made start button or preloaded buttons which are available within the software. So, click on Start Button tab and check the Bos saying Replace Start Button and check all the necessary options according to the image given below. Under Button Look, select the button style you want to use or select Custom Button and browse your button.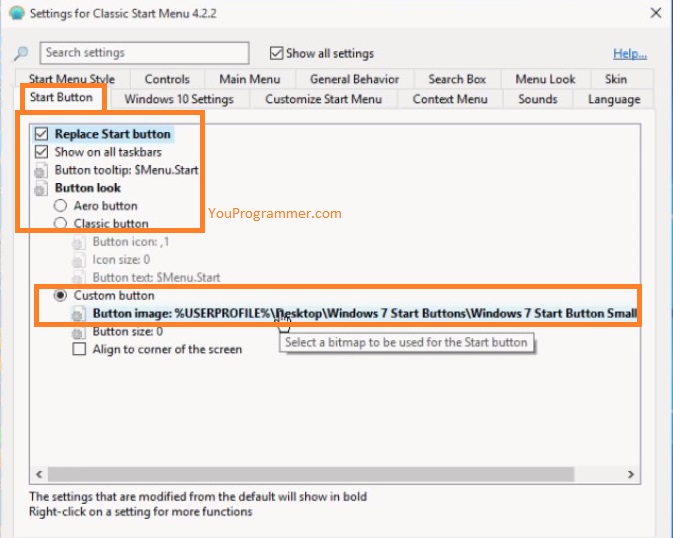 5. Then select Skin and here we can select the skin of the start menu. There are 5 skins available. You can choose according to your needs. To make the skin look like Windows 7 select Windows Aero skin.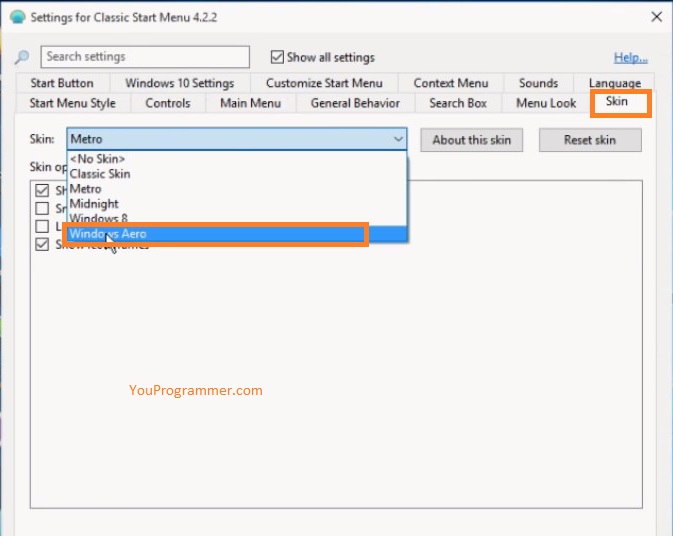 This will now replace Windows 10 start menu with the modified Windows 7 start menu. It looks almost like Windows 7 and even more amazing. It can be modified in many ways using Classic Shell software. You can modify according to your needs but we've shown the basic settings that are needed to make Windows 10 look like Windows 7.
Also: How To Split Screen In Windows
Disable Search Bar To Give Windows 7 Look To Taskbar In Windows 10
If search bar in the taskbar isn't useful to you, you can disable it. It'll give Windows 10 taskbar the UI of Windows 7. When the search bar is disabled, your desktop will totally look like Windows 7. So, follow the steps give below.
Hover your cursor on the Task Bar and Right Click.
You'll get Search Box option. Just Disable it and the search box will be disabled.
If you want to enable it back again after some time, just follow the same process and Enable it back again.
Finally, you'll get the windows 7 look in Windows 10. You can even set Windows 7 wallpaper on Desktop if you love Windows 7 logo wallpapers. After you've followed all the methods given above, your taskbar and start will look like the image given below. This is cool and Windows 10 looks like WIndows 7 now.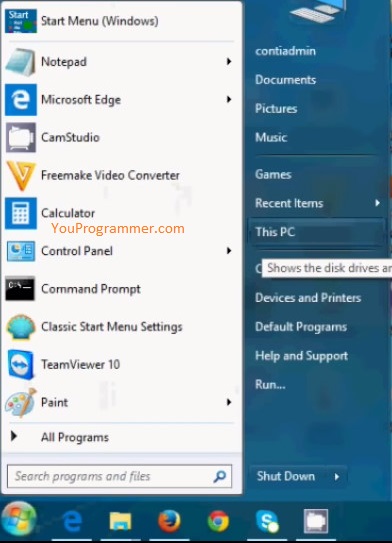 We hope you're happy with the layout. This is the simplest way to make Windows 10 look like Windows 7. You can also check Classic Shell settings to customize even more user interface related settings. If you're still havig queries, feel free to comment below. Also, you can enable dark theme in Windows 10 to give it a different look.